Play in the $10,400 WPT World Championship For Free With WPT Global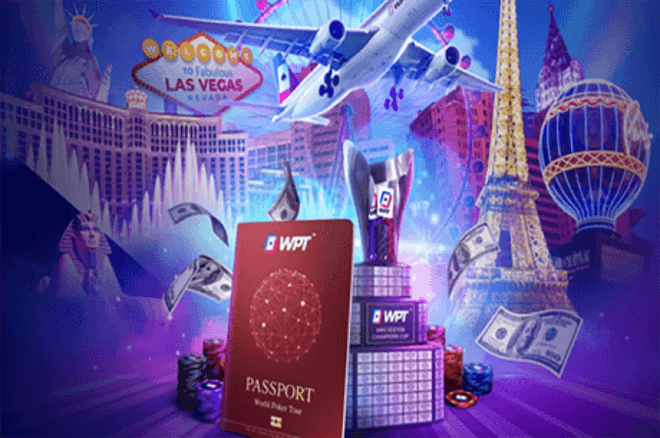 Table Of Contents
Most poker players who enter the WPT World Championship at the Wynn Las Vegas this December will find their bankrolls are $10,400 lighter than before they jetted off to "Sin City." As a WPT Global player, you could be joining those players at the Wynn Las Vegas having secured a $10,400 seat for free. How? Continue reading to find out.
WPT Global recently launched online satellites for the upcoming WPT World Championship from as little as $5, but the online poker giant is now making it possible to play your way to Las Vegas for free.
After a reshuffle of the site's welcome offer, depositing WPT Global players receive $5, $22, and $220 satellite tickets, depending on the deposit's size. Those tickets are in addition to a 100% up to $1,200 first deposit bonus, making the WPT Global welcome offer brimming with potential value. Best of all? The minimum deposit is only $20.
| New or Existing Players | Deposit Number | Minimum Deposit Amount | Reward |
| --- | --- | --- | --- |
| New Players Only | 1st Deposit | $20 | 4 x $5 WPT® World Championship Satellite tickets |
| New and Existing Players | 2nd Deposit | $20 (2nd deposit of this amount) | 4 x $5 WPT® World Championship Satellite tickets |
| New and Existing Players | Next Deposit of $300+ | $300 | $22 WPT® World Championship Satellite ticket & $110 Sunday Slam ticket |
| New and Existing Players | Next Deposit of $1,200+ | $1,200 | $220 WPT® World Championship Satellite ticket |
The 100% up to $1,200 deposit bonus releases into your playable account balance in $2.50 increments each time you contribute $10 to the cash game rake or pay in tournament fees. You have 90 long days to clear as much of the bonus as possible before any unreleased bonus money is forfeited.
Stephen Kehoe Turns WPT Global Satellite Win Into $269,900
WPT World Championship Satellites Online at WPT Global
Satellites for the $10,400 WPT World Championship have been running online at WPT Global since late July and will continue to do so up to the start of the live event in December.
Feeder satellites from only $5 feed into direct qualifiers, which cost $220 and $1,060 to enter and run every Sunday for the foreseeable future. At least one WPT World Championship package, worth $12,400, is guaranteed in each direct qualifier. Capture a package to receive a $10,400 seat in the 2023 WPT World Championship plus a $2,000 travel stipend.
You are forgiven for incorrectly thinking that satellite winners do not go on and make big money from the tournaments they win their way into. In 2022, Ireland's Stephen Kehoe won his way into the WPT World Championship from a $550 satellite WPT Global hosted. Kehoe navigated his way through most of the field, eventually coming unstuck in 14th place and reeling in a bankroll-boosting $269,900 score.
What to Expect From the WPT World Championship
Last year's WPT World Championship saw the World Poker Tour slap a $15 million guarantee on its prize pool, the largest guarantee on any live event ever. Any thoughts that the ambitious guarantee would be missed were soon dashed, thanks to 2,960 entries creating a $29,008,000 prize pool! The purse was so large that six players became instant millionaires!
Canada's Eliot Hudon defeated Benny Glaser heads-up to claim the $4,136,000 top prize and a place in the Word Poker Tour's history books. British superstar Glaser was obviously disappointed not to return home with the winner's trophy in tow, but we are sure the $2,830,000 runner-up prize went some way to numbing the pain.
| Rank | Player | Country | Prize |
| --- | --- | --- | --- |
| 1 | Eliot Hudon | Canada | $4,136,000 |
| 2 | Benny Glaser | United Kingdom | $2,830,000 |
| 3 | Jean-Claude Moussa | United States | $2,095,000 |
| 4 | Adam Adler | United States | $1,608,000 |
| 5 | Frank Funaro | United States | $1,301,000 |
| 6 | Colton Blomberg | United States | $1,001,050 |
| 7 | Lucas Foster | United States | $704,000 |
| 8 | Drew O'Connell | United States | $547,000 |
Although the World Poker Tour has not placed a guarantee on the 2023 WPT World Championship's prize pool, there is no reason why it cannot at least hit the dizzy heights of 2022. Live poker is as popular as ever, as the attendance of the recent 2023 World Series of Poker (WSOP) events showed.
For more exclusive poker freerolls where you can win real money prizes and tournament tickets, be sure to sign up to Club PokerNews.