Poker Player Misreads Hand and Loses More Than $20,000 with Six-High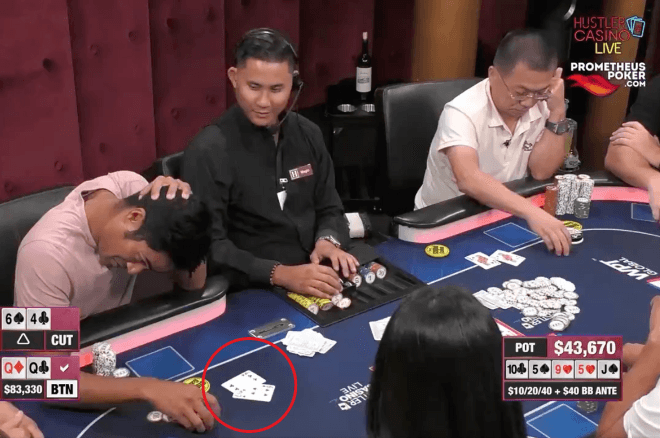 Table Of Contents
There was another bonkers hand to file into the rapidly growing archives of Hustler Casino Live as one poker player lost more than $20,000 after misreading their hand, which saw them call a river bet with just six-high.
Taking place on HCL's most recent Thirsty Thursday Game, the drinks were flowing around the table, but one person at the table would soon be proverbially drowning their sorrows. San Man, who has made several appearances on the show that recently celebrated its second anniversary, was the unfortunate soul to make the costly error.
The hand also raised an ethical dilemma on whether or not the river bet should be returned.
Daniel Negreanu Beats Doug Polk in High Stakes Duel 4 Round 2 to Win $200K
Snap Call with Just Six-High
Around three and a half hours into the session, six players saw the 10♣9♥5♠ flop which saw action check to Dr. H on the button who bet $1,500 from the button with Q♦Q♣. Action folded back to San Man in the cutoff who called with 6♠4♣.
https://twitter.com/HCLPokerShow/status/1694925691824009386
The 5♥ turn gave the pocket queens the check mark, and another $9,000 went into the pot ahead of the J♠ river.
Dr. H then fired out another $14,300 and was snap-called and immediately turned over his winning overpair to secure the $43,670 pot.
"Oh yes," said San Man as he tabled his hand, which was followed by a quick "Oh my god," after realising the gaffe that saw $22k leave his stack.
"I don't have a five," he groaned which explained why he had made it to showdown with his speculative holding.
Things would not get better as San Man ended the stream down $38,960 while Dr. H had a night to remember and booked a six-figure win, which was almost $98,000 more than the next biggest winner.
Would You Return the Money?
It's quite obvious that this is just a horrible faux pas on San Man's behalf here, as his snap-call and instant reaction clearly indicated that he thought he had trips.
The live chat then started discussing on whether or not the river bet should be returned due to the obvious error. This caught the eye of commentator David Tuchmann, who gave his thoughts.
"I don't think he's [Dr. H] is required to [give the river bet back]." said Tuchmann. "Nate Hill mentioned at a friendly game like this, most people would. I would, as long as I had a good relationship with that player, even decent, I'd probably give the river back."
"I don't want to call out Dr. H for not doing it. He's not required to do it. That said, in a friendly game, I have seen players give the river bet back when it's clear."
Several members of the poker community also weighed in on the unusual scenario.
Triple crown winner Niall Farrell wrote on X "In spots as obvious as this, I'm returning it, poor c*** snapped it off."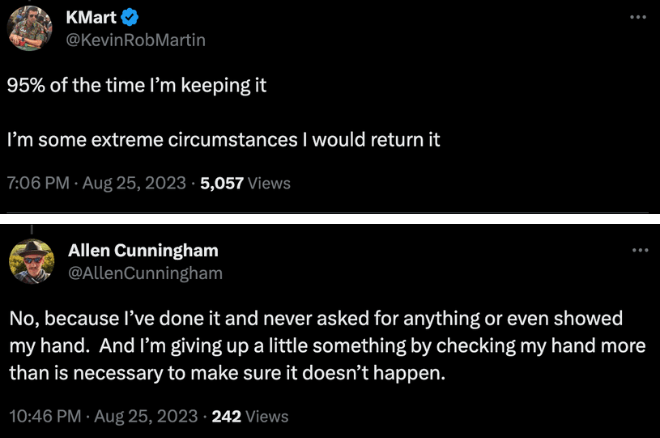 Bill Perkins also remained true to 'dying with zero,' as he also confirmed that he would've given a refund while Allen Cunningham and Kevin Martin thought overwise.
Calum has been a part of the PokerNews team since September 2021 after working in the UK energy sector. He played his first hand of poker in 2017 and immediately fell in love with the game. Calum's proudest poker achievement is winning the only tournament he has ever played in Las Vegas, the prestigious $60 Flamingo evening event.