Three Lucky Poker Players Hit $500,000 BLAST Sit-and-Go Jackpot on 888poker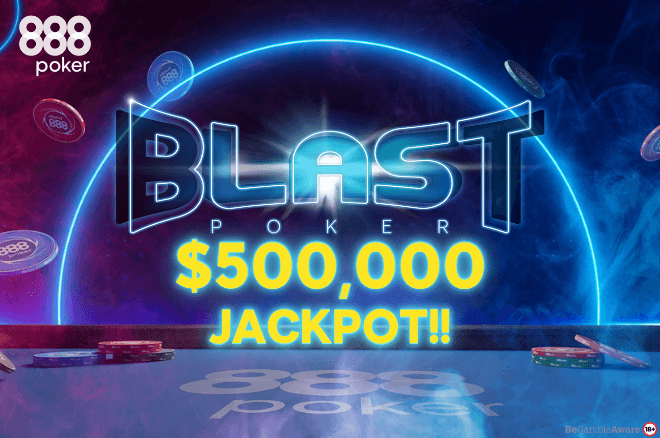 In the world of online poker, few games can match the excitement of 888poker Blast Jackpot Sit and Go (SNG) tournaments.
These fast-paced contests offer players the chance to win up to 10,000x their buy-in! And, on a fateful August 8, three daring players took the plunge into a $50 buy-in game, only to be greeted by a jaw-dropping surprise: a colossal prize pool of $500,000!
The outcome was a dream come true for the participants, as they hit the jackpot with the maximum multiplier for their stake.
The payouts were nothing short of astonishing, with $350,000, $100,000, and $50,000 going to the winner, runner-up and third-place player.
It was a relatively new 888poker player who emerged triumphant. Hailing from Canada, the player known as "Pelaps" had only registered on the 888poker site five months prior. Romania's "valyspk04" bagged the final six-figure prize while Hungarian "vicuska12344" saw their bankroll boosted exponentially despite being the first player to hit the wrong side of the virtual rail.
Big BLAST Poker Winners
A lucky few players have recently won big while playing BLAST poker. Last December on 888poker Ontario, "Starplayer50" pocketed $140,000 after they and two others were competing for the lion's share of a $200K jackpot prize pool. The runner-up and third-place finisher also bagged themselves $40,000 and $20,000 respectively.
In 2021, a trio of players hit the $1,000,000 jackpot, and what is even more impressive is that the jackpot was triggered from a $1 BLAST game. "Adria74" was the player who prevailed and collected the $700,000 allocated to the winner while second-place earned $200,000. Third-place also had a six-figure payout, with $100,000 being awarded to them.
How to Play BLAST SNG Games on 888poker
It's really easy to play BLAST games so head to the 888poker client and jump straight into the action!
How to play BLAST poker:
Check the poker lobby for BLAST
Join a game where a random draw selects the prize pool.
Once three players register, the game starts.
Play your SNG as usual – no automatic all-in and no timer - with a possible prize pool of up to 10,000x your buy-in!
Find Out If Alexandra Botez' $10K River Bluff Worked Against Phil Ivey With 888Ride
Keep Track Of All The Action With The PokerNews Online Tournament Calendar
You should give the PokerNews Online Tournament Calendar a try. This free-to-use tool keeps track of the poker tournaments on major online poker sites like 888poker.
You can filter and search the tournaments to find what you're looking for quickly and easily, including the PokerNews exclusive freerolls held on 888poker.
Sign up for 888poker today, and you can register for poker tournaments without ever leaving the calendar!
Calum has been a part of the PokerNews team since September 2021 after working in the UK energy sector. He played his first hand of poker in 2017 and immediately fell in love with the game. Calum's proudest poker achievement is winning the only tournament he has ever played in Las Vegas, the prestigious $60 Flamingo evening event.