Weixiao Liao Wins the GUKPT London Main Event With Seven-Deuce (£75,501)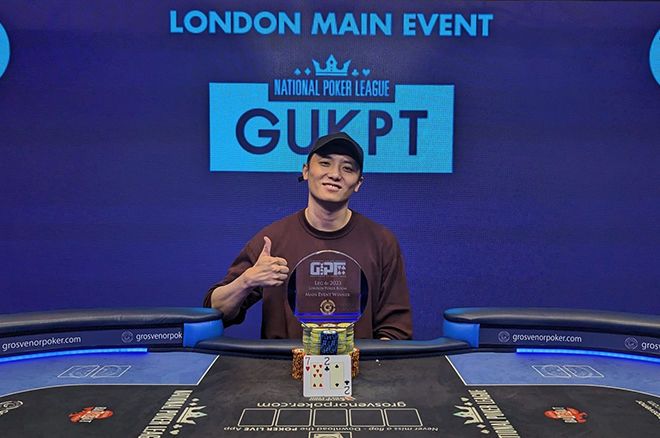 The Grosvenor UK Poker Tour (GUKPT) London Main Event has crowned its champion, and the worthy winner is none other than Weixiao Liao. Some 405 players bought into the £1,250 Main Event and created a £421,372 prize pool. The top 44 finishers won a slice of that pie, with Liao taking home the lion's share.
A four-handed deal all but ended the tournament as a contest because the deal did not leave any additional prize money to win. The final four flipped for the trophy, and Lady Luck shone down on Liao, gifting him the victory, the trophy, and the title of champion thanks to the lowly seven-deuce coming up trumps.
2023 GUKPT London Main Event Final Table Results
| Rank | Player | Prize |
| --- | --- | --- |
| 1 | Weixiao Liao | £75,501* |
| 2 | Longmao Fan | £60,046* |
| 3 | Tom Middleton | £54,966* |
| 4 | Jiaze Le | £62,669* |
| 5 | John Blanchard | £18,450 |
| 6 | Carlo Citrone | £13,490 |
| 7 | Artan Dedusha | £9,690 |
| 8 | Adam Gill | £8,220 |
| 9 | Sahil Chuttani | £6,950 |
*reflects a four-handed deal
Calogero Morreale, who is running hot in the Grosvenor National Poker League, was the first Main Event player to cash. The likes of Andy Moc, Yucel "Mad Turk" Eminoglu, Team Grosvenor's Katie Swift, and Ludovic Geilich also saw a return on their £1,250 investment. Matt Davenport, Rob Cowen, and Arthur Conan also found themselves in the money places.
At the final table, Sahil Chuttani was the first finalist to fall. Chuttani found himself all-in for his last 20 big blinds with ace-queen against the dominating ace-king of Longmao Fan, and he never caught up.
Adam Gill joined the list of busted players after a clash with John Blanchard did not go to plan. Gill was all-in with ace-five of hearts, and Blanchard looked him up with a pair of jacks in the hole. Gill spiked a five on the flop but found no additional outs, so had to make do with an eighth-place finish.
Alex Todd Goes Wire-to-Wire to Win Record-Breaking 2023 Goliath Main Event (£178,860)
Seventh place and the last four-figure sum of the tournament went to GUKPT regular Artan Dedusha. Dedusha, the 2020 GUKPT London Main Event champion, was down to only nine big blinds, and was in desparate need of a double. He made a move with pocket threes, and Jiaze Le called with queen-jack. Le won the coinflip courtesy of a jack on the flop, and Dedusha was demolished.
Carlo Citrone's recent return to the live poker scene has been kind to him. In February, he won the £550 GUKPT Cup in Manchester for £29,500, and followed that up with a brace of cashes at the 2023 World Series of Poker. Citrone busted from the GUKPT London Main Event in sixth place for £13,490 when he open-shoved six big blinds with ten-seven of clubs, and Le called with pocket kings. The board never even hinted at rescuing Citrone, and he headed for the cashier's desk.
A cruel hand reduced the final table to four players, and it was Blanchard who was on the end of the bad beat. Liao shoved from the small blind with what turned out to be eight-four of spades. Blanchard, in the big blind, called off his last 16 big blinds with ace-king, and must have thought he was back in the hunt for the title. That may have been the case preflop, but Liao turned a flush to send Blanchard home in fifth for £18,450, a new career-best for the man from Oxfordshire.
Ravi Sheth Does the Double at GUKPT London; Wins Mini Main
The final four players decided to reduce the pay-jumps by discussing then agreeing to a deal. The deal left no additional prize money up for grabs. Instead, the quartet fought it out for the right to take home the trophy. Unsurprisingly, all four players began shoving all-in preflop.
Le was the first of the deal makers to bust; the deal scored him £62,669 despite busting in fourth. Then a double elimination sent both Middleton and Fan to the showers. Middleton held seven-four, Fan held king-ten, and the Liao showed the lowly seven-deuce. A deuce on the flop and another on the river gifted Liao the title and the trophy.
Brandon Sheils Binks High Roller After Two Sixth Place Finishes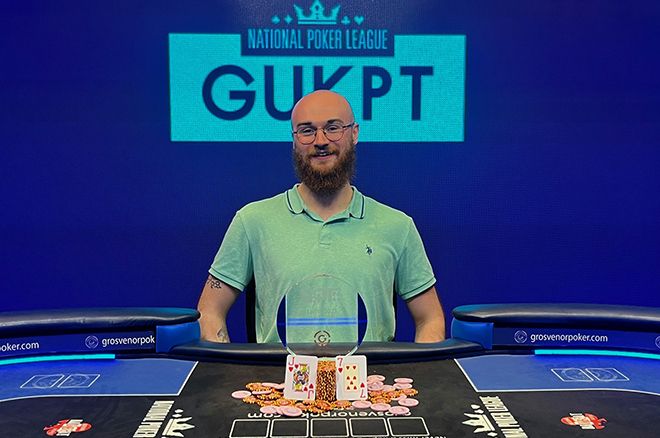 Brandon Sheils helped himself to the £61,070 top prize of the GUKPT London £2,000 High Roller. Sheils had been in top form at this festival, and had finished sixth in the £550 GUKPT London Midi Main Event for £6,020, and in the Mini Main Event for £4,820; Ravi Sheth won both of those events.
Sheils was one of 114 entrants in the High Roller, which saw the top 11 finishers share the £196,990 prize pool.
Jack McDermott and Pavel Abramov bowed out before the final table, and what a final table it was.
Harry Lodge's exit in ninth left the waters ever-so-slightly less shark-infested. Then came the demises of Gary Blackwood, Jamie Dwan, Keith Johnson, and Jack Benson. Popular Belgian pro Kenny Hallaert ran out of luck in fourth before Daniel Efeturk fell in third for £26,000, his best-ever live result.
Sheils found himself up against the 2013 PokerStars European Poker Tour Barcelona Main Event champion Tom Middleton, which is not a great spot to find oneself in. However, Sheils kept his head in the game and emerged as a worthy winner, doing so with £61,070 for his efforts, leaving Middleton to scoop a £39,790 consolation prize.
GUKPT London £2,000 High Roller Final Table Results
| Rank | Player | Prize |
| --- | --- | --- |
| 1 | Brandon Sheils | £61,070 |
| 2 | Tom Middleton | £39,790 |
| 3 | Daniel Efeturk | £26,000 |
| 4 | Kenny Hallaert | £18,320 |
| 5 | Jack Benson | £13,590 |
| 6 | Keith Johnson | £9,850 |
| 7 | Jamie Dwan | £7,290 |
| 8 | Gary Blackwood | £6,110 |
| 9 | Harry Lodge | £5,510 |
GUKPT Heads to Luton on September 14
Players do not have long to wait to get their teeth into more GUKPT events because GUKPT Luton is right around the corner. The seventh leg of the 2023 tour takes place between September 14-24, and includes a £1,250 buy-in Main Event.
Several top-tier Brits have won the GUKPT Luton Main Event, including Sam Trickett, Richard Gryko, Neil Channing, Charles Chattha, Jamie O'Connor, Driton Haxhiaj (twice), and Tom Hall. Will your name be joining that stellar list?