Moc Wins £265K After Dramatic GUKPT Grand Final Conclusion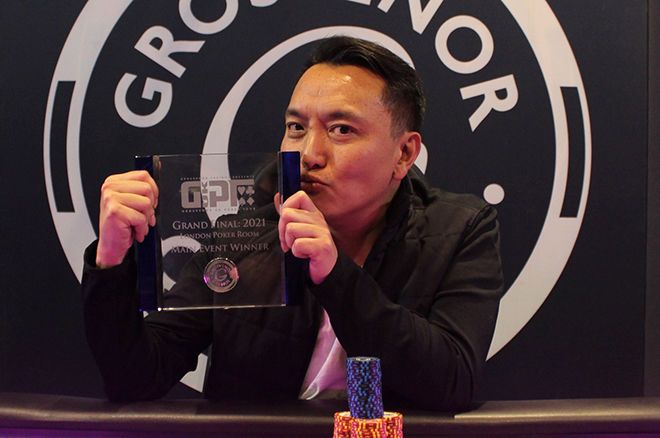 The 2021 Grosvenor UK Poker Tour (GUKPT) enjoyed something of a renaissance with every stop seeing incredible attendance figures. That trend continued in the GUKPT Grand Final Main Event with 607 entrants creating a £1,092,600 prize pool, the largest ever Grand Final in the tour's long history.
Andy Moc was the man who came out on top of that star-studded field. His reward? A cool £265,350! However, it was Yucel Eminoglu, a player known affectionately as "Mad Turk," who hit the headlines after laddering from fifth to second with a super-short stack.
2021 GUKPT Grand Final Main Event Final Table Results
| Place | Player | Prize (GBP) | Prize (USD) |
| --- | --- | --- | --- |
| 1 | Andy Moc | £265,350 | $351,778 |
| 2 | Yucel Eminoglu | £183,650 | $243,467 |
| 3 | Jack Hardcastle | £110,300 | $146,226 |
| 4 | Ed Roger | £69,600 | $92,269 |
| 5 | Conor O'Driscoll | £43,900 | $58,198 |
| 6 | Chun Man | £32,100 | $42,555 |
| 7 | Antonis Poulengeris | £22,500 | $29,828 |
| 8 | Dan Gormley | £19,250 | $25,517 |
| 9 | Mauricio Pais | £16,050 | $21,275 |
High Rollers Assemble! GGPoker Launches Super MILLION$ Week
The top 59 finishers won a slice of the £1,092,600 prize pool, and there were plenty of big names among the in-the-money finishers. Team Grosvenor's Katie Swift bowed out in 56th for £4,400 with Kenny Hallaert finishing two places deeper and receiving the same payout.
Guy Taylor (51st - £4,400), Terry Jordon (49th - £4,700), Jamie O'Connor (40th - £5,050), Richard Ashby (32nd - £5,650), James Rann (24th - £6,000), Tom Middleton (18th - £6,950), and Brandon Sheils (10th - £14,450) were just a selection of stellar names seeing a return on their £2,000 investment.
The nine finalists took their seats on December 5 knowing they would leave London with at least £16,050 for their efforts but had a legitimate shot at scooping £265,350.
Mauricio Pais' time at the final table was in short supply because he was the first player out of the door. Pais sat down at the final table with the shortest stack so it was not a surprise to see him finish ninth. Andy Moc opened to 125,000 with ace-jack and called when Pais three-bet all-in with pocket sevens for 680,000. A jack on the turn busted Pais from the Grand Final Main Event.
Eighth place and £19,250 went to Dan Gormley, which is the Scotsman's largest live score. Gormley came unstuck when he clashed with GUKPT Leeds champion Jack Hardcastle. Gormley called a 140,000 raise from Hardcastle with king-eight of spades; Hardcastle held ace-six of spades. A six-high flop saw Gormley rip in the last of his five big blind stack, and Hardcastle snap-called. No king or eight appeared on the turn or river, and Gormley was gone.
Justin Bonomo Wins $100k High Roller, Regains All-Time Money List Lead
Antonis Poulengeris saw his tournament end in a seventh-place finish worth £22,500. Pulengeris moved all-on for 245,000 with ace-seven, Moc three-bet all-in for 2,000,000 with king-queen of hearts to isolate the all-in player, but Conor O'Driscoll woke up with ace-king and called off his 565,000 stack. O'Driscoll spiked a king on the flop, which held to send Poulengeris home.
The final table grew even shorter when Chun Man crashed out in sixth, a finish worth £32,100. Man's stack hovered around ten big blinds for a while, resulting in him moving all-in or folding. Several shoves got through uncontested but the all-in bet with ace-seven was called by Moc holding ace-king, and the writing was on the wall. Man hit a seven on the flop but Moc's run good continued with a king on the river.
Moc now had a stack of 93 big blinds, with Hardcastle his nearest rival with 18 big blinds. It is fair to say Moc had one hand on the trophy.
Ireland's O'Driscoll was the next star out of the door. The popular Irish man, known as "ccoonnoorr" in online poker circles, headed to the cashier's desk to pick up a £43,900 pay packet. His tournament ended at the hands of Moc, who raised to 205,000 with ace-queen of clubs. O'Driscoll three-bet all-in for 1,100,000 with king-queen, leaving Yucel "Mad Turk" Eminoglu with a real decision to make with his red nines. Eminoglou was on fumes, but let his pair go in an attempt to ladder a place. An ace on the flop sealed the deal for Moc, although Eminoglu would have enjoyed a triple-up because the turn was a nine!
The last five-figure score, namely £69,600, went to Ed Roger. He busted the hand after O'Driscoll when he three-bet all-in with pocket sevens after Moc had opened with pocket eights. Moc called and his snowmen held despite Roger hitting a set on the river because the seven of diamonds completed Moc's flush!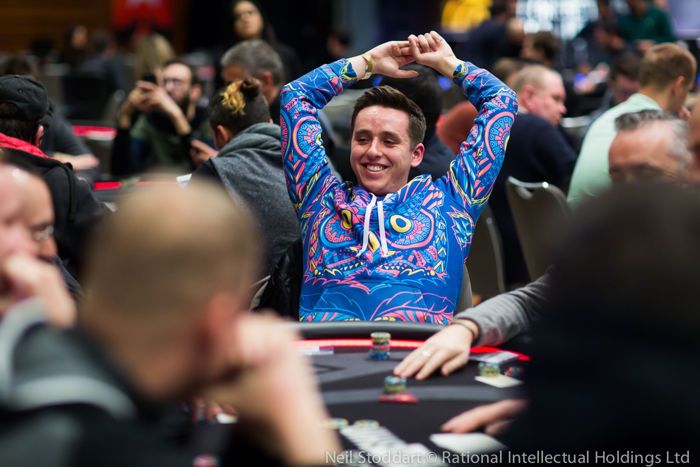 Moc now held 125 big blinds, Hardcastle 18 big blinds, and Eminoglu laddered another payout spot despite nursing a seven big blind stack!
Amazingly, Eminoglu found himself heads-up when Hardcastle got the last of his chips in with pocket fives against Moc's ace-jack. The board double paired with sevens and queen, counterfeiting Hardcastle's fives, and leaving Moc to win courtesy of his ace-kicker.
Eminoglu celebrated wildly having laddered from a £43,900 score to be guaranteed £110,300 within three hands despite sitting with seven big blinds! What an incredible result. Unfortunately, Eminoglu could not produce a miracle victory and busted in second when his king-ten could not hold against Moc's queen-deuce of hearts. Moc spiked a queen and a flush draw on the flop, leaving Eminoglu drawing to two outs. He did not find them, and Moc became the 2021 GUKPT Grand Final Main Event champion.