David Kozma Captures WPT Prime Liechtenstein Title and $300,541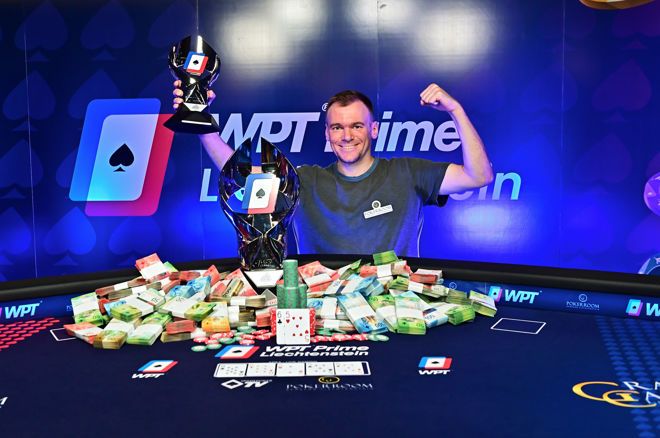 Table Of Contents
Be honest, Liechtenstein probably is not the first country that springs to mind when you think about playing poker. The country has a population of approximately 39,000 residents, and its all-time leading money winner, Karim Frick, only has $83,595 in earnings, according to the Hendon Mob. However, Liechtenstein was put on the map over the past week when the WPT Prime made the Grand Casino Liechtenstein its home.
With re-entries included, the WPT Prime Liechtenstein Main Event drew in a 1,664-strong crowd, which accounts for more than 4.21% of the country's population. To put that into perspective, if a tournament in the United States attracted the same crowd, PokerNews would be writing about a tournament with almost 14 million entrants! The WPT headed to Liechtenstein, and players turned out in droves.
The field was predominately made up of Italian and Swiss players. Indeed, six of the final nine called one of those two countries home, yet it was a Hungarian, David Kozma, who came out on top. Here is how Kozma got the job done, and his hands on the equivalent of $300,541, including a $10,400 seat into the WPT World Championship in Las Vegas.
WPT Prime Liechtenstein Final Table Results
| Rank | Player | Country | Prize (Swiss Francs) | Prize (US Dollars) |
| --- | --- | --- | --- | --- |
| 1 | David Kozma | Hungary | CHF 268,340 | $300,541 |
| 2 | Marc Sen | Switzerland | CHF 172,500 | $193,200 |
| 3 | Lukas Pazma | Slovakia | CHF 128,000 | $143,360 |
| 4 | Alessandro Pichierri | Italy | CHF 95,800 | $107,296 |
| 5 | Carlos Henningsen | Canada | CHF 72,300 | $80,976 |
| 6 | Faton Berisha | Switzerland | CHF 55,200 | $61,824 |
| 7 | Thomas Hofmann | Switzerland | CHF 42,500 | $47,600 |
| 8 | Salih Atac | Italy | CHF 33,000 | $36,960 |
| 9 | Guodong Yang | Italy | CHF 25,900 | $29,008 |
The final day of WPT Prime Liechtenstein started with 11 players, but they were quickly whittled to a nine-handed final table when Simon Sennhauser and Jules Hamidou bowed out. Kozma had almost double the chips of any of his opponents, and used his big stack advantage to put even more distance between himself and the chasing pack during the early confrontations.
Twenty-seven hands into the final table action, Guodong Yang called all in for less than ten big blinds with ace-jack and found himself against the king-queen of Faton Berisha. A king on the flop proved enough to yank Yang from his seat.
Almost immediately after Yang's demise, Salih Atac three-bet his short stack all-in after Alessandro Pichierri opened the preflop betting. Pichierri called, and turned over a pair of black queens, which were way ahead of Atac's ace-trey of spades. Pichierri flopped a set, and Atac was drawing dead on the turn.
Every Way To Win Yourself a WPT Championship Passport Worth $12,400
The final seven became six when Thomas Hofmann lost a coinflip against Marc Sen on the 107th hand of the night. Hofmann open-shoved from the button for almost 11 big blinds with pocket nines, and Sen called from the big blind with ace-king. Sen spiked an ace on the flop, and improved to a full house by the river. Game over for Hofmann.
Going so long between eliminations resulted in the average stack size plummeting, meaning any mistake would likely mean an early bath for the loser. Although not a mistake, Berisha moved all-in for 12.5 big blinds from the button with ace-seven, only for Lukas Pazma to come over the top from the small blind, with what turned out to be the dominating ace-king. Both players paired their ace on the flop, but the community cards were void of sevens, and that spelled the end of Berisha's deep run.
The tournament lost Canada's Carlos Henningsen on the very next hand. Down to 13 big blinds, Pichierri looked down at pocket tens, and moved all-in. Henningsen called for only a third of a big blind ante less with ace-king, and it was off to the races. The board never even threatened to come to Henningsen's rescue, and he made his way to the cashier's desk.
Pichierri busted in fourth place in the cruelest of circumstances. Both Pichierri and Kozma committed their stacks with king-jack, and a chop looked the most likely scenario. However, there were four spades on the board, and Kozma held the jack of spades, so his unlikely flush reduced the player count by one.
Another 37 hands played out before Pazma crashed out in third and sent the tournament into the heads-up stage. Kozma raised to 2,300,000 during the 400,000/800,000/800,000a level with suited king-ten before calling the 5,500,000 shove from Pazma, which he made with jack-nine. Pazma flopped an open-ended straight draw but it failed to materialize, leaving Kozma's pair of ten the best hand.
Sen held a narrow four big blind advantage over Kozma at the start of heads-up play. Eight hands into the one-on-one battle, Kozma's pocket tens held against ace-three to propel him into what turned out to be an unassailable lead. Sen managed to double through Kozma, but any hopes of a comeback had cold water poured on them on the 220th hand of the final table.
Sen limped for 1,000,000 with ace-six, and Kozma checked with six-five. An eight-six-deuce flop saw Kozma bet 1,000,000 then call when Sen raised to 3,000,000. Kozma led for 3,000,000 when a five landed on the turn. Sen jammed for 15,000,000, and Kozma called. The river needed to be an ace or an eight for Sen's hopes to stay alive, but it was a five; Kozma was the champion of WPT Prime Liechtenstein.
$2 Million is Guaranteed During the WPT Global Fall Festival
Next on the WPT Prime Circuit: A Trip to Madrid
WPT Prime Madrid is next on the agenda for the popular tour. It takes place at the Casino Granvia Madrid from September 28 through October 2, and includes a €1,100 buy-in Main Event.
Head online to WPT Global and see if you can bag yourself a WPT Prime Passport for as little as $5. The passport is worth $1,500 and can be used to play at any WPT Prime event of your choosing. However, as the Madrid stop is the final leg before the end of the year, your choice is limited this time around.
WPT Global is also the place to win your way into the WPT World Championship in Las Vegas this December. World Poker Tour is rumored to be slapping a $40 million guarantee on the tournament, and you could be playing it for free thanks to the awesome WPT Global welcome offer and promotion.
If you don't have a WPT Global account yet, then you can earn satellite tickets just by signing up.
As well as offering the chance to play in the WPT World Championship, WPT Global also offers new players a generous matched deposit bonus of 100% up to a maximum of $1,200.
This bonus is automatically awarded to any new player who deposits more than $20.
The playthrough requirements for this bonus are fairly straightforward, with the bonus unlocking one $2.50 increment for every $10 in rake you generate in tournaments or cash games. The bonus expires 90 days from the date of your first deposit.
Your exact bonus is linked to the size of your deposit and whether you are a new or returning player:
| New or Existing Players | Deposit Number | Minimum Deposit Amount | Reward |
| --- | --- | --- | --- |
| New Players Only | 1st Deposit | $20 | 4 x $5 WPT World Championship Satellite tickets |
| New and Existing Players | 2nd Deposit | $20 (2nd deposit of this amount) | 4 x $5 WPT World Championship Satellite tickets |
| New and Existing Players | Next Deposit of $300+ | $300 | $22 WPT World Championship Satellite ticket & $110 Sunday Slam ticket |
| New and Existing Players | Next Deposit of $1,200+ | $1,200 | $220 WPT® World Championship Satellite ticket |