PartyPoker Weekly: Take the FastForward Challenge and Reap the Rewards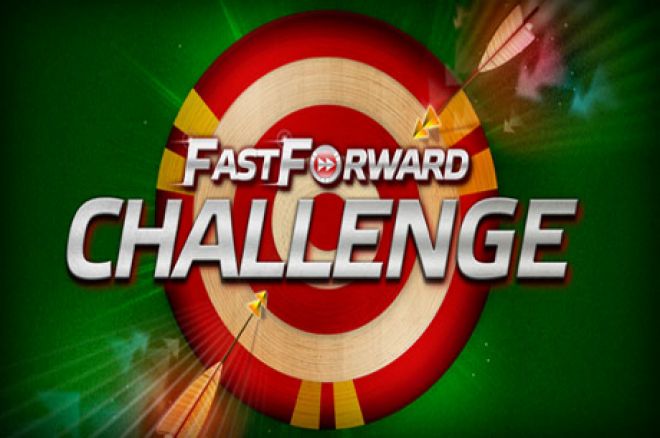 Can You Keep up the Pace in the FastForward Challenge
The PartyPoker offering of "fast-fold" poker, FastForward, is already one of the most exciting and potentially profitable ways to play online poker, but the excitement and potential profitability has just been boosted, thanks to the FastFoward Challenge.
The FastForward Challenge will see you awarded a poker bonus of between $5 and $100 just for sitting down and playing FastForward poker. If you earn just a single point on four separate days during the week, a $5 poker bonus will find its way to your account. Earn one point every day for seven days, and this bonus increases to $10.
The maximum bonus this promotion yields is $100, which is awarded to anyone who earns 100 points a day for seven consecutive days. Points are awarded at two PartyPoints per $1 paid in rake and the points really rack up thanks to the sheer number of hands that you can play per hour at FastForward Poker tables.
| Points Per Day | Four days in a week | Seven days in a week |
| --- | --- | --- |
| One point per day | $5 poker bonus | $10 poker bonus |
| Five points per day | $15 poker bonus | $20 poker bonus |
| 25 points per day | $35 poker bonus | $40 poker bonus |
| 50 points per day | $45 poker bonus | $50 poker bonus |
| 100 points per day | $75 poker bonus | $100 poker bonus |
As an added incentive to grind, PartyPoker will award you with an extra cash bonus if you qualify for a bonus for 12 consecutive weeks. If you can withstand the lightning-fast pace of FastForward Poker, then this is the promotion for you.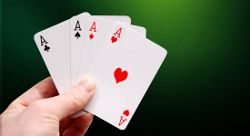 Compete in the New Player $1,500 Freeroll
Players who are new to PartyPoker can enjoy a $1,500 freeroll just for making their first real money deposit. To register, click on the "Freeroll" tab on the tournament lobby, click "$1,500 New Player Freeroll" and the click on the "Register" tab. If you have made your first deposit within 30-days before the start of the tournament you will be able to play in the $1,500 New Player Freeroll!
There are a maximum of 5,000 seats in this freeroll.
Remember, new customers can also take advantage of our special free $50 bankroll offer, too. Just scroll down towards the bottom of this article for full details on that amazing offer.
Who Would Your Swap Bodies With?
At the recent PartyPoker.com Premier League VI, the PartyPoker blog caught up with some of the entrants and asked them which of their Premier League opponents they would swap bodies with if they could do so for one day. Enjoy!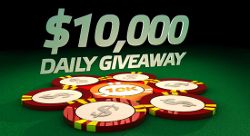 Win a Share of $10,000 Every Day in the $10,000 Daily Giveaway
The PartyPoker $10,000 Daily Giveaway promotionis giving you the chance to win huge cash prizes every day and for very little outlay.
Every day, from Monday through Saturday, PartyPoker is hosting four daily tournaments with combined prize pools of $10,000. Then on Sunday there is a massive $10,000 guaranteed tournament that costs just three PartyPoints to enter! When you consider PartyPoker awards two PartyPoints per $1 in rake or tournament fees than you could be playing for a share of $70,000 over the course of the week for just $2 of rake!
| Tournament | Dates | Time (CET) | Entry fee |
| --- | --- | --- | --- |
| $1,000 Daily Giveaway | Mon-Sat | 18:00 | Free |
| $2,000 Daily Giveaway | Mon-Sat | 20:00 | Free |
| $5,000 Daily Giveaway | Mon-Sat | 21:00 | 1 PartyPoint |
| $2,000 Daily Giveaway | Mon-Sat | 23:00 | Free |
| $10,000 Sunday Giveaway | Sunday | 20:00 | 3 PartyPoints |
Points must be earned 24 hours in advance of the tournament starting.
As the table shows, you can not only play in $5,000 worth of freerolls for no outlay whatsoever, you can also play in a daily $5,000 freeroll for a solitary PartyPoint! These points are awarded at a rate of two points per $1 in rake or tournament fees so you are gaining access to a $5,000 tournament for just $0.50! What's more, you can also play in the weekly $10,000 tournament for the equivalent of just $1.50 in rake or fees!
Good luck at the felt!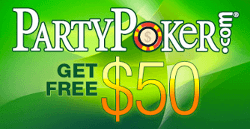 What Would you do with a Free $50?
The poker world is full of stories of players depositing $50 and running it up into an astronomical amount. Do you think you have what it takes to become one of those people the poker world talks about? Well here is your chance to shine because PokerNews customers are entitled to a free $50 bankroll when they create a new PartyPoker account.
Follow the simple steps below and the free poker cash is all yours!
Download the PartyPoker software through PokerNews
Create a new PartyPoker account and enter the bonus code "PN50FREE"
Fill out the registration form in the PartyPoker cashier
Return to PokerNews and fill out our brief registration form
Check your email inbox for a confirmation email from [email protected]
Once you have received the confirmation email, $20 will be placed in your PartyPoker account. You must earn at least 40 PartyPoints before you will be able to withdraw the free $20. If you do not earn 40 PartyPoints within 60 days, the initial $20, or whatever remains of it, will be forfeited. PartyPoints are earned at a rate of two PartyPoints per $1 in rake or tournament fees, so earning 40 within 60 days is easy.
Once you have earned 40 PartyPoints, an additional $30 will be deposited into your account, bringing the total free cash to $50. You must then generate 160 points before you can cash out any of the $30 and must do so within 120 days, otherwise the $30, or the remainder of it, will be forfeited.
If you experience any problems with this or any of our promotions, please contact our Ticketed Promo Support System.
Get all the latest PokerNews updates on your social media outlets. Follow us on Twitter and like us on Facebook now!