Yes, We Can Send You to The FTOPS XXVII Main Event For Free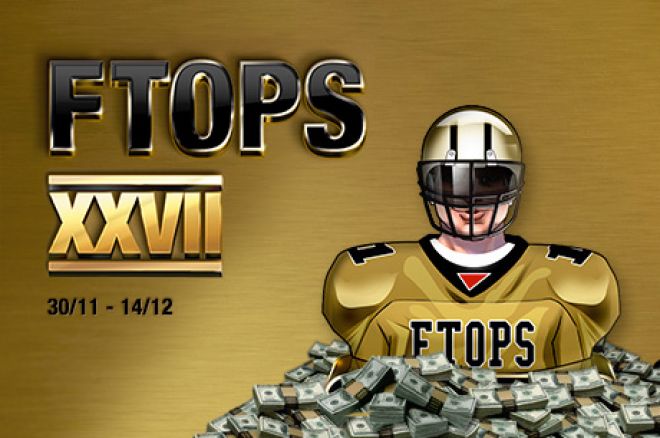 The Full Tilt Online Poker Series (FTOPS) are back on Sunday, Nov. 30 - and it's about time we tell you how join the $1,000,000 gtd. Main Event for free.
From Sunday, Nov. 30, to Sunday, Dec. 14, Full Tilt will again be home to one of the best online poker events of the season, thanks the twenty-seventh edition of the room's uber-famous FTOPS.
The action-packed calendar of the last FTOPS in 2014 features a mind blowing total guarantee of more than $4,000,000 spread over thirty different events, with tournaments for literally every taste and (almost) every buy-in.
Event highlights include the popular Event #1, a no-limit hold'em re-Entry tournament set to kick of at 13:30 ET on Nov. 30, and which offers a $300,000 guarantee for a buy-in as small as $215.
Other marquee events include the Event #2 (Nov.30), a multi-day no-limit hold'em tournament with a half turbo, half regular structure, and the Event #29 (Dec.14), a $215 buy-in mega stack no-limit hold'em tournament with a $200,000 guarantee.
Those interested in the FTOPS Main Event, will then have to wait until until Sunday, Dec.14, when the $1,000,000 gtd. $635 buy-in no-limit hold'em event will close the series and will award the most prestigious online title of the season.
(Click here to download the full schedule of the FTOPS XXVII in PDF.)
How to play the FTOPS XXVII Main Event for free
Satellite qualifiers are not the only way for Full Tilt players to avoid the $635 buy-in to the Main Event.
Thanks to a promotion named Avatar Heads Up, the poker room plans to send a good number of online players to the FTOPS Main Event for free, as long as they can be lucky (or smart) enough to place a (free) bet on the right avatar at least once in twelve days.
Every day, from Sunday, Nov. 30, to Thursday, Dec. 11, two avatars will be matched up on a special page published on Full Tilt's website.
The players who correctly pick the avatar that wins the next day's match, will be entered into a random draw for an FTOPS Main Event ticket.
And since the promo is set to run until Dec. 11, this means that there is going to be a total of twelve total tickets up for grabs and twelve chances to win. And again, let me remind you, this is all of free.
How does it work? In case you wonder how the scoring work and how can an avatar win over another, here's what Full Tilt has to tell you:
The highest finishing position for any player donning one of the competing avatars will be averaged for that day's events.

For example, if the day has two FTOPS events, and a Shark finishes 6th in the first event and 8th in the other, then the mark the arch-rival donkey needs to beat is 7.0.
How about the online satellites?
If betting is not your thing, or if you simply do not like the idea to freeroll the FTOPS XXVII Main Event, you can still join basically any of the tournaments included in the series' schedule for just a fraction of their buy-ins.
As usual, Full Tilt is running an impressive number of online satellites to every FTOPS event - and this means that if you will manage to be good enough to beat all the other wannabe qualifiers, you will find yourself playing for six-figure prizes for just a couple of bucks.
To join the XXVII edition of the FTOPS, or to see the full list of the satellites planned, head to Full Tilt before it's too late!
For more information about Full Tilt Poker, check our in-depth review of the poker room.
Get all the latest PokerNews updates on your social media outlets. Follow us on Twitter and like us on Facebook