Test Your Poker IQ For Free with PokerStars' Natural Born Poker Player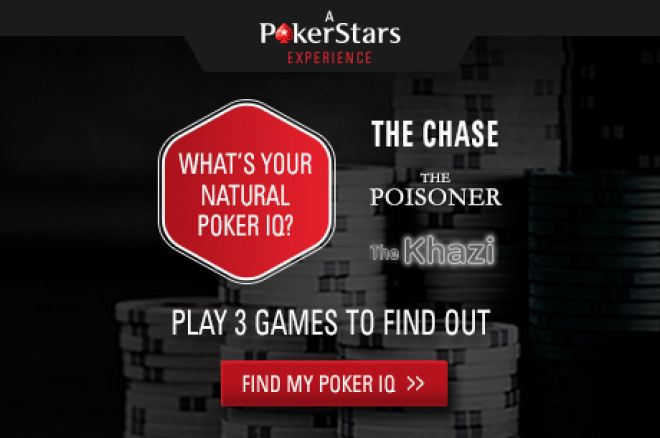 How would you like to test your Poker IQ for free and have a a bit of fun at the same time?
Our friends at PokerStars have just made this possible launching this week a fun (and free) game, Natural Born Poker Player.
What is Natural Born Poker Players?
You most likely have heard of the 1994 blockbuster motion picture Natural Born Killers featuring Woody Harrelson and Juliette Lewis, directed by Oliver Stone, and written by Quentin Tarantino. If you know a bit less about Natural Born Poker Player, read on and we will share with you everything you need to know about this new and innovative game to test your poker IQ.
Natural Born Poker Player is a series of interactive short-films where you poker IQ is tested based off six categories, bravery, bluffing, quick thinking, logic, detection, and cool-headed. The games consist of fun adventures where you have to decide what the hero's next move is.
Each game will test you on three different facets of your poker IQ, with the one you wind up with the highest grade on becoming your "natural poker style." Additionally, once you complete three games, you will also be given a poker IQ which you can share with your friends on various media including social networking sites Twitter and Facebook.
Currently, the three interactive games available are The Chase, which tests cool headed, bravery, and quick thinking, The Poisoner, which tests bluffing, bravery, and detection, and The Khazi, which tests detection, logic, and quick thinking.
You can also choose to test your poker skills directly by heading into the Poker Playroom, which will allow you to focus on one of the facets of your poker IQ directly by choosing how the hero should act in a variety of interactive poker situations.
PokerStars plans to launch three new interactive games in the near future, including The Date, The Judge, and The Deal.
How to Play Natural Born Poker Player
Testing your poker IQ is fun and easy. All you need to do is head to the Natural Born Poker Player website and click on the game you want to play.
You do not need a PokerStars account to enjoy all of the available games. Before starting a game, you are given a choice about whether you want to link your Facebook account or not. The main benefit of linking your Facebook account is that your progress in the games is saved for you.
So why not check out what Natural Born Killers is all about? Once again, it is absolutely free! Find out what your poker IQ is today, and share with us your score in the comment box below.
For news, updates, and more follow PokerNews on Twitter and Facebook.