Your Chance of Becoming a Millionaire is Waiting at 888poker!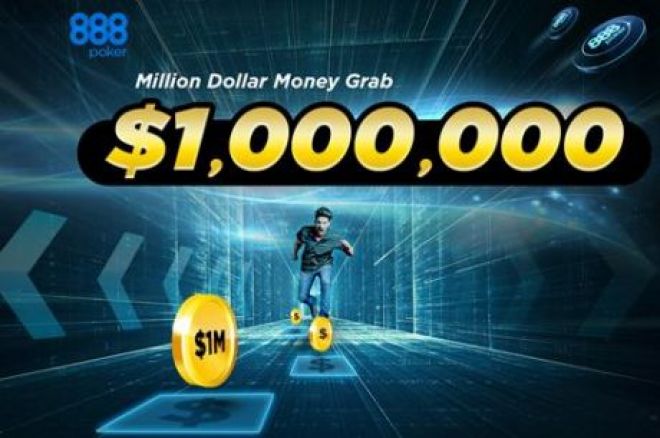 Everyone dreams of becoming a millionaire — excluded from that statement are those that have millions and billions because becoming a millionaire would devastate them. The rest of the world would be so excited to score a million dollar payday and make a lifestyle change that would allow them to jump from the 'daily grind' to planning a way to manage their new income for life.
If you are like we are, we are always looking for ways to improve our finances and make the leap to millionaire status as fast as possible.
We found this golden opportunity waiting at 888poker that could send you right into instant millionaire status when you start playing the "Million Dollar Money Grab" and collect all of the Gold Chips required.
How to Become a Millionaire at 888poker
The key to becoming a millionaire in 888poker's exciting promotion is collecting Gold Chips, the rewards you receive by placing in the $2,000 Money Grab Free Tournaments.
It may sound like a task that's impossible but it's all intertwined with doing what you love best, playing poker — for a huge sum of money with very little invested!
To collect Gold Chips, simply finish in the top 100 of the $2,000 Money Grab Free Tournaments. You can play the $2,000 Money Grab Free tournaments in any order but to keep adding to your Gold Chip count, you must finish in the top 100 of each CONSECUTIVE tournament you play in. If you miss finishing in the top 100, you'll have to start over.
Even if you have to start over, you're going to receive prizes for your efforts in the $2,000 Money Grab Free Tournaments — those prizes are yours to keep. Check the following to see the prizes you win for Gold Chip accumulation:
| Gold Chip count | Prize |
| --- | --- |
| 2 CHIPS | $2,000 Money Grab Free Tournament ticket |
| 3 CHIPS | $10 |
| 4 CHIPS | $50 |
| 5 CHIPS | $200 |
| 6 CHIPS | $1,000 |
| 7 CHIPS | $3,000 |
| 8 CHIPS | $10,000 |
| 9 CHIPS | $100,000 |
| 10 CHIPS | $1,000,000 |
Obviously you noticed the last one, 10 Chips award $1,000,000 so set your goal to be the first player to collect 10 Gold Chips in a row.
Every time you place in the top 100 in a $2,000 Money Grab Free Tournament you'll receive one Gold Chip. If you take first place, you'll win two Gold Chips!
How to Get $2,000 Money Grab Free Tournament Tickets
Here are the ways to collect $2,000 Money Grab Free Tournament tickets:
On the road to becoming a millionaire, make sure you register through PokerNews to receive the best deposit bonus offers. You'll receive your free tickets and also get a free $88 plus a 100% bonus match up to $888 on your first deposit. More details can be found here.
Are you already registered at 888poker? Check your email and claim your tickets for the chance to win $1,000,000 in 888poker's Million Dollar Money Grab. You will also find tickets in the poker lobby at 888poker in dedicated popups.
Additional Chances to win $2,000 Money Grab Free Tournaments
888poker has Daily Poker Missions and the Gold Chip Spin Game waiting for you! Along with those money-making possibilities, take a look at more ways to grab free tournament tickets: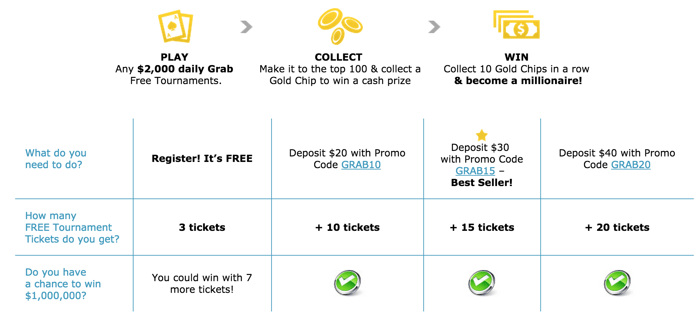 888poker put together a Money Grab video for your viewing pleasure:
Why spend your days grinding to a million dollar bankroll when you can take your poker skills and a time investment to make a run at it now? The opportunity is waiting at 888poker! Reach out and grab it!
Read our 888poker in depth review for more information.
Get all the latest PokerNews updates on your social media outlets. Follow us on Twitter and find us on both Facebook and Google+!