Get Your Ticket! The Open Face Chinese Poker World Championship is Coming!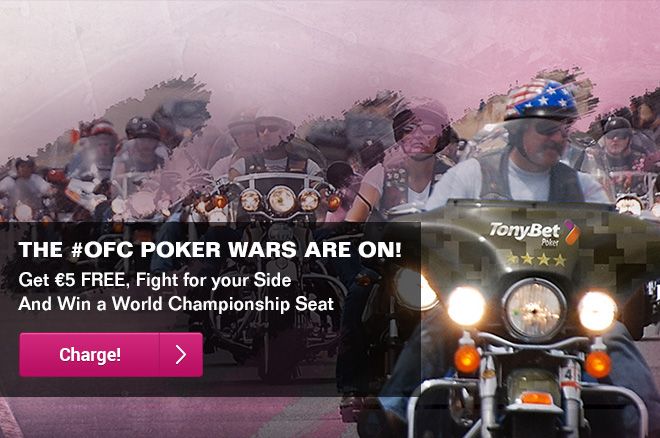 The Open Face Chinese Poker World Championship is scheduled for December 2015. Everyone is welcome to jump in and see if they can take home the championship and the cash, but the best news is that Tonybet Poker is going to give you the chance to win your way to this incredibly challenging, exciting, and fun competition in the OFC Poker Wars.
It's time to defend the honor of your region in four satellites that are separated by region: North, South, East, and West. Those satellites are going to have their own qualifying tournaments and will decide the 10 players from each region that will compete in a final event.
If you're a seasoned regular at the OFC tables or a new player, this is the perfect time to test your skill or start from scratch and build your game.
In a recent interview a Tonybet Poker spokesperson said, "It's a really fun way to get players involved into this exciting game. We want players to come and defend the honor of the region they're from. Plus it gives even more excitement to root for the ones representing your side in the final event. And the best part is that we're giving away free tickets to the first four satellites to all new players joining our site."
Satellites kick off on September 28th and run to October 1, and when the smoke clears, 10 players from each side will be heading to the final event. Make it to the final event, (these tickets are valued at worth €50 each), and you have a shot at being one of two players that are rewarded with €1,100 worth OFC World Championship tickets!
Here's the full #OFC Poker Wars' Schedule:
September 28, 8 p.m. (GMT): €5 Battle for the North (10 guaranteed tickets to The Final Battle)
September 29, 8 p.m. (GMT): €5 Battle for the East (10 guaranteed tickets to The Final Battle)
September 30, 8 p.m. (GMT): €5 Battle for the South (10 guaranteed tickets to The Final Battle)
October 1, 8 p.m. (GMT): €5 Battle for the West (10 guaranteed tickets to The Final Battle)
October 4, 8 p.m. (GMT): €50 The Final Battle (Two OFC World Championship Tickets)
If you're already registered at TonyBet Poker, you can pick any of the four sides you want to fight for and join the troops in action in the satellites. Not only that, you can enter all four of the tournaments...or one...or two...or three — you get the picture!
If you're new to TonyBet Poker, download the software through this link, set up your new account and use the bonus code OFCWARS once you're at the cashier and have pressed BONUS!
As soon as you do that, you're going to get a free €5 ticket to the first event. If you check immediately for a ticket and can't find one, relax because TonyBet Poker's got you covered. You'll automatically be registered 72 hours before the event starts.
Note: While making your first deposit, be sure to take advantage of the PokerNews bonus offered by signing up through our link – grab a 100% up to €500 First Deposit Bonus!
Registering your new account will put you into one of four different sides depending on your geographical location. If your country of residence doesn't show in the following, you'll be registered for the Battle for the West tournament.
North: Denmark, Sweden, Norway, Finland, Estonia, Iceland, Canada.
East: Russia, Ukraine, Belarus, Poland, Lithuania, Czech Rep., Bulgaria, Romania, Hungary, Georgia, Kazakhstan, China, India.
South: Mexico, Brazil, Colombia, Venezuela, Peru, Bolivia, Argentina, Chile, Uruguay, Australia.
West: Portugal, Germany, Austria, UK, Ireland, Switzerland, Italy, Malta.
The location of the live Open Face Chinese Poker World Championship? It's scheduled to be held in December in Prague. Expect the details to be shared with the world when the exact dates have been confirmed!
If this is your first adventure to the OFC tables at TonyBet Poker, or if you visit every day to get your OFC fix, the live TonyBet Open Face Chinese Poker World Championship is a must-play event! Last year's winner, Mikal Blomlie from Norway, stood at the top of a 131 player field in the €1,000 Main Event after two days of play to claim the first-ever Open Face Chinese World Championship.
Also taking place with the world championship event held during the Prague Poker Festival last year, the €10,000 High Roller set a record by becoming the richest live OFC Poker event in history. Jennifer Shahade took down the massive €100,000 first-place cash prize.
Take a look at the following video to watch the action between Jennifer Shahade, Jason Mercier, and Marek Kolk in last year's event:
Head for TonyBet Poker now, it's never too early to start building your OFC game skills and let the world know you're a contender for this year's Open Face Chinese World Championship!
Get all the latest PokerNews updates on your social media outlets. Follow us on Twitter and find us on both Facebook and Google+!