A Complete Guide to 888poker's Jaw-Dropping 'Gift Showers'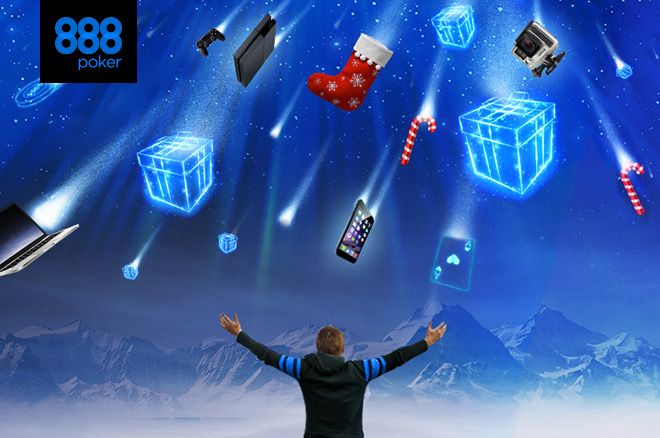 It is that time of year again. Most casino and poker sites are rattling on about what they can offer you. If you have grown tired of deposit bonuses left, right, and centre, and want something with a bit more excitement to it, then why not have a crack at what 888poker is offering you at Christmastime?
This winter, 888poker is aiming to make your Christmas go with a bit more of a bang with their sensational Gift Showers Christmas cracker of a promotion. Yes, everybody has an Xmas offer for you – but not like this, they don't.
The world's second largest online poker site has already been running this offer all month long, but there's still plenty of time left for you to get in on the act. A total pot of $700,000 is there to be won, including $12,000 worth of daily prizes. Make sure you get yourself involved so you don't miss a beat.
Get your free tickets
The only way you're going to be in it to win it, is if you're a fully signed up member of 888poker. If not, then don't hesitate to join now. Sign up as a new player at 888poker, and you'll get a free ticket to the Lucky Star Tournaments, and the All-in Gift Tournaments.
Both of these are being played as you read this, and are available at 888poker throughout the month. Don't forget, you will also be able to claim an $88 no deposit welcome bonus for signing up.
888poker players can also bag tickets by depositing a tenner using the '10GIFT' promo code. This will entitle them to 4 extra free tournament tickets. That's not a terribly complicated bonus code to remember now, is it?
Win cash every day
There is $6,000 worth of cash to be won every day in the daily Lucky Star Tournaments. Three of these are played per weekday, each with a pot worth two grand. There are also two All-in Gift Tournaments played per day, with prizes including Go Pro Cameras, iPhone 6s, PS4s, and much more.
If it happens to be approaching the end of the week, then why not try your hand at the Starburst Tournament? This slot offer could see you pocket a share of $6,500, and is open to players who complete weekly missions.
Get more tickets
Additional tickets can be won by completing daily poker missions, or playing in the Star Spin game, which is available from the moment you log in to your account each day. There are many ways to land extra tickets to pocket even more goodies, so keep your eyes peeled for exciting e-mail offers.
This offer runs until January 4, so there are still just under 3 weeks of action left for you to join in. Of course, the longer you hesitate, the greater the chance that some other poker reveller is going to get his hands on your stack.
Make sure you snag your share of the spoils, and get involved in this quality Noël novelty offer today, only with 888poker.