Qualify for the MPN Poker Tour Malta ME For Free at RedKings Poker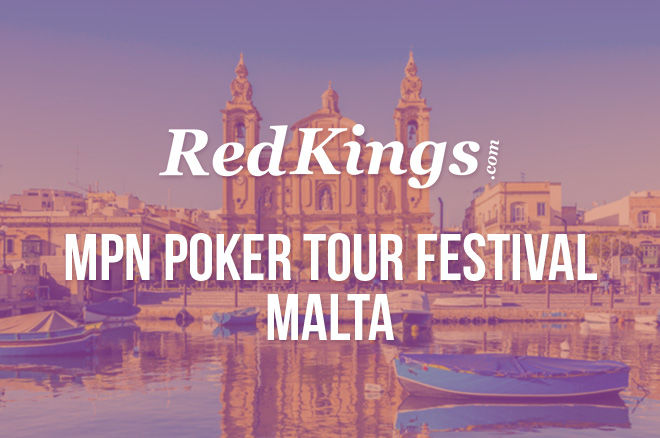 Even though the Azure Window has recently collapsed, there is still plenty to enjoy on the sunny island of Malta including poker.
In April, the action gets even hotter with MPN bringing its live poker festival to Casino Malta. That should make you heavily contemplate a week-long visit to the Mediterranean Sea.
The highlight of MPN Poker Tour Malta is the exciting MPN Poker Tour Malta €150,000 Main Event. The tournament features two opening days on April 27-28 to give players some flexibility on when they want to start playing. Those bagging chips will go on to play on Day 2 on April 29 before the final day on April 30 plays down to a winner.
In addition to the MPN Poker Tour Malta Main Event, players can also win big by playing out the other nine events on the schedule.
Qualify Into the MPN Poker Tour Malta €150,000 Main Event for Free
The 2017 MPN Malta Main Event on April 27-30 will award players a share of at least €150,000 guaranteed for a €550 buy-in.
Our friends at RedKings Poker understand that the buy-in might be too much for your bankroll and are giving you a chance to head to Malta with a great package valued at €1,500 for pennies on the dollar or even for free.
RedKings Poker is hosting a plethora of satellites and sub-satellites leading up to the event starting at just €1.10. This is something every player - including you - should be able to afford.
However, if you don't want to risk any money at all, there is a path for you as well. Redkings Poker is hosting five freerolls and five tournaments with a tiny €0.54 buy-in until March 24. All these tournaments have a €400 value added to every single one.
If you win one of these tournaments, you will receive a ticket to the €200 MPN Poker Tour Malta Sunday Final, where your odds of winning a package are huge.
If you are willing to spend a little more, you can also qualify on April 26 in the €35 Super Satellite event, which allows for rebuys and add-ons or the €200 MPN Poker Tour Malta Sunday Final.
If you go onto win a €1,500 MPN Poker Tour Malta package, you will receive a ticket to the MPN Malta Main Event and much more. Here's a look at everything the package includes:
€550 Main Event buy-in (€150.000 Guaranteed)
€150 MPNPT Casinos Malta Poker Cup buy-in
€600 value four-night stay at the InterContinental (There's room for two people, so bring anyone who makes you feel lucky!)
€200 to spend on travel and spending
A welcome party where you will meet other players and MPN staff
Need an Account?
RedKings Poker is the best place to win a €1,500 package to the MPN Poker Tour Malta. If you do not already have an account, download RedKings via PokerNews today.
You'll not only be able to play for a MPN Poker Tour Malta package, but you'll also receive a 200 percent up to €1,000 welcome bonus on your first deposit, a free €5 tournament ticket, access to more than €10,000 of New Player Tournaments and entry into the RedKings Loyalty program where you can earn up to 30 percent rakeback.