6 Ways to Save Big on a Rental Car in Las Vegas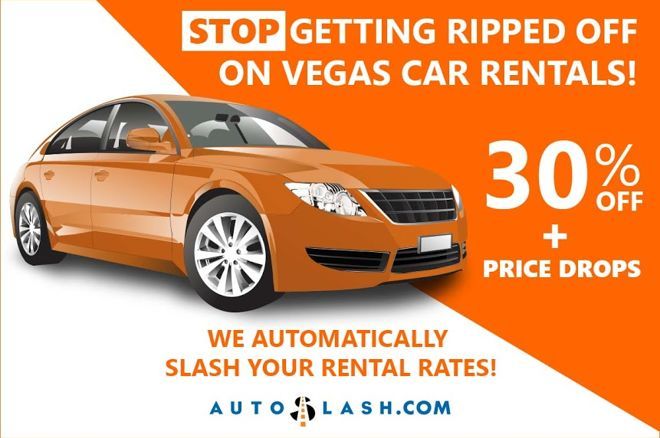 Las Vegas is famous for its cheap hotels, but the same can't be said about rental cars. Car rental prices fluctuate with demand and Nevada has some of the highest rental car fees in the country. Add in any unexpected charges and it's no wonder that what looks like a great deal, can easily turn into a dud.
But don't abandon the idea of renting a car. After all, there is a slew of fantastic sights just outside of town — from Lake Mead and the Hoover Dam to the Valley of Fire State Park — so it would be a shame to miss out on the chance to see all that the area offers.
Need a rental car in Vegas? Here are a few hacks to slash your costs.
1. Ask AutoSlash.com for a Quote
Forget a Google search. To find the very best deals, turn to AutoSlash, a site that scours the Internet for special offers, discounts, and coupons from major car rental providers. AutoSlash also factors in your memberships in clubs like Costco and organizations like the AARP and AAA to make sure that no potential discount is left on the table.
AutoSlash is a gold mine for the cheapest rates. In a series of price checks by The Points Guy, AutoSlash found the lowest rate in every case but one. In many cases, AutoSlash even beat corporate rates.
We did a test to see how Autoslash fared compared to quotes offered by major rental car company websites.
Pick-up: Las Vegas-McCarran International Airport on 3/1/2019 at 9:00 AM
Drop-off: Las Vegas-McCarran International Airport on 3/3/2019 at 4:00 PM
| Company | AutoSlash Price | Price on Car Rental Company Site |
| --- | --- | --- |
| National | $171 | $390 |
| Alamo | $182 | $249 |
| Hertz | $201 | $253 |
2. Ask AutoSlash.com to Track Your Reservation
Even after you've reserved your rental car, AutoSlash can help lower your rate even more. Just input your confirmation number on the AutoSlash Price Tracker and AutoSlash will alert you if there is a price drop. Then you can cancel your reservation and rebook at the lower price. Customers that use AutoSlash to track their bookings save an additional 30% on average.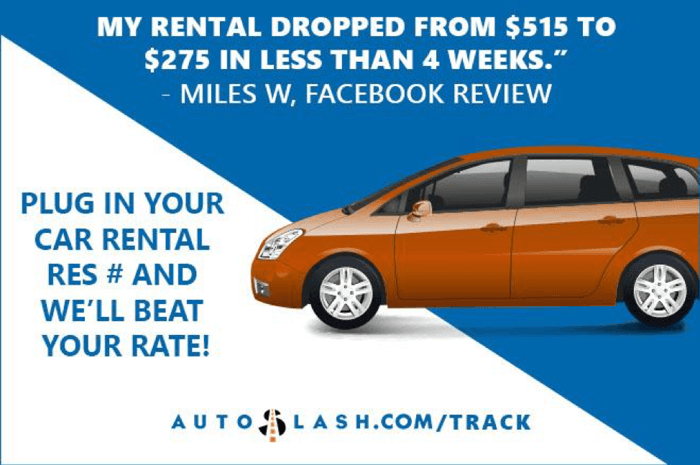 3. Never Pre-Pay For Gas
Another way to keep your costs down is to decline the prepaid fuel option offered at the rental car counter. While it may seem convenient to prepay for gas, you'll have to return the car with an empty tank to get your money's worth.
Fuel charges are rarely as cheap as what you can find at nearby gas stations charge and the stated charge is often exclusive of taxes and surcharges. It's always cheaper to fill up the tank yourself.
Use the free GasBuddy app to find gas stations in your vicinity with the lowest prices. Typically the best price will be a few miles from the airport or off the highway.
4. Consider Renting from an Off-Airport Location
You'll often pay more for a rental car at the airport because of additional fees and taxes. Shop around and you'll often find better rates at neighborhood or downtown locations.
We did a quick comparison for an Avis booking for the same dates at the airport versus off-airport location and found that a Chevrolet Cruze would cost $346.41 at McCarran International Airport compared to $223.27 at the South Rainbow Boulevard location. In this example, avoiding the airport would save you $123.04--or a whopping 36 percent. Even after factoring in a ride from Uber ($15) or a cab ($28) from the airport to South Rainbow Boulevard, you're still way ahead.
5. Skip the Over-the-Counter Insurance
Nothing will jack up the cost of a rental car like opting for insurance at the counter. But if you own a car, your personal auto insurance is likely already covering rental cars. Before you leave, be sure to double check what is covered in your policy. There is probably no reason to purchase additional insurance.
In addition, your credit card may also offer rental car coverage. Most cards offer secondary coverage, meaning that insurance kicks in only after your auto insurance limit is reached. On the other hand, if you pay with a premium credit card such as the Chase Sapphire Reserve Card, you have primary coverage on rental cars and don't have to worry about your auto insurance deductible. If you are in an accident, you won't have to notify your auto insurance company at all.
6. Be Wary of One-Way Drop Fees
Planning to pick up a rental car in Vegas for a one-way road trip? If you return your rental car to a different location, the rental company will likely charge a drop fee. You can sometimes get around these fees with a special offer or by renting from a specific company. Sixt, for instance, has no one-way fee when you pick up in Las Vegas and drop off at LAX Airport in Los Angeles.
Sponsor generated content by AutoSlash.com