Here's How to Earn 110% Rakeback at Run It Once!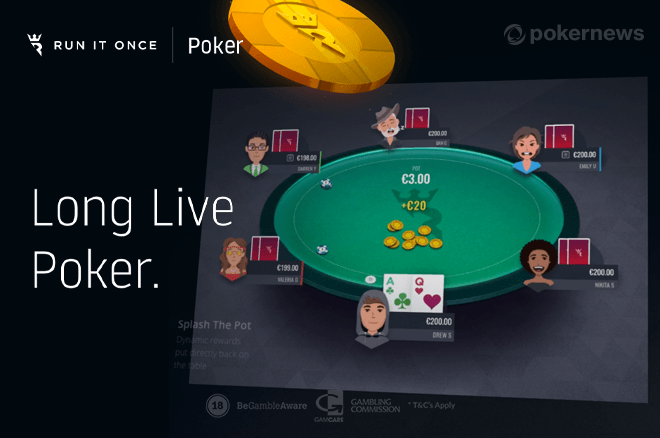 Run It Once, founded by the prominent poker pro Phil Galfond, may still be in its infancy but it is already making waves in the online poker world thanks to its potentially lucrative bonuses and promotion.
Everyone who plays at Run It Once is entitled to a welcome bonus worth up to €600, can get their hands on 51 percent rakeback at the tables, or receive a staggering 110 percent rakeback through its streamR program. You read it right: you really can earn 110 percent rakeback at Run It Once.
How to Bank 110 Percent Rakeback at Run It Once
Poker players streaming their play on Twitch and YouTube continues to be a popular way to share the game with others. Run It Once realizes this and is rewarding players for streaming Run It Once content with up to 110 percent rakeback.
If you have a popular poker stream, it literally pays to play at Run It Once.
| StreamR Level | Watch Hours | Min Hours Streamed | Rakeback |
| --- | --- | --- | --- |
| Level 1 | 200 hours | 20 hours | 50% |
| Level 2 | 1,200 hours | 20 hours | 75% |
| Level 3 | 8,000 hours | 30 hours | 100% |
| Team RIO | 20,000 hours | 30 hours | 110% |
In order to qualify for the boosted rakeback levels from the streamR program, players must stream for a minimum number of hours each month. That means 20 hours for Level 1 and Level 2, and 30 hours for Level 3 and Level 4. Of those hours, at least half must be showing only games on Run It Once Poker.
UK streamRs have no minimum requirement for showing only RIO Poker. UK streamRs are required to feature RIO poker Gameplay or RIO Poker Lobby
Everyone Receives 51 Percent Rakeback via Splash the Pot
Run It Once does not have a VIP scheme as such, but instead prefers to reward all of its players via what is called Splash the Pot. These in-game bonuses see 51 percent of the total rake Run It Once takes returned to its players, which is considered quite generous.
Splash the Pot happens randomly and can happen during any cash game hand dealt. When a pot is splashed, gold chips drop onto the table, the table lights up and the pot size is displayed in gold. These visual clues are more than enough to inform you a Splash the Pot hand is occurring.
The winner of the Splash the Pot hand wins the pot plus the Splash the Pot bonus money. These pots can award up to 1,000 big blinds to the pot, making for some interesting dynamics when one lands. While some players, in the short term, will benefit more from Splash the Pot hands, it should even out in the long term and give every Run It Once player the chance for some free cash.
Run It Once €600 Welcome Bonus Offer
All new Run It Once players who download the software via PokerNews are entitled to a 100% deposit bonus worth up to €600. What makes this welcome bonus unique is you can make as many deposits as you like for the first 30 days after your first deposit. This makes it perfect for those players who do not want to or cannot deposit €600 in one chunk.
Another great feature of the Run It Once welcome bonus is it never expires if you play at least one hand every 30 days, meaning you essentially have forever to clear your bonus! As for release rates, check the table below to see how fast the Run It Once bonus clears.
| Bonus Progression | Rake This | Get This |
| --- | --- | --- |
| €0-€100 | €25.00 | €5 |
| €100-€200 | €57.10 | €10 |
| €200-€300 | €66.50 | €10 |
| €300-€500 | €100 | €10 |
| €500-€600 | €200 | €10 |
For example, you make three deposits totaling €110 at Run It Once Poker. For every €25 in rake you pay, they release €5 into your account, up to €100. Once you rake another €57.10, they deposit the last €10 in your account for a total of €110 matched.