The Bernard Lee Poker Show 11-32: 5x WSOPC Ring Winner Blair Hinkle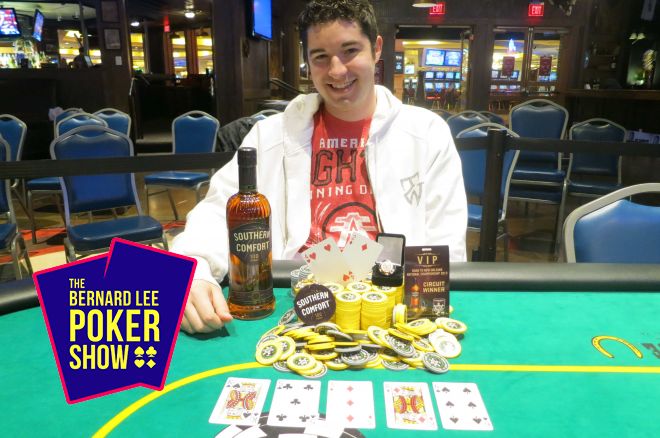 In this episode of The Bernard Lee Poker Show on the PokerNews Podcast Network, Bernard Lee interviews the five-time World Series of Poker Circuit ring winner, Blair Hinkle. Over the past decade, Blair has had historic success at Horseshoe Council Bluffs, winning the Main Event there in 2010, 2013 and 2014. Earlier this month, he finished runner-up to the eventual champion, Nicholas Burris.
During the show, Blair also discusses his other major victories including 2008 WSOP bracelet, 2016 Heartland Poker Tour Main Event at Thunder Valley Casino and 2013 Seminole Hard Rock Championship Event.
Show Time Stamps
| | |
| --- | --- |
| 0:00 | Welcome to The Bernard Lee Poker Show as this week's guest will be five-time WSOP Circuit ring winner, Blair Hinkle. |
| 0:59 | WSOP Circuit is at Harrah's Cherokee in North Carolina. The Main Event will be completed next weekend and the show will review the winners next week. Afterward, the WSOP Circuit will be heading to its last two stops of the season: Horseshoe Tunica and Harrah's New Orleans. |
| 1:35 | World Poker Tour at Seminole Hard Rock Hotel & Casino in Hollywood, Florida had 1,360 entrants in it $3,500 Main Event. The final 18 players are playing down to the final table, which will be completed on May 30th at the HyperX Sports Arena in Las Vegas, Nevada. |
| 3:31 | RunGood Gear Ad |
| 4:14 | Bernard welcomes Blair Hinkle to the show. |
| 5:28 | Blair joins the show. |
| 7:00 | Blair discusses playing at the final table, especially playing with the eventual winner and good friend Nicholas Burris, who plays in his home game back in Kansas City. "Nick's a great player. He's not a full-time pro, but he was playing like it this weekend…I just had a lot of fun watching him do work on a lot of people." |
| 7:55 | Blair discusses losing heads-up to Nicholas Burris. "As I got heads-up, I really switched into game mode and really wanted to take it down because I know what I've done there (Horseshow Council Bluffs) has been historic. It's funny, it seems like every time I'm on your show, it's after Council Bluffs." |
| 9:44 | Bernard and Blair recall the critical hand heads-up that changed the momentum, where Blair flopped two pair and Nicholas made a runner-runner straight. "That's such a big momentum swing." |
| 12:59 | Blair remembers how long he has been friends with the winner, Nicholas Burris. |
| 14:52 | Blair explains why he feels he runs so well at Horseshoe Council Bluffs. "It's running good up there seems to happen there for me…I'm familiar with the area and maybe I just have a better sense every once in a while, with the players." |
| 15:54 | Blair discusses his Arby's superstition. |
| 16:58 | Blair likes the WSOP Circuit structure. "I want to have all the time I can to figure out reads and kind of finesse the stack if it's not going well. So, I really love the structures." |
| 18:24 | Blair discusses his trance-like focus while playing. "I heard I can be intense…I do pride myself on focus." |
| 20:43 | Blair discusses picking up on timing tells, live and online. |
| 26:57 | Share My Pair Ad |
| 27:28 | Bernard continues his interview with the five-time WSOP Circuit ring winner, Blair Hinkle. |
| 28:31 | Blair discusses having his brothers, Grant and Mason (aka Uncle Ron), playing with him sometimes on tour. "It's a blast. You know it's good to have friends in the poker world, but having family in poker is even more fun…It's nice when we're all at the same stop together." |
| 29:26 | Blair discusses his involvement with RunGoodGear as one of their ambassadors, along with Bernard. |
| 31:30 | Blair recalls winning his first WSOP bracelet in 2008. |
| 32:26 | Blair discusses what he focuses on during large field events. "I like to focus on getting through Day 1." |
| 35:20 | Blair describes his strength during tournaments is his end game. "I just got into the habit of when you get close to that money bubble, I would always just try to go for it." |
| 38:37 | Blair discusses how he recognizes which players to attack during the tournament. |
| 41:26 | Blair elaborates on his 2019 WSOP schedule. "The $500 (buy-in) $5 million guarantee (Big 50). It just sounds like it will be crazy. Good way to kick off the summer." |
| 45:37 | Blair explains how he tries to dig himself out of slow start at previous WSOPs. "It's really tough. You just keep showing up and telling yourself you are just going to grind your way out of it…The best thing to do is to skip an event and try to get your mind right." |
| 48:49 | Blair talks about playing some mixed games at the WSOP. |
Let us know what you think of the show - tweet about the podcast using #BernardLeePokerShow, and be sure to follow @BernardLeePoker on Twitter or Instagram.
You can follow Blair Hinkle on Twitter @blur5f6.
The Bernard Lee Poker Show is now available on iTunes.