PokerNews Podcast 509: Anatoly Filatov, Niall Farrell, Simon Trumper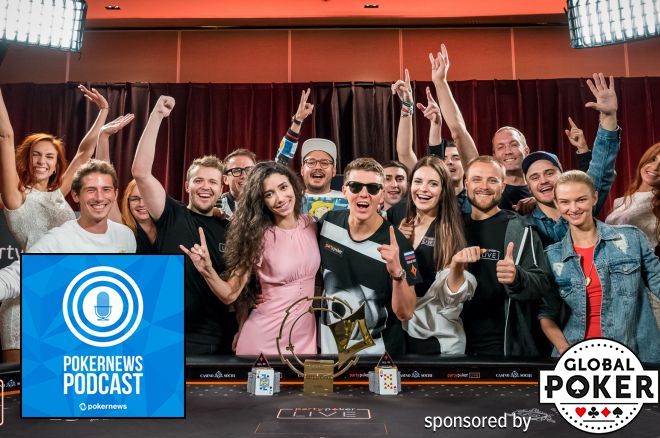 It's all over at Casino Sochi, as partypoker wraps up its MILLIONS Live Russia stop with the Main Event, which Anatoly Filatov took down. Sarah Herring caught up with Filatov after his win in an emotional interview. Sarah and [Removed:139] dive into Filatov's career, and what this win means for him.
Plus, Sarah drives into some hand analysis with Niall Farrell, who found himself in a tricky spot during the Main Event.
She also finds Simon Trumper at Casino Sochi and the two talk about the partypoker Live tour, and what's coming up at Baha Mar in the Bahamas this year.
And, the poker world falls even more in love with Kelly Minkin. Minkin five-bet shoves 7-2 offsuit in a Poker Night in America cash game, and it gets through against Lily Kiletto!
This week's sponsor: Global Poker.
Show Time Stamps
| | |
| --- | --- |
| 0:10 | Intro: Sarah still in Sochi, wrapping up the partypoker Live MILLIONS Russia stop |
| 4:10 | partypoker's Anatoly Filatov Wins LIVE Millions Russia Main Event |
| 5:10 | Filatov's presence at poker tournaments, how he's viewed in the online and live community |
| 9:10 | What Filatov's strategy was like deep in what turned out to be an absolutely wild Main Event |
| 10:50 | What made the coverage of the Main Event and some of the Triton High Roller tournaments so entertaining |
| 12:10 | Why some non-GTO players deserve some credit for enhancing the poker community |
| 14:10 | A conversation Sarah had with Filatov about their interview right after he won the Main Event |
| 15:40 | Sarah's interview with Filatov after he wins the Main |
| 16:10 | What this win means: "I can't describe it right now, I'm just out of emotion because I'm exhausted. It feels amazing. I can't believe I've won the MILLIONS in my hometown." |
| 16:40 | What it means to him to play for Russia: "I'm glad that I represent poker in Russia, and partypoker, too." |
| 17:30 | Taking us through the swings of this tournament's final table: "I understand how my opponents played, I wasn't the most aggressive player at the table. These guys, they played the crazy hands with sick showdowns, I just tried to exploit some lines." |
| 19:20 | Watching the stream at times: "It helps, but not that much. I still didn't know a lot of showdowns, there were a lot of hands I didn't see." |
| 20:10 | The support from his wife and sharing this moment with her: "She never came to the main area, she stays in her hotel room, trying not to be nervous. She thinks it affects my game, but it really doesn't." |
| 22:50 | Sarah chats with Niall Farrell about a sick hand he ran into deep in the Main Event |
| 25:10 | partypoker's partnership with Triton, and how those types of relationships help to enhance the poker world |
| 28:10 | Ivan Leow Wins the Triton Poker Super High Roller in Sochi |
| 29:50 | The lively atmosphere during these Triton High Roller Series events |
| 31:30 | partypoker setting aggressive guarantees on their MILLIONS tour |
| 34:10 | partypoker's plans for their Baha Mar stop this year, Sarah checks in with Simon Trumper |
| 35:00 | Recapping the stop in Sochi: "Everything is run as smoothly as before, we added the two Triton High Rollers, and are very pleased with the way they went." |
| 35:40 | Plans for Baha Mar: "We have $22 million worth of guarantees this time. $5,000 buyin, $10 million guaranteed for the MILLIONS. And we also have MILLIONS World. $25,500 buyin, $10 million guaranteed." |
| 36:30 | More about this destination: "We're really excited to be going to Baha Mar. It's a beautiful, five-star resort...we try to make it as fun as possible." |
| 37:10 | The MILLIONS stop in the United Kingdom this year at Dusk til Dawn |
| 38:10 | Shot clocks being incorporated at Live at the Bike |
| 39:30 | Ladies Night Gets Real: Kelly Minkin Five-Bet Jams With 7-2 |
| 43:10 | How hard is it to fold Ace-King preflop, in cash games and tournaments? |
| 46:10 | Sarah's plans for the rest of her time in Sochi |
| 47:00 | Sarah will be heading to Houston for a Global Poker event this year |
| 47:10 | Sponsor: globalpoker.com |
| 48:10 | Jeff's life right now: a lot of smiling and nodding during wedding planning, Sarah wants listeners to investigate Jeff's life background |
| 50:00 | Sarah goes from being called Sarah Grant to Aunty Chardonnay to Sarah Herring to now...just "Herring" |
Tell us who you want to hear from. Let us know what you think of the show - tweet about the podcast using #PNPod, and be sure to follow Sarah and Jeff on Twitter.
You can subscribe to the PokerNews Podcast on iTunes here, or you can access the RSS feed here. The PokerNews Podcast family of podcasts is now available on audioBoom. Leave us a review and we might read it on the air, or at least give you a shoutout.