PN Podcast: WSOP Main Event Payouts Messed Up? Guest Ryan Depaulo a Withered Pro?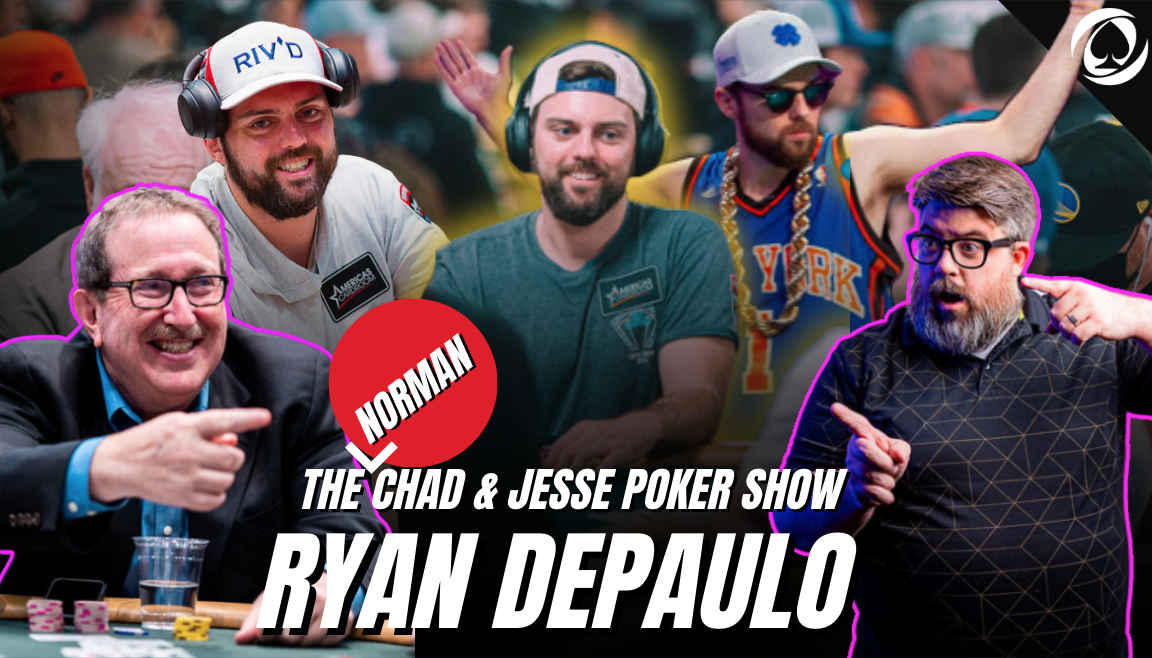 Table Of Contents
On the latest PokerNews Podcast episode, Jesse Fullen and special co-host Norman Chad continue The Chad & Jesse Poker Show straight from the 2023 World Series of Poker (WSOP).
The two start by debating the pros and cons of the 2023 WSOP Main Event payouts before welcoming this week's guest – poker vlogger Ryan Depaulo.
Among the topics they discuss with the Whole Foods parking lot bracelet winner are his biggest score to date (third place in the Colossus), what his father told him ("Don't punt"), and Joey the Mush. Plus, they ask if he was banned from Borgata for vlogging, his main poker influence, and whether or not he's a withered pro.
Norman Chad and Jesse then do a new "Calling the Clock" segment in which they offer quick two-minute dialogues for topics on "The Board."
Here's a look at this episode's topics:
Hoodie Allen abandons stack

Phil Hellmuth

cooler
Letter to the table
WSOP Bubble
Father/Daughter cash Main Event
WSOP Champs
Angry Chance Kornuth
Isai Sheinberg honored by WPT
Listen to those stories and more on the latest episode of the PokerNews Podcast!
Time Stamps
| Time | Topic |
| --- | --- |
| 00:35 | Welcome to the show |
| 00:57 | Norman Chad joins the show |
| 01:19 | Where is Chad? |
| 02:54 | WSOP Main Event Payouts |
| 11:38 | Calling the Clock |
| 11:53 | Hoodie Allen abandons Main Event chip stack |
| 13:53 | Hellmuth gets coolered to exit Main Event |
| 15:53 | Player writes a letter to their Main Event table |
| 17:53 | WSOP Main Event money bubble pops |
| 19:53 | Father/Daughter both cash WSOP Main Event |
| 21:53 | Former WSOP Main Event winners still in 2023 field |
| 23:53 | Chance Kornuth gets clock called on dinner break |
| 25:53 | Isai Scheinberg honored by WPT |
| 28:10 | Sponsor: Global Poker |
| 28:41 | Guest Ryan Depaulo joins the show |
| 49:03 | July Freerolls for PokerNews listeners |
July PokerNews Freerolls
Tell us who you want to hear from. Let us know what you think of the show — tweet about the podcast using #PNPod, and be sure to follow Chad Holloway, Jesse Fullen, and Connor Richards on Twitter.
Subscribe to the PokerNews Podcast on Apple Podcasts here!
Check Out Past Episodes of the PN Podcast Here!
Executive Editor US, PokerNews Podcast co-host & 2013 WSOP Bracelet Winner.