JACK Cleveland Casino Details
JACK Cleveland's poker room is among the best and most aesthetically pleasing in the Northeast. The card room hosted its successful grand opening in the Spring 2022.
Poker player Veronica Brill became an early ambassador and was on-site for the grand opening weekend.
JACK Cleveland Casino in Ohio is owned by Vici Properties and operated by Jack Entertainment and first opened in 2016. The hotel and resort features some incredible dining options, a poker room, many table games, and a plethora of slot machines. Players can join the ClubJACK rewards program for free to earn comps on dining and hotel stays.
JACK Cleveland Poker Room General Information
Do you know jack about JACK Cleveland's poker room? If not, we have all the answers right here, starting with the room's operating hours. The 23-table card room never closes and you'll find a game at any time of day.
You'll find mostly low and mid-stakes cash games here, starting with $1-$3 no-limit hold'em ($100-$300 buy-in) and $2-$5 no-limit hold'em ($200 to $500 buy-in). There are also daily $5/$10 ($700 to $2,000) and $10/$20 (min. $1,500 buy-in) NLH games running, along with a $1/$2 pot-limit Omaha game ($200-$700).
During busier hours — weekends and major events — JACK will spread some bigger PLO games, mixed games, and some $4/$8 limit hold'em. The staff does an excellent job of accommodating the requests of their players.
Cash games aren't the only form of poker played at JACK. In fact, the card room has become one of the best tournament spots in the area since the room opened in April 2022. JACK offers a full compliment of daily tournaments and frequent major series.
Daily tournaments take place at 11:15 p.m. and 7:15 p.m. Monday-Wednesday in most weeks ($160 no-limit hold'em), and then higher stakes ($200-$300) Sunday, Thursday, and Friday, along with two tournaments on Saturdays. The schedule changes from week to week, but the tournaments
Mid-States Poker Tour at JACK
The Mid-States Poker Tour (MSPT) has found a new fan favorite stop in Northeast Ohio. JACK Cleveland hosted a $500,000 guaranteed MSPT Main Event in May 2022.
John Dennehey, a Minnesota native, took down the $1,110 buy-in tournament for $155,933, his first MSPT title. It was the first time the MSPT was hosted at JACK since January 2020, and the first since the card room was fully renovated in 2022.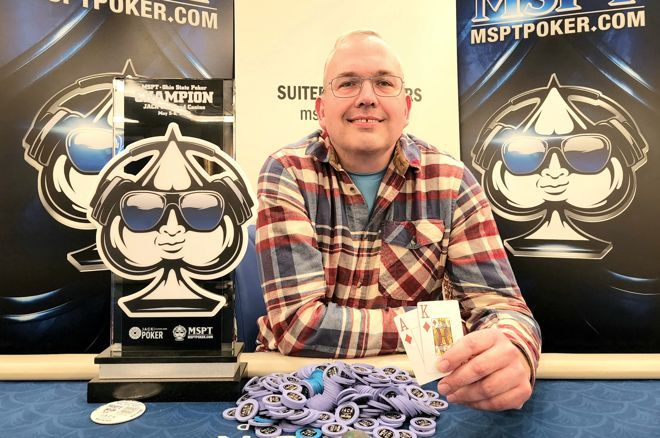 READ: Pat Steele Wins 2020 MSPT Cleveland Poker Open at JACK Cleveland Casino for $124,461
Frequently Asked Questions
What hours is the JACK Cleveland poker room open?

The room is open 24 hours a day, seven days a week.
How many poker tables does the card room have?

23
When did the JACK Cleveland poker room have its grand reopening?

The poker room was fully renovated and then reopened as a brand new room in April 2022.
What are the main cash games played at JACK Cleveland?

The most common games you'll find are $1/$3, $2/$5, and $5/$10 no-limit hold'em.
What is Veronica Brill's affiliation with JACK Cleveland?

Veronica Brill is an ambassador for the card room.
What other casino games are offered at JACK Cleveland?

The casino has a number of games such as blackjack, roulette, video poker, and slot machines.