DraftKings Free Bets: December 2020 VERIFIED Promo Codes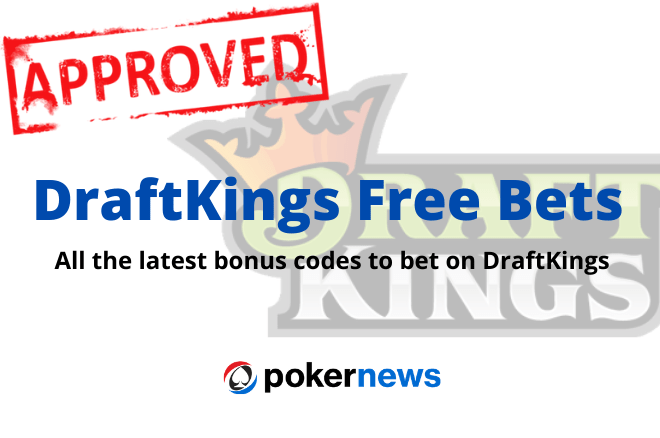 From the moment online sports betting became legal in the first US states, many sports bettors and DraftKings users started to look for free bets bonuses to bet on sports.
On this page, you will learn
In other words, if you are looking for an easy guide to the DraftKings free bet bonus offers in 2020, you'll love this page.
Free Bet Bonuses on DraftKings Sportsbook in 2020
If you are into sports betting and daily fantasy sports (DFS), DraftKings is a name that needs no introduction. With more than 8 million users registered to its platform, DraftKings is one of the top legal operators in the United States.
This sportsbook is currently licensed in several UN states. DraftKings offers mobile sports betting in:
Michigan
New Jersey
Pennsylvania
Colorado
Indiana
Iowa
Tennessee
This website is known to be home to the best mobile betting app in the US and the most complete sports betting offer available in legal markets. Downloading the DraftKings sportsbook mobile app, you get immediate access to the best action on college football, college basketball, NFL, the super bowl, and an incalculable number of other sporting events.
Whether you are looking for inplay betting, future bets, live betting, players props, moneyline betting, or any other type of betting options, the DraftKings sportsbook app and the online sportsbook you can access from your internet browser have got you covered.
On this quick start guide to Draftkings free bets, we analyse the different bonus bets available in all the states where this online sportsbook operates. Our mission is simple and clear: we want you to find how to get free money on DraftKings with the top bonus codes out there.
Continue reading to find legit DraftKings sportsbook promo codes that are guaranteed to work and exclusive deposit bonus offers to get a quick start and place your first bets on DraftKings sportsbook for free.
DraftKings Free Bet: 2020 Bonus Code Codes
Want to get a free bet bonus on your DraftKings sportsbook account? This table contains all the info, bonuses, and promo codes you need in 2020.
Please remember that the bonuses are guaranteed to work only in the US states they are intended for (e.g. the promo code for the sportsbook available in NJ will not work on DraftKings DraftKings TN). Also, the fact you get to bet on DK with a bonus doesn't mean you shouldn't care about what you do. Always bet and gamble responsibly.
Tennessee Sports Betting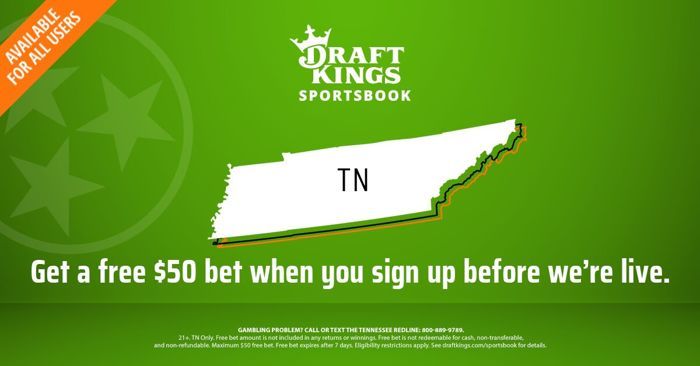 There's a free $50 bet up for grabs for every player in Tennessee who pre-register on the DraftKings website.
The $50 free bet on DraftKings comes with no bonus code, no promo code, but is available only to players in Tennessee who open their first DraftKings account.
To claim this bonus you need to visit this page and sign up for a free account.
No DraftKings promo code is needed to activate the offer.
You can use the risk free bet at DraftKings sportsbook as soon as the site launches its operations in Tennessee. The betting market in TN is already legal and DraftKings is estimated to become one of the first sites to offer Tennessee sports betting options as early as during the first week of November 2020.
Yes, I want to claim my DraftKings TN bonus!
---
NJ Sports Betting
The DraftKings Casino, DFS, and sportsbook apps are all up and running in New Jersey. With the right bonus codes, you can have some good odds boosts and join the list of smart sports bettors that can recognize value when they see it.
At the moment, the best offer available is a massive signup offer worth up to $500 in a risk-free bet and bonus money. This is the only offer in TN as we are still waiting for sites to offer online poker Tennessee games.
The NJ sports betting offer comes as a 20 per cent match bonus on your first deposit - provided you add at least $5 to your account.
Yes, I want to claim my DraftKings NJ bonus!
---
Pennsylvania Sports Betting
DraftKings bonuses are similar in all legalised states (except Tennessee), so sports bettors in PA get the same signup bonus as in NJ.
Like on the other DraftKings apps, players in Pennsylvania are eligible for the $500 signup bonus, accessible with a deposit of $5 or more.
There are no bonus codes to activate this offer. Simply visit DraftKings PA via the link below and register a free account to begin.
Yes, I want to claim my DraftKings PA bonus!
---
Michigan Sports Betting
Sports betting fans, listen closely!
Ever since wagering on sports was legalized in December 2019, industry workers have been setting the stage to welcome some of the leading sports betting platforms.
One of the providers that wants to enter the Michigan market in style is DraftKings. It needs no introduction, as it has already established itself as a leader in the sports betting industry in the US.
DraftKings is preparing to launch its sportsbook in Michigan, and it has arranged a special offer for everyone located within the borders of the Great Lake State.
Here's what you'll get:
Every visitor who signs up before DK goes live will receive a total of $200. Half of it will be allocated as casino Free Credits, and the other half will be loaded into your sportsbook balance.
In other words, you'll get $100 in Free Bets on DraftKings' online betting platform.
How to Get the Free Bets Bonus
Receiving a bonus has never been easier, as you can do it from the comfort of your home. Here's how.
Download the DraftKings app — It is available for both Android and iOS mobile devices.
Create an account — Follow the simple registration process to become a DraftKings member.
Get the bonus — As soon as DraftKings Sportsbook starts offering its service to online bettors in Michigan, you'll receive $100 in Free Bets.
Yes, I want to claim my DraftKings MI bonus!
---
Indiana Sports Betting
The DraftKings sportsbook legal website in Indiana welcomes you with up to $500 in site credits ready to be used on your next bet slip.
The bonus is yours as soon as you sign up for a free account at the DK sportsbook from Indiana and make a deposit of $5 or more. As soon as you do that, you'll activate a match bonus equal to 20% of the sum you added to your account.
Yes, I want to claim my DraftKings IN bonus!
---
West Virginia Sports Betting
Sports bettors in West Virginia are amongst those who qualify for Draftking's generous free $500 bonus campaign, with up to $500 worth of site credits waiting for them on their first deposit.
If you want to join the action at West Virginia's leading sports betting website, use the link below to register a free account and the bonus is yours.
As soon as you deposit $5 or more, you activate a bonus offer that gives you an extra 20% for up to $500 in free credits to the finest sportsbook the West Virginia sports betting market has to offer.
Yes, I want to claim my DraftKings WV bonus!
Colorado Sports Betting
You only need to be 21 and to have a valid United States Social Security Number to activate the best bonus to bet on DK sportsbook.
While the people of Colorado waits for DraftKings to open a retail sportsbook at the Mardi Gras Casino Hotel, Black Hawk location, everyone located in the state can bet online using the DK website and apps.
When you do so, you receive a free bonus worth up to $500 in site credits. The bonus' trigger is your first deposit - so make sure you add at least $5 to your account, as that's all you need to qualify.
The bonus is a match one that adds an additional 20% to your account — up to an impressive maximum of $500.
Yes, I want to claim my DraftKings CO bonus!
DraftKings Free Bets FAQ
What do I need to register at DraftKings?

You need to be 21 and to be physically within the state that offers the bonus you intend to claim. You also need to possess a valid United States Social Security Number (SSN) and e-mail address to confirm your identity.
How does the DK free bet bonus work?

All the users in Tennessee who pre-register at DraftKings ahead of their launch in TN receive a $50 risk-free bet with no deposit required. More info here.
What are the latest promo codes at DraftKings

DraftKings is available in Colorado, Illinois, Indiana, Iowa, New Hampshire, New Jersey, Pennsylvania, Tennessee (from Nov. 2020), and West Virginia.

Different states can be home to different offers, so we suggest you look at this list to find all the latest DraftKings promo codes for free bets and signup bonuses.
How does the free $500 bonus work?

The free $500 signup offer available at DraftKings is a 20% match bonus on the first deposit you make on the site. You need to deposit at least $5 to activate the offer.