Heads-Up NLHE Strategy with Anthony Zinno, Brock Parker, and Faraz Jaka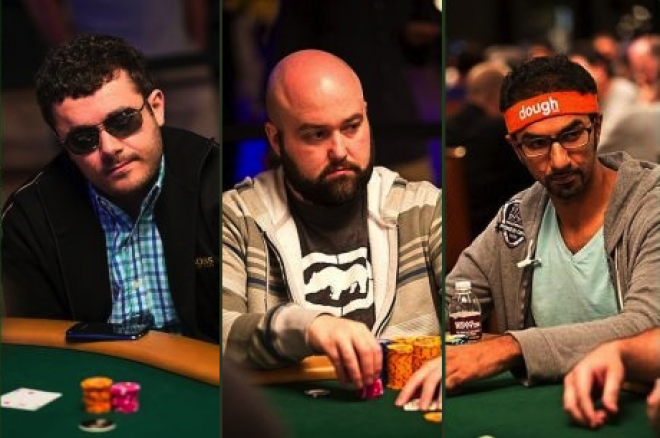 Editor's Note: Last night Boston-based Anthony Zinno earned his second career World Poker Tour title after besting a field of 419 to win the WPT Fallsview Poker Classic and a CA$380,021 first prize. Zinno's earlier WPT title had come in 2013 in the WPT Borgata Poker Open where he topped a huge field of 1,189, earning $825,099 for the victory.
Both of Zinno's WPT wins concluded with difficult heads-up battles. At the Borgata, Zinno faced Vanessa Selbst at the end, and trailed for the first 20-plus hands before earning a big double-up and then going on to win. Meanwhile last night saw Zinno battle eventual runner-up Mark Bailey for more than two-and-a-half-hours before Zinno finally finished on top.
At last summer's World Series of Poker, PokerNews' Jonathan Zaun caught up with Zinno and a couple of other pros with considerable heads-up experience — Brock Parker and Faraz Jaka — to ask each for insights regarding no-limit hold'em heads-up strategy.
In addition to winning three WSOP bracelets (including one last summer), Parker reached the semifinals of the $10,000 Heads-Up No-Limit Hold'em Championship at the WSOP in 2012. Meanwhile Jaka has likewise finished numerous tourneys with victories after successful heads-up duels on his way to collecting over $4.5 million in earnings, including making it to the quarterfinals of the $10K Heads-Up NLHE Championship at the WSOP in 2010.
Read what this trio of tourney titans had to say about heads-up strategy:
* * * * *
PokerNews: How do you prepare for a heads-up match, and how important is studying your opponent before the match begins?
Brock Parker: You have to know your opponent, and it's usually best to play pretty tight in the beginning before you can see what he's capable of. I look at who my opponent will be, but I don't dig too much into it. If I know somebody who knows them well, I might try to get some info, but it's really about playing and feeling them out.
Faraz Jaka: I definitely think it's important to know who you're playing and what they're capable of, and what their style of play is. Heads-up is just so player-dependent. There are a lot of different things you can do, you just have to make sure you have some logic, and rhyme and reason. Don't come up with some heads-up strategy that you just do all the time… you really need to adjust to your opponent.
Anthony Zinno: Going into the match, I find it best to classify my opponents a little bit, so against a world-class multi-table player like Vanessa Selbst, for example, I'm changing my game such that I'm trying to get her out of her comfort zone. She's used to being able to run a table over, because it's nine-handed, but heads-up she might not be used to spots where she's going to get three-bet or four-bet super light, and she has to make folds.
Heads-up opponents that play tons of heads-up, like I used to play years ago... those guys, they are just so good at knowing board textures heads-up, and where their hand range fits, you know what I mean? So [against] guys like that, you don't really want to be making intricate three- and four-bet bluffs, because they kind of see it coming after playing so much heads-up.
That's just part of heads-up play... making moves whenever you can find the spot to do it. Whereas in nine-handed, you can't just take every spot, because unfortunately your opponent has it a lot more, and when they have it, you can't just take something like the nut-flush draw and shove there and take it down. Because when you're nine-handed, they're going to have two pair, or top-pair/top-kicker, or a set too often. In heads-up play, though, you can make moves because they just have it so much less often.
How do you approach heads-up play from a personal standpoint, as far as your own style and strategy?
Jaka: Typically when I play heads-up, my matches do go significantly faster than others, and that's because I put a lot of pressure on my opponent. That causes my opponent to have to take thinner value spots against me, so it just makes the match a bit more high-variance. Some opponents may not be comfortable playing that style, so I think it's a matter of knowing what your opponent is comfortable doing and not comfortable doing, and making them do what they're uncomfortable doing. If I'm playing against a guy who's very comfortable five-betting and getting it in light against me, then I probably shouldn't play that style against him, and should switch it up instead.
Zinno: The good news is we all know the other players and what they're good at, so if you pick someone like Scott Seiver, we know he's just like Vanessa — a live MTT crusher. But if I get some internet whiz kid... it's not even worth researching him, because it's pretty much just going to be like playing against a robot who just plays like perfect, mathematical… as if you're playing against a heads-up poker bot. As far as researching the player beforehand, it depends on the opponent I get, but it's more about knowing what they specialize in. That's what will determine how I play against them.
How and when do you know the best time to mix things up, change gears, and play a different style?
Jaka: It's very important that you mix up your game a bit.... Sure, you should always three-bet hands like
or
. But sometimes it's good to mix it up and flat with those hands to protect the other times you're flatting, because if you're only flatting marginal hands then it's pretty easy for your opponent to read you. When you mix it up with some big hands and switch up how you play them, it allows you to represent a lot more bluffs as well, so it just makes you that much tougher to play against.
Parker: There's a lot of shoving that goes on later in the match as the blinds escalate, and sometimes if you feel like the guy's going to be tough to beat, you might want to shove on him a little lighter. And if you feel like he's a little weaker, you might want to limp some hands, if you're getting short-stacked, to try to keep the pots small since the blinds are so high.
Zinno: I was actually practicing on the heads-up poker machines they have at Bellagio and other places, and I think the heads-up poker bot is great practice, because it plays perfect GTO — game theory optimal — so it mathematically knows when to call you down with ace-high, knows when to get the check-raises in, and knows when to call your check-raises, say if it's a draw-heavy board. If you play against that bot a few times and put that into your no-limit game, you at least know when to not miss bets, and which boards are very bluff-heavy in texture.
So I practiced with that a lot, and if [I'm in a heads-up tournament and] I draw one of these whiz kids, I'm going to kind of play as if I'm playing against the robot — a brilliant, perfectly playing robot. So I'm going to try and throw it off of its game by varying bet-sizing and [doing] anything I can to change the pattern that it's used to. Now, against someone like Seiver or Selbst, changing patterns… they're pros, they're better than I am at that, so they're going to see through that, they're used to opponents trying that.
* * * * *
Much thanks to Anthony Zinno, Brock Parker, and Faraz Jaka for having taken the time.
Get all the latest PokerNews updates on your social media outlets. Follow us on Twitter and find us on both Facebook and Google+!