Thinking Poker: Three Poker Books That Hold Up Well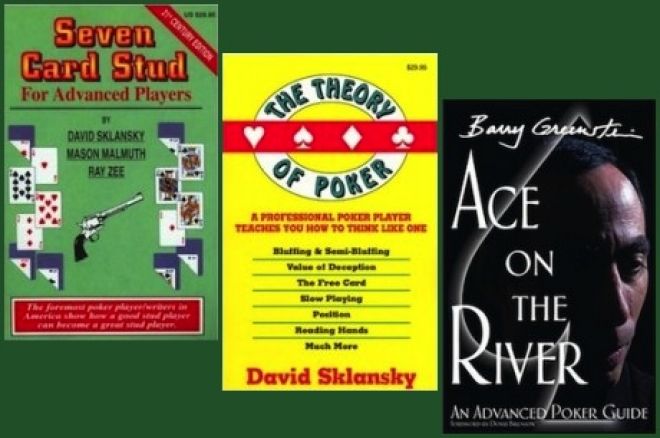 As good as the best training sites are, some people would rather learn from books. The fact is, books can force you into an active frame of mind that videos sometimes don't.
Many "new era" poker books cover territory different from that of older books. A lot of them concentrate on no-limit hold'em, and many of them also focus on practice over theory. For these reasons, old poker books can be a valuable part of one's poker education. And some of us just like their older perspective and indifferent attitude toward grammar.
A while ago I went through my poker library and out of curiosity thought about which among the older books on my shelf has the most to offer to today's reader.
This isn't the same as asking which of these books are the greatest accomplishments, or were most important to me, or were most useful when they were written. Hold'em Poker for Advanced Players by David Sklansky and Mason Malmuth, for example, is a book from which I learned a lot, and one I have read more times than I count. But not all of its advice applies well to today's games, and subsequent years' worth of limit hold'em advice (including in other 2+2 books) has rendered even much of its best material redundant.
I'm calling October 2006 the dividing point between the "old" and "new" eras of poker books. That date marks the end of the original "Party Era" with the publication of The Mathematics of Poker by Jerrod Ankenman and Bill Chen coming just weeks later, and so is as good a place as any to mark off a more modern period of poker following the Moneymaker "boom."
Here are three titles, then, all of which appeared prior that dividing line that continue to hold up well today:
Now as it was before, this is a magnificent book. It is unusually thorough, and the section on third-street play remains one of the best sources for a new player to learn about first-betting-round play in all forms of poker, and of course especially in stud games.
Similar comments apply to the rest of the volume. Everything is explained in detail. For that reason, and because more effort went into the drafting than the editing, it's not an easy read. If you study it carefully, though, you'll still be a favorite in a whole lot of stud games. That's a remarkable thing to say about a book with a 1989 copyright date.
Partly because so many other books reference this one, partly because the book has more variety than many readers recognize, and partly because it simply has such good discussions of fundamental subjects, The Theory of Poker remains an excellent read decades after it first appeared. Its most famous chapter might be the one on game theory and bluffing frequency, and in that respect it has been quite thoroughly replaced by The Mathematics of Poker, but even the discussions of semi-bluffing and pot odds are still useful.
The strategy in this book is thought-provoking and solid, but what has made this book last is Barry Greenstein's psychological insight and honesty. The traps we fall into, the rationalizations we make, and the peculiarities of the casino environment are largely what they were in 2005 when the book was published. I have surprised myself in how often I think about this book over the felt and mention it on my podcast. Also, the book's careful layout and striking photography are as pleasing now as they were then.
The most important books don't always hold up well, but these three are among those that have. As I write this, used copies of all three can be found cheaply on various web sites. These books are not only timepieces but good learning opportunities, especially for those on a budget.
Be sure to check out Nate and Andrew Brokos on the Thinking Poker podcast, and for more from Nate visit his blog at natemeyvis.com.
Get all the latest PokerNews updates on your social media outlets. Follow us on Twitter and find us on both Facebook and Google+!