How to play poker on Facebook
Logging onto Facebook generally, leads to a fun social experience or the FOMO. Add in the element of online poker and you could be having a blast playing Texas hold'em on Facebook.
Like any of the games on Facebook, whether you're adding animals to your farm, completing a quiz that strikes your fancy or learning to play poker online the slow way (going through each variant and the poker rules), Facebook poker gives you a great and achievable opportunity: to beat all the amateur players playing poker along with you.
Taking a look at the common questions at each of the "best" or most popular poker apps on Facebook can get you started.
PokerNews already analyzed one of the favorites, PlayWSOP, a free-to-play poker game that fives you access to free online poker with WSOP cash games and multi-level poker tournaments.
You could build your bankroll while also using WSOP free chip bonuses on any of its pages on Facebook and in the lobby! They're like Easter eggs but better! Ca$h money.
Others to explore include Zynga Texas Hold'em, Pokerist and Boyaa Texas Poker.
Zynga Texas Hold Em Poker on Facebook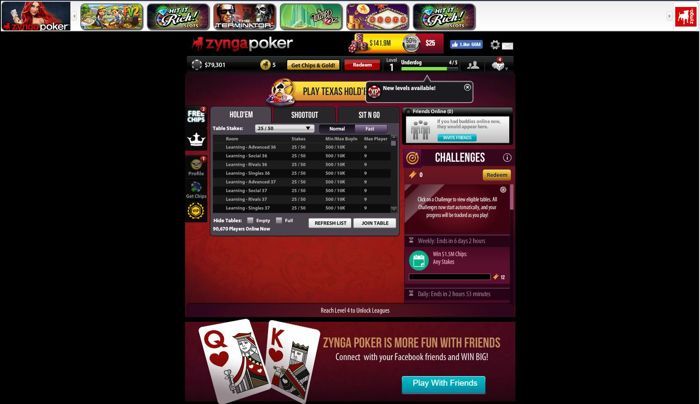 The immediate response coming into Zynga is that there's a lot going on. There are lots of tabs popping at you, and that can be a little overwhelming.
But at least be thrilled to be part of VIP immediately. You can move up the VIP tiers with chip, gold and gift purchases. Bonuses increase with the tiers.
Jumping into Zynga you already have 2,000 chips and five gold coins. Win chips putting your poker knowledge to the test against Poker Genius. Or, if you don't feel challenged enough, try out video poker and redeem chips as you play.
You can also get chips from your friends and vice versa; share and get up to $1,000,000. Keep track of your inbox to get bonus chips and be wary of sharing plays/chips if that doesn't strike your fancy.
Zynga does offer a quick win option with the daily streak, a mega lucky bonus option that gives daily rewards at a certain percentage for each day you return to spin. And once you get to a table, it all evens out and the fun starts.
There are tons of table stakes and rooms to choose for though, so the options alone should drive you to play online poker on Facebook. Whether you're learning or already an expert, make sure to keep an eye on achievements and collections in your profile to get you more chips!
Pokerist, the Mobile and Social Poker Game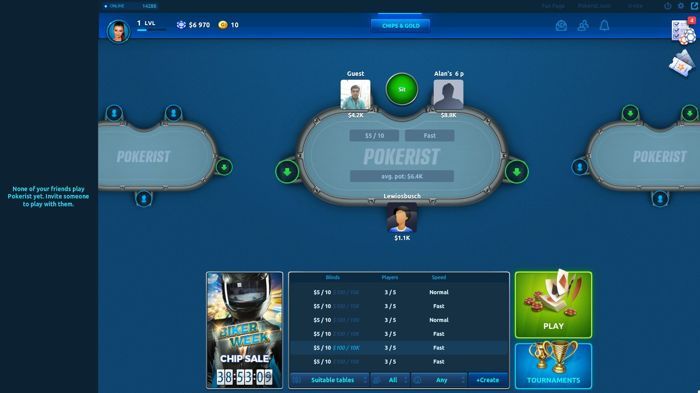 Trying out Pokerist on Facebook, you can get 500 chips and 10 gold coins just for starting play. Log in to receive the daily bonus each day. From there, you can pay your way into more chips and gold coins.
For the more frugal among us, you can also complete daily quests like playing at a table, winning with a pair, winning with three of a kind or entering a sit & go tournament for poker chip rewards.
Run over to their Facebook Fan page and you can snag more bonuses and chips.
The Pokerist app on Facebook makes it easy to invite your friends to play with you and has a hand strength meter and fast start, so that once you get the hang of it, you won't want to stop playing poker.
The nice thing about Pokerist is that it is very user-friendly, with limited buttons and a focus on the gameplay, allowing for easy scroll from table to table.
Boyaa Texas Poker on Facebook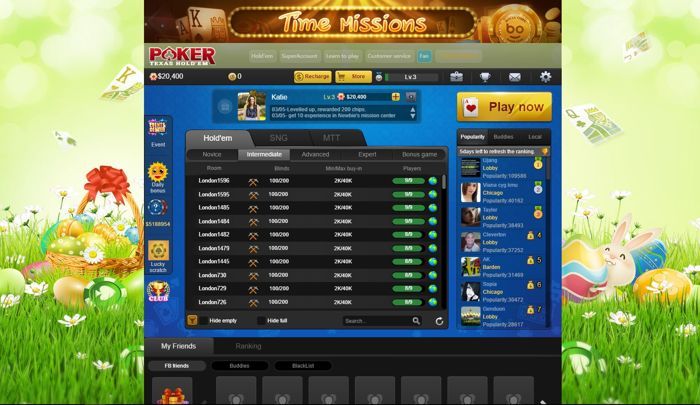 As you enter into Boyaa's app, you automatically get 2,000 poker chips and can get extra chips by watching a tutorial, so why not?
After you complete the newbie mission, you get 2,000 more chips and that contributes to a total of 10,000 once you're off the tutorial.
While Boyaa doesn't have as many chip-gaining opportunities as some of the other apps above, there are still daily tasks that can give you chips. Then, by entering certain rooms and completing certain tasks, you can gain extra points during hands at the tables.
Boyaa tends to reward more for gameplay than for anything else and also seems to be focused on stats.
If you're looking for the Facebook experience, but an alternate poker client, check out these fantastic poker options.
How to win when playing poker on Facebook
Now that you've learned all the poker trade secrets and exhausted all the chip and bonus opportunities your heart longs for, you can play poker a little more wisely.
These online poker sites help players determine one thing: how to beat bad players. They also get you going before you decide to play real money online poker, which you can do, with little risk.
When you're getting in the poker game, learn how to recognize these poker players. They are dubbed "unbluffable."
The rec

These players hate to fold and will play nearly every hand just because it's more fun that way. Thus, when they make their way into a pot, they have no choice but to bluff. Expect a call with weak holdings.

The shove

One player you'll find in free poker games that you won't find in real money games is the "shover." These players sit down at a table and just move all in every hand. They have nothing to lose — the chips are free — so they just try to win big pots by gambling.

The drunk

An explanation may not be adequate for this one, but generally, tight, careful players turn into ones that play every hand and call every bet.

The vendetta

Whatever you did, you've got a target on your back. This player may try to bluff you, but be warned: he will not be bluffed by you.

The tilted

These players are on the downswing. They just lost a large pot, they may be on a bad beat, but they are unbluffable; they will look for any way to win pots.
When dealing with these players, it's best to value-bet. Even overbetting pots if you have a strong hand could go in your favor because it would look like a bluff.
Then, once you've mastered the art of beating some of these quite ridiculous newbs online or struggled through the monotony of yet another table where players bet just to bet, you can find a real money poker room that meets your standards and craft your skills with the PokerNews Strategy section.
In the meantime, keep it simple when playing bad players, watch their actions for patterns, value bet and keep your opinions of their idiocy to yourself because beating them will only benefit you if they don't know you're on to them.