J.C. Tran: $25K Mixed-Max Event Provides Platform for Short-Handed Improvement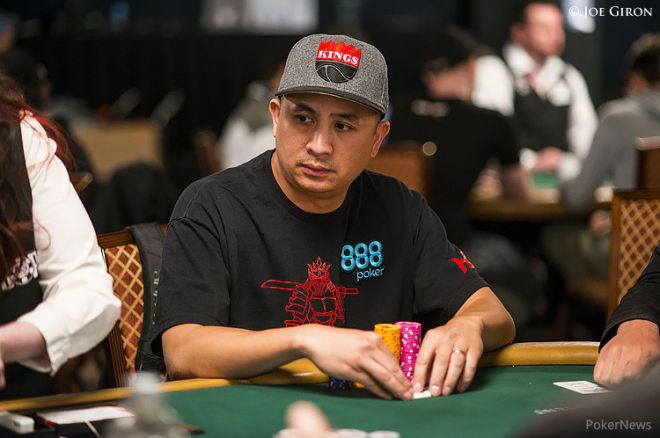 Last summer, J.C. Tran stormed through the World Series of Poker, accumulating five minor cashes before making a major move in the Main Event. With the eyes of the poker world fixed squarely on his shoulders, Tran tried valiantly to take up the mantle of true pros to claim the game's premier prize. Although he ultimately fell short of a championship here at the Rio –registering a fifth place finish for $2,106,89 to push his lifetime earnings over the $10 million milestone – Tran reaffirmed his status as one of poker's top pros with his performance.
Earlier this year, Tran found himself at yet another major final table, and with the WPT Rolling Thunder stop taking place in his own backyard of Northern California, the Sacramento native made sure to finish the job with a win. And he did so in style, dispatching all five of his opponents from the six-handed televised final table while employing the relentlessly aggressive style which has become his signature over career spanning more than a decade.
Tran is at the Rio competing in Event #2 of the 2014 WSOP, as the $25,000 Mixed-Max No-Limit Hold'em tournament winds down during the second day of play. With the unique format of this event shifting from nine-handed play on Day 1, to six-handed play today, before moving to four-handed action on Day 3 and heads-up duels on Day 4, we caught up with Tran to see how he was faring against yet another six-handed table lined with dangerous opponents on all sides.
PokerNews: Hello Mr. Tran, how you have been enjoying your day so far on Day Two?
Tran: It's been going pretty well. I think I chipped up pretty nicely, you know, hitting a few hands. Haven't really had any really big showdowns yet, nothing really all-in pre yet. Just a lot of simple, postflop poker you know?
PokerNews: As far as this Mixed-Max format goes, it's only been on the WSOP schedule for a couple of years now. For professionals like yourself, who play tournaments all around the world using the standard nine-handed format, is this refreshing for you, having something different to think about at the table as far as tournament poker goes.
Yes, it's a great structure you know, it's basically very diverse in terms of decision making. You get to play nine-handed one full day, now we're down to six. And then at 16 left it's down to four-handed, and then heads-up. You know, it's really good practice to get through each day and be able to play… You gotta make it there first, but to be able to play different formats as far as nine, six, four, heads-up. I think a lot of people don't really get that opportunity. Say for instance you're playing the Main Event, you get to play six days but it's all nine-handed. All of a sudden, you get down to the final table, and the short-handed play is very unfamiliar.
PokerNews: Does the format offer an opportunity for fine-tuning you're short-handed game?
Tran: It's good practice for us, and I think with the faster pace as far as today with six-handed play, you get to see a lot more hands. Nine-handed, you get a lot more thinking about dynamics between other players, position, etcetera. Six-max, you get a lot of heads-up pots, both pre and postflop. Nine-handed, sometimes you get a lot of three- and four-way action pots.
The four-handed play, I love it. I played a lot of it last year in the Four-Max event, and it's a very fast-paced tournament, which how I like to play. I don't like to sit there and grind nine-handed, so in this event you're in the action a lot. You're faced with many more decisions, whether it's mid pair, bottom pair, or the king-three or whatever it is. And that's something you really don't get when you're playing nine-handed for days, you know? You don't really get to face those extra decisions, and I think if you play Mixed-Max events enough, it will really help you with your overall game in terms of playing your best when the final few tables of a nine-handed event reach the short-handed stage.
Get all the latest PokerNews updates on your social media outlets. Follow us on Twitter and find us both Facebook and Google+!