Optimal Travel Planning for Las Vegas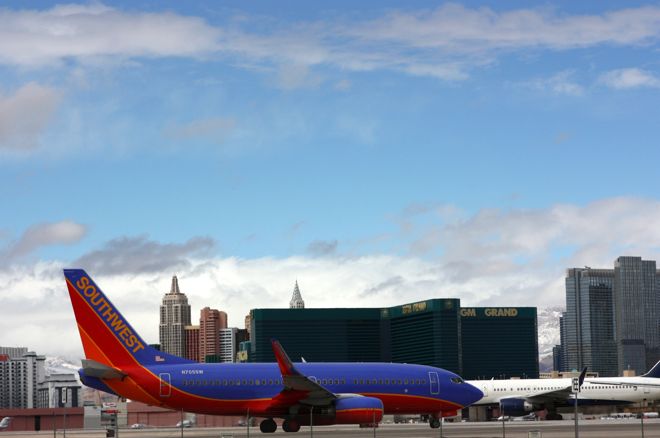 You're eager to go to the World Series of Poker at the Rio All-Suite Hotel and Casino in Las Vegas, Nevada. But you're on a budget. Is there anything you can do to keep your travel expenses down so you have more money for poker?
Here are some money-saving steps you can take to lower the cost of airfare, hotel room, car rental and even food costs while you're in Las Vegas.
Airfare
It helps to be flexible. You can find the cheapest week and day to fly by checking the many multiple listing sites like Fly, Skyscanner, Travelocity, Orbitz, Expedia, Kayak or Momondo. I recommend you check at least three of them, as some seem to have deals that others lack.
For example, I just checked out three of these sites. I found a price on one that was roughly $60 less than on any of the others — and $90 cheaper than the airline itself listed. Go figure!
When searching, start out picking the broad range of dates that you're interested in going. Then go to a few of the sites and plug in the information. The site will let you know the price for flying on each day in the month you want to travel. Pick the date that is the cheapest and most convenient. If the prices are too high for your budget, consider signing up for the flight alert feature. This is an automated service that notifies you when the price goes down.
Depending on your situation, you might also want to consider flying into another city, such as Los Angeles or Phoenix. Occasionally flights to those cities are one or two hundred dollars cheaper round trip than flying into Las Vegas. True, you'd have to drive four or five hours. But perhaps you'd like an excuse to visit either of those cities as well. The drive from either place is not difficult, if slightly monotonous. It might be an option worth considering.
A few words of caution. Just because the airline is the cheapest, that may not make it the best alternative. Some airlines have a history of awful service, including cancellations and late arrivals. You might decide (as I have from time to time) that the more expensive option is the better. But at least you'll know what the alternative is.
One last note. Travel experts suggest that the best rate for airline tickets is usually available between 50-70 days before departure. So get start looking for your flight soon! Though you might occasionally find a cheap last-minute rate a week or two before departure, for the sake of peace of mind and cost, I suggest you do your shopping for tickets a couple of months before you plan to fly.
Las Vegas Hotels
You have many options for finding inexpensive rooms in Las Vegas. Some hotel chains have frequent guest reward points that you can use for free or reduced-priced rooms. Obviously, consider that first, if it applies to your situation.
If you aren't a member of such a program, the simplest way to find the cheapest room is to go on any of a dozen or so consolidator sites like Trivago, Expedia, Orbitz, Hotels, Hotwire or Travelocity. Again, I recommend you look at more than just one of these sites, as some inexpensive rates are only listed on one site.
These sites will list all of the available rooms in Las Vegas on any given day in order of cost, customer reviews, level of luxury and nearness to downtown. You need to read the fine print, however, to find out the true cost of each room, since the vast majority of rooms in Las Vegas these days come with a "resort fee" that can range from $6 to $39 per night. Then you can decide between and among rooms of similar price. Using this method, I've actually found hotel rooms in Las Vegas for as little as as $8.50 a night.
You might also consider renting a room through the same site you used when booking your airline ticket, since most have deals that combine airfare and hotel rental. Sometimes these rates can be considerably less than what you would pay if you booked the two separately.
For example, I once booked an inexpensive flight and hotel that was $200 less for the week than if I had booked each separately. I didn't stay at the exact hotel I would have selected otherwise, but the hotel coupled with my airline ticket was good enough to justify the huge savings in total cost.
Accordingly, you might want to check the hotel rates first, figure out a few that would be acceptable to you, and then see if the rate offered with your airline ticket is a better deal.
Rental Cars
I always rent a car in Las Vegas. I like to visit many casinos and other places when I'm there, and for me, with average daily car rental rates of $20 or so, it's significantly less expensive to drive myself than to take a cab wherever I'm going.
On the other hand, if you're staying at the Rio for the World Series, you might just decide that since it has everything you want for your poker vacation you won't be leaving the property, and so will have no need for a rental car or a taxi. But if you are renting a vehicle, you can check rates in a few different ways to find the best one.
Prices vary widely between rental car companies. I've seen a week's rental at one company for under $100 while another company charged $500 or more for the same car! I absolutely recommend that you use Carrentals, Hotwire or one of the other major consolidators like Expedia, Orbitz or Travelocity. They list all of the major rental car companies and their best price for each size of vehicle.
For additional savings, you might then go on Priceline and put in a bid for the vehicle you'd like, providing a price that is lower than the lowest car price you saw on any of the other sites (making sure to factor in the added cost of fees and taxes). Increasingly, however, at least in Las Vegas, I have found that the final price I negotiate on Priceline is never more than a couple of bucks less a day than the least expensive price I can find on the other sites. For this reason, I no longer spend the extra time to get the absolute rock bottom price.
A word of caution about finding the absolutely cheapest cost vehicle. Las Vegas rental car companies are not equal in convenience. While most are located about an eight-minute airport shuttle ride away from the airport, a few require you to take two shuttle rides which can tack on an additional 30 minutes to your trip. Some also are known for less than ideal customer service. If the name of the rental company is unfamiliar to you, you might want to take a few minutes to do some research to see if it's up to par.
Food
If you're on a strict budget, it might be worth your while to save money by shopping for at least some of your meals at a supermarket instead of a restaurant. (This is another reason to rent a car.) You can save a lot of money by avoiding restaurants and preparing quick meals for yourself.
You can buy water, fruit, cheese, deli meat, cereal, milk, bread, nuts and the like for much less at a supermarket than from any of the vendors who sell food at casinos. If you've decided to rent a room with a kitchenette, you can even buy groceries to prepare yourself some meals, especially breakfast, instead of dining out.
On the other hand, you might figure that you want to enjoy the luxury of eating out all of the time. If that's the case, just keep in mind that there are tons of inexpensive restaurants in Las Vegas, especially if you like Mexican or Chinese food. Roberto's, the most popular chain of Mexican restaurants, has numerous menu options for $5 and under. And there are dozens of Asian restaurants in Las Vegas's Chinatown on Spring Mountain Road with meals for under $10.
Final Thoughts
You might wonder if the extra time it takes to do the comparison shopping I recommend is worth the extra effort.
All I can say to that is that all told, by employing the money-saving tips that I've recommended above, I have saved enough money in my 20 or so annual trips to Las Vegas to fund at least a couple of $1,500 tournament buy-ins at the World Series of Poker. That has made it worthwhile for me.
Lead image courtesy of Michael Dorausch/Flickr
Ashley Adams has been playing poker for 50 years and writing about it since 2000. He is the author of hundreds of articles and two books, Winning 7-Card Stud (Kensington 2003) and Winning No-Limit Hold'em (Lighthouse 2012). He is also the host of poker radio show House of Cards. See www.houseofcardsradio.com for broadcast times, stations, and podcasts.
Everybody needs an account at one of these online poker rooms! They're the biggest, the best, and we get you the best poker bonuses. Check out our online poker section for details on all the online poker rooms around.