Martin Jacobson & Ana Marquez Analyze 888Live Bucharest High Roller Clash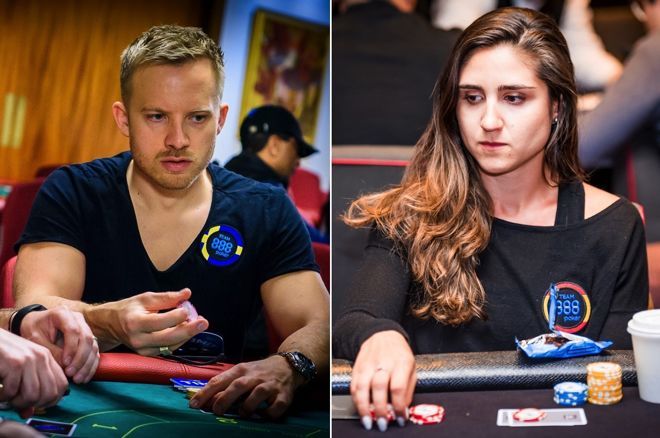 The 888poker LIVE Bucharest series just concluded, highlighted by Darius Neagoe's big win in the exciting Main Event. The High Roller featured a lot of engaging action as well, including a big clash between two 888poker Ambassadors on the feature table — Martin Jacobson and Ana Marquez.
The hand came during the 600/1,200 level (with a 1,200 big blind ante), and began with a player opening from under the gun for 3,000. Marquez had picked up
in the next seat and called, and after it folded to Jacobson on the button he called as well with
.
The big blind came along, too, meaning there was 13,800 in the middle and four players in to see the flop come
.
It checked to Jacobson who'd had 157,000 to begin the hand and was the table's big stack. With his set of sixes, he bet 4,000, and both the blind and UTG players folded. Marquez had just under 78,000 to begin the hand, and with her pair of tens she called the bet.
The turn
paired the board. Marquez checked, and with 21,800 in the pot, Jacobson used a time bank before betting 14,000. Marquez called, bringing the pot up close to 50,000 and her stack down to just under 57,000.
The river was the
, making quads for Jacobson. Marquez checked once more, and this time Jacobson took about 15 seconds before announcing he was all in.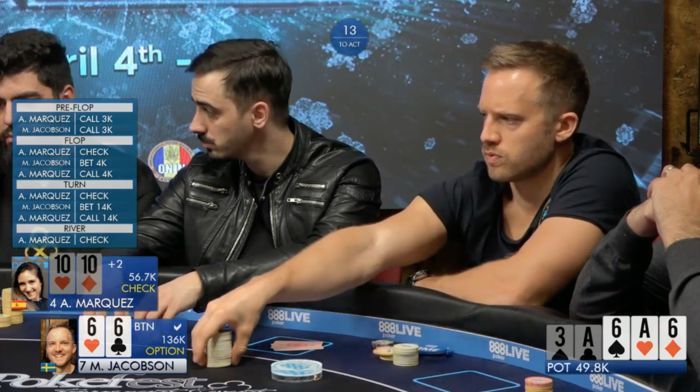 Marquez dipped into her time bank this time, thinking a long while before making a decision.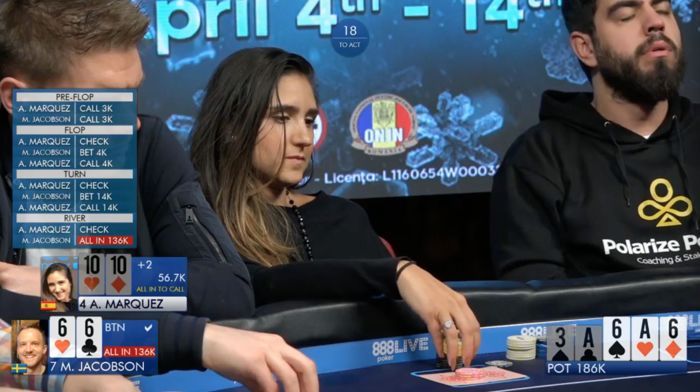 Finally, Marquez let her hand go, and on a subsequent break, both players discussed the hand and their thought processes with PokerNews.
After recounting the action, Jacobson jokes that Marquez was calling his bets with K-3, but he well knew she had better than that.
"When she check-calls the flop, I know she has either has a middle pair, an ace, or a flush draw. Her range there is pretty narrow," he says, explaining how the ace on the turn then became an especially good card for him.
Marquez meanwhile notes how by the river her pair of tens had been reduced a bluff catcher, which informed her river decision. Take a look: