Playing On Top: 2015 WSOP Main Event Leaders Talk Big Stack Strategy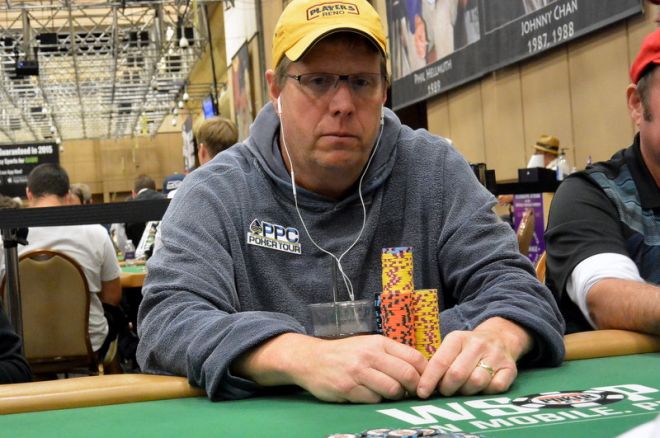 Having a big stack on the early days of the World Series of Poker Main Event can go one of two ways. Either you're on your way to poker glory or a glorious — or rather, inglorious — blow-up.
Wisconsin's Mark Kroon (pictured above) found himself having to endure the latter after coming into Day 3 of the 2013 WSOP Main Event as the chip leader and ending up a footnote in that year's ME. Kroon ran up the big stack by running over his tables through the first two days. But he is the first to admit his blow-up came as a result of following a strategy that attempted to try to do the same going forward.
"I got so many chips just running people over and it just got away from me," he told PokerNews.
Kroon is well-stacked again entering Day 3 of this year's WSOP Main Event. He started today with 279,900 chips, good enough for a spot inside the top 50 with 1,796 players left. But having learned his lesson a couple of years ago, he's taking a different tack this time around.
"I just keep telling myself, 'don't make the big bluff, don't make the big bluff,'" he said. "You just don't have to. In this tournament, with this structure, you can just sit back and wait for other people to make the big mistakes."
Increased media attention, bright lights, and TV cameras are the kind of things that come alongside having a big stack in the Main Event. Kroon believes how you handle that can be almost as important as any strategy on the table.
"The thing about what happened last time is I think I just got too overconfident. I'd never really been in that big of a spotlight in this big of a tournament," he said. "I think the spotlight got to me."
Also coming into today's Day 3 with loads of chips is Amar Anand. Hailing from San Francisco, Anand's background includes working for big companies like Facebook and Twitter, and currently Airbnb. He's worked up a big stack now, too, and in fact came into today as the chip leader with 603,500.
Unlike Kroon, Anand says he has little concern about the bright spotlight, and in fact believes having the big stack means even less pressure.
"It's actually less stressful having the chip lead," Anand told PokerNews. "You can play a little more aggressive without ever having to put all your stack at risk."
Anand says his strategy coming into play today will be to keep putting the pressure on shorter stacks and those looking to just sneak in the money. (Remember, the top 1,000 finishers get paid this year.) That's a style he used to his advantage at the end of Day 2a when he was able to chip up big during the later levels by winning a number of hands without showdown.
We also spoke with Craig Varnell before play began today. Just last week the player from Ft. Collins, Colorado final-tabled the $1,000 No-Limit Hold'em WSOP.com Online Event, finishing third for $73,079. A few days after that he managed to outlast a field of 5,113 to win the 2015 partypoker presents: WPT500 at the ARIA Resort & Casino for $330,000.
Varnell's good fortune has continued and heading into today he is up near the top of the counts again with a stack of 274,200. Varnell says his plans for using the big stack include mixing it up and adjusting to the players at his table, rather than trying to employ all-out aggression.
Even so, when it's time to attack, Varnell says he plans to be ready.
"I've been implementing a lot of other people's games into my own these days and I feel like when you're mixing it up like that people just have no idea what you're doing," Varnell said.
"I'm going to play my game and feel out the table first. If there are a lot of weaker spots at the table I attack."
Stick close to PokerNews for continuing coverage of the 2015 World Series of Poker Main Event, and we'll find out together how Kroon, Anand, and Varnell fare with their big stacks.
Want to stay atop all the latest in the poker world? If so, make sure to get PokerNews updates on your social media outlets. Follow us on Twitter and find us on both Facebook and Google+!