Prepare for The WPT Online Borgata Poker Open with LearnWPT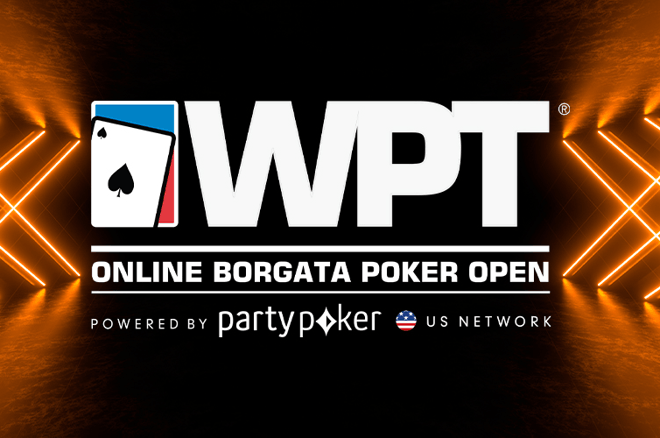 For only the second time, the World Poker Tour is bringing the prestige and championship structures synonymous with WPT Main Tour events to the virtual felt in the United States. The WPT and partypoker US Network have partnered once again to deliver an unparalleled online poker experience and chance for players to etch their name on the Sexton Cup exclusively in New Jersey this September 19th.
The WPT Online Borgata Poker Open powered by partypThe WPT and partypoker US Network have partnered once againoker US Network is a $3,500 buy-in tournament that brings together Tour regulars, online grinders, and poker fans to test their skills and compete for a WPT Title, including the lion's share of the $1M Guaranteed prize pool. Whether you choose to take a virtual seat at the table on BetMGM, Borgata Poker, or the flagship partypoker New Jersey site, you'll enjoy a state of the art online poker experience with the opportunity for a huge payday.
This event is a can't miss, especially for 4x WPT Champion and partypoker US Network ambassador Darren Elias:
Great to see @WPT hosting a $3,500 Main Event on @partypokerUS Network. With many live events postponed, expecting… https://t.co/0YGW8lQKfO

— Darren Elias (@DarrenElias)
Will you be heading to New Jersey to join Darren Elias and take your shot at the WPT Online Borgata Open title? LearnWPT, the Official Poker Education Platform of the World Poker TourⓇ and partner in partypoker US Network's For The Player program, is here to get you ready for your shot at poker glory!
Satellite Strategy to Help Secure Your Seat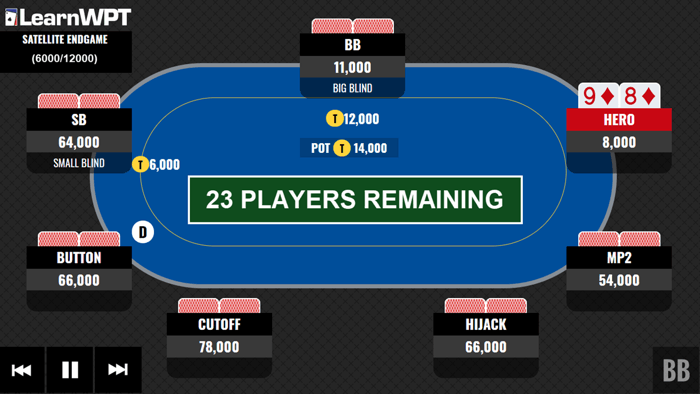 The WPT Online Borgata Poker Open powered by partypoker US Network offers a robust satellite schedule with daily chances to win your $3500 seat starting at just $5. To parlay a small investment into an opportunity for poker fame and the score of a lifetime (all from your couch) you'll want to check out these strategies for playing satellites from Team LearnWPT.
The key to playing satellites successfully is understanding how dramatically the payout structures affect your play.
In a traditional MTT payout structure around the top 15% of the field gets paid with 30% of the prize pool spread to the top 3 players. The remaining prize pool is distributed in smaller increments until the lowest finishers receive just over their buy-in back as a prize. In a satellite, all of the main prizes are of equal value. While accumulating chips in the early stages and building a stack is still critical to winning your seat, adjusting for satellite endgame will often mean folding more often in spots where you would happily continue under normal tournament payout structures.
Monitoring the stacks of players at other tables is also crucial to your approach when playing satellites. In live poker this can be difficult to keep track of without standing up between hands and grabbing a quick look at the other tables. Online satellites have a distinct advantage here as you can open up the tournament lobby and even observe other tables in the satellite simultaneously while you play. Knowing if a short stack is about to be in the blinds next hand is valuable information and can dramatically impact your decision to continue in a hand.
Should you be fortunate enough to build a big stack and appear to have a seat locked up to the target tournament with only a few players remaining till the money, focus on folding your way to a win. Often in the satellite endgame you will have a seat locked up with a stack of 10BBs or more. A big mistake some satellite players make with the chip lead is to try and be the table captain by knocking out all the shorter stacks.
As the big stack in a satellite you have absolutely no obligation to knock out other players, your obligation is to secure the seat. This means essentially folding every hand you are dealt, even hands as strong as pocket aces preflop if it means losing an all-in could potentially put your stack back in the danger zone.
Be Ready for Your WPT Moment live on Stream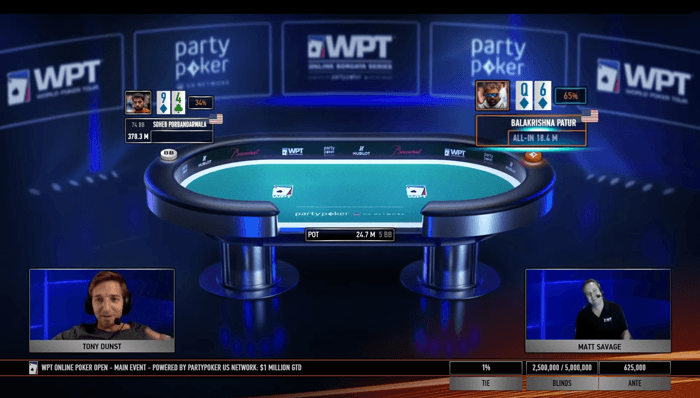 The WPT Online Borgata Poker Open powered by partypoker US Network delivers the full pageantry and premium poker action of a live WPT Main Tour event including a live streamed final table. If you're fortunate enough to battle your way through the competition and reach the final 8 players, you'll be playing center stage live on stream as WPT Executive Tour Director Matt Savage and guests call the action!
Preparing to play your best at Final Table also requires a shift in strategy and mindset from other stages of tournament play. Due to the presence of payjumps, each decision has the added pressure of immediately costing real money if incorrect. If you aren't prepared with the necessary adjustments and you take the same approach with a specific hand at a final table as you would at the 50/100 level, you'll often be making huge errors and give up tons of equity in the process.
The types of hands that your opponents choose to play at the final table will give you valuable insight on who you can attack and potentially exploit, and who you should steer clear from unless you have a huge hand. Medium and short stack opponents often tighten up their hand range considerably in an attempt to ladder up to the next payout. This stack disadvantage often results in passive play and check-calling lines with most hands, even the strongest 1-pair hands in their range due to the pressure of the payjumps.
When holding the chip lead at the final table, open up your hand range and pressure medium stacks by betting and raising, especially when there are short stacks in play. Look for spots where your opponent shows weakness to attack and bet with nearly your entire range, such as taking a stab on the turn after a flop is checked through by both players. In addition to attacking weakness by leading out, the chip leader at a Final Table should also add in aggressive moves like check-raising the flop with big draws and sometimes even betting with complete air against specific opponents who have shown they are more concerned about laddering up than winning the tournament.
Let the LearnWPT Team Help Get You to the Final Table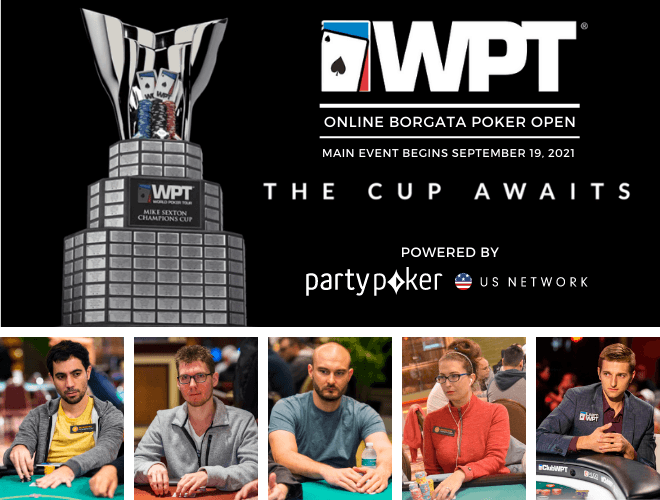 Check out this FREE WPT Online Borgata Poker Open strategy hub for more in-depth strategy tips on satellite and final table play including LearnWPT Strategy Episodes from Nick Binger, Tony Dunst, Andrew "LuckyChewy" Lichtenberger, Mike "Gags30" Gagliano, and Katie Stone!
We hope you put these strategies to good use and look forward to hearing about your deep run in the WPT Online Borgata Poker Open powered by partypoker US Network. Share your success story on Twitter with @learnwpt @partypokerUS @WPT and use the hashtag #WPTONLINE.
Sponsor-generated content from LearnWPT