Strategy with Kristy: Andrew Robl Discusses Televised Cash Game Hands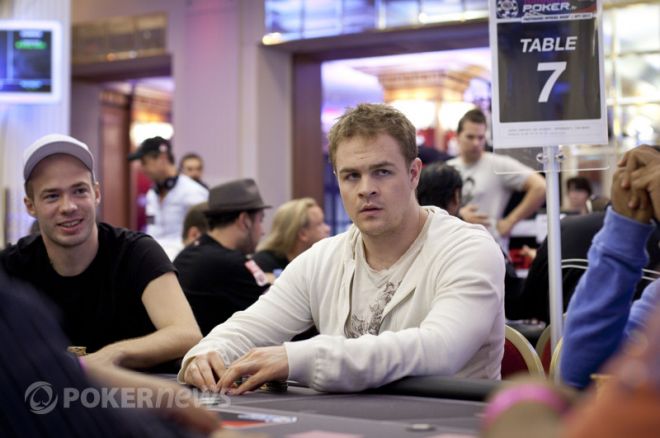 Andrew "Good2cu" Robl is known for both his cash game and tournament skill. He's played in a number of televised cash games, and the cameras have caught plenty of interesting hands for viewers to discuss.
For this edition of Strategy with Kristy, Robl sits down with Kristy Arnett to discuss a few of his most-talked-about televised cash-game hands. To view the hands as they played out on television, check Arnett's latest blog post.
Here is a snippet from the interview, in which Robl discusses a hand from High Stakes Poker [game details and action of the hand are written separately]:
Game
Lex Veldhuis straddled to $1,600. Phil Ivey raised to $7,000 from the cutoff. Robl had
on the button and called. Patrik Antonius looked down at
in the small blind and reraised to $30,400. Ivey folded. Robl moved all-in for $113,900 and Antonius called, making the pot $299,600.
Why did you decide to flat Ivey's raise?
I mean, I could have raised. I just didn't want to reraise and have Ivey four-bet. I'd be in a tough spot and not really know what to do. It's kind of a hand where I don't really want to get it in if I three-bet, but I don't want to fold either. It's also very deceiving if I flat there. You wouldn't normally put me on this type of hand when I flat.
You said that it's kind of hard to put you on this type of hand since you flatted on the button so Antonius' move kind of looks like a squeeze. Were you thinking that he might do this with a pretty wide range?
Yeah, I mean, Antonius is a good enough player that you're never going to really know exactly what he has when he reraises one time. It's not like he's going to have a super-tight range of hands. He and Ivey were super deep. So, he's not going to be reraising strong hands like ace-jack and ace-ten offsuit because it would get him in trouble playing deep with Ivey out of position. I do think he reraises with a lot of hands, though. Once he reraises, there's already like $50,000 in the pot, and I only have another $100,000 left.
You continued playing in the game after losing this pot. How do you, personally, recover and continue playing well.
I don't know. I've played a lot of poker. Sometimes you lose. Sometimes you win. I definitely wasn't happy, but things like this have happened to me a lot in my poker career. There's no reason not to play your A-game and give money away after that.
Want to know what else Robl told Arnett? You're going to have to listen to the podcast:
Tune in every Thursday for new episodes of Strategy with Kristy and feel free to send in questions, ideas or suggestions for the podcast to kristy@pokernews.com. Also remember to follow us on Twitter for up-to-the-minute news.