Strategy with Kristy: Daniel Negreanu & Jason Somerville on Staking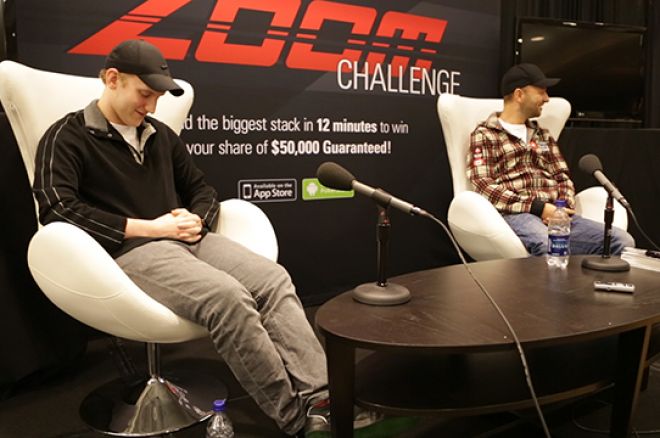 Team PokerStars Pro Daniel Negreanu and close friend Jason Somerville are no stranger to backing and staking deals when it comes to poker. In fact, the two have engaged in such deals between each other. In a special question and answer session during the 2013 PokerStars Caribbean Adventure, the two answered questions from an audience about these topics. The audio from this event is brought to you on the latest edition of the Strategy with Kristy podcast.
Here is a snippet from the interview:
Daniel Negreanu: Through satellites developed the practice of players buying pieces of each other. For example, you can have 10 percent of me for a $10,000 buy-in and pay me $1,200. You can sell a piece of yourself and play for a smaller amount. The more traditional way that it's always been done is, for example, I'll say, "I know he's a good player. He doesn't necessarily have the funds to play the entire tour. I'll put up the funds, he'll play the tour, and we'll do a 50/50 split of the profits." Jason can probably talk about how things have changed.
Jason Somerville: Yeah, sure. I'd say in that in the past three years, I'd say it's moved from that to piece buying. In fact, lately, expiring make-up short term deals have become more popular, where you'll do like, 10-session deals and chop profit if you're up. If you're down, you just wipe out the make up and start over. That was something "Sauce" made up on TwoPlusTwo.
I think that big backing companies have fallen away and just reduced their size. "Bax" and "Sheets" used to back like, 60 people. Now, they're not doing anything nearly that big anymore. As that has kind of gone away, people have moved more towards the piece buying stuff. The TwoPlusTwo marketplace has become so big now. A lot of guys don't even get backed anymore. They just sell action when they want to sell action. That was just never around six years ago when I first got started playing live stuff. Now, it's such a big resource.
For further information into the world of staking, please check out the insight given by Negreanu's fellow Team PokerStars Pro Jason Mercier. Mercier chatted with Donnie Peters in October of last year while out at the World Series of Poker Europe.
Tune in every week for new episodes of Strategy with Kristy. Feel free to send in questions, ideas or suggestions for the podcast to kristy@pokernews.com. Also remember to follow Kristy Arnett and PokerNews on Twitter for up-to-the-minute news.