Strategy with Kristy Podcast: David Randall Analyzes Poker Hand Against Ben Lamb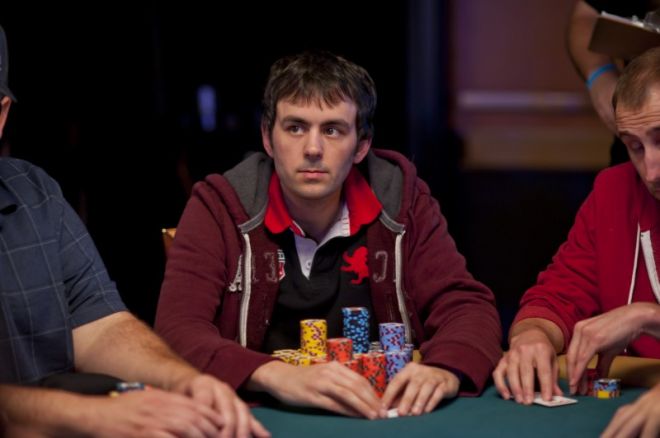 David Randall is multi-table tournament specialist and poker coach who finished 92nd in this summer's World Series of Poker Main Event. On Day 3, he was seated with Ben Lamb at a featured table and immediately played a big pot with him. On this week's Strategy with Kristy Podcast, Randall discusses that hand as well as other important tournament strategies to consider when deep in a major tournament.
Here is a snippet from the interview:
"Prior to coming to the table, I'd never spoken to Ben Lamb before or played against each other. They brought (me) to the table, mic'd me up, and I was still stacking my chips when they dealt me my first hand. It was a fresh slate and a fresh dynamic. I had about 400,000. I was dealt
under-the-gun, and I opened to 4,000 with blinds at 800-1,600."
Why did you decided to open this hand?
"When I got to the table, I noticed that Chris Moorman was in the small blind with 300,000 which makes it less likely that he's going to come after me. I also noticed that, other than him, no one else had over 150,000. I decided it would be a good spot to open any broadways and probably even a litter wider than that just because of the stack dynamics and all those factors together. In addition to that, I have 400,000 and I'm going to try and be the table captain.
"So Lamb flats under-the-gun plus two. Then the button flats as well as Moorman in the small blind and the big blind flats. The flop is
. They checked to me, and I'm going to c-bet in this spot. It is very possible that someone can put me in a difficult spot here. I think there was like 20,000 in the pot, and I bet roughly 12,000. Lamb, who had a little more than 150,000 to start the hand, makes it 28,000 with three people behind him who fold. This creates a very interesting situation because he flatted my UTG raise in early position which already makes him look pretty strong, and now he's raising me with people behind him after seeing me c-bet into four players. All those dynamics would suggest that he's strong. What I actually did was called his raise to reevaluate on the turn. Obviously I know he's capable of making a move in this spot because he knows that he looks strong, and he sees me as a young kid who probably knows he looks strong. I decided to call because of this leveling reason.
"Also, because there was close to 80,000 in the pot and he had about 130,000 behind, it set up awkwardly for him to barrel. That was the one thing I didn't like about his play. If I call his flop raise, he has no room to barrel me off the hand unless he wants to just really commit himself. That's why I figured I could just call on the flop, and if he committed himself on the turn, I could just fold. I just didn't think he would commit himself light especially because there were a lot of soft spots at the table. Why would he pick a war with a player at the table with 400,000, who's new to the table, that he has no reads on, when he could just pick on the other soft spots? I just couldn't see him running a big extended bluff on me in this spot so I called."
Find out what happened in the rest of this hand, and tune in every week for new episodes of Strategy with Kristy. Feel free to send in questions, ideas or suggestions for the podcast to kristy@pokernews.com. Also remember to follow PokerNews on Twitter for up-to-the-minute news.