The Pros and Cons of Late Registration With the WPT's Tony Dunst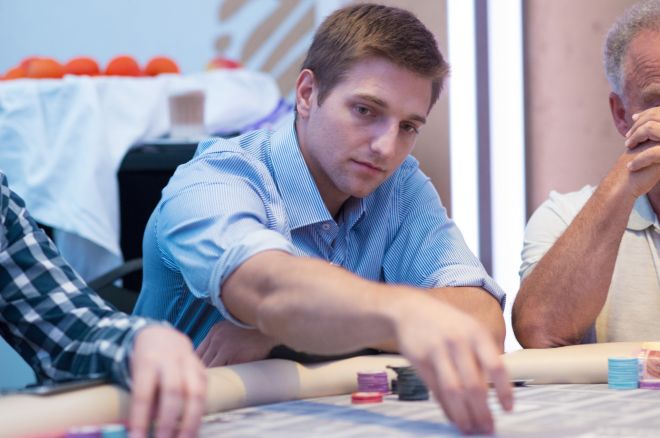 Just after 9 p.m. on Monday, Tony Dunst got off a plane from Los Angeles and headed over to the 2016 World Series of Poker.
Thanks to the extended 90-minute levels in the $1,500 Summer Solstice No-Limit Hold'em event, and the fact late registration was open for the first six of them, the World Poker Tour Live Stream and Raw Deal host was able to get in on the action immediately.
His tournament began with blinds at 200/400 and a 50 chip ante — less than 19 big blinds in his 7,500-chip starting stack.
It also started with the knowledge there are pros and cons to registering late for WSOP events. When the tournament reached its next break, Dunst took the time to outline a few of each for PokerNews.
Pros of Late Registration
1. Freedom
"One of the pros of late registering is having more free time during your day," Dunst explained. "Sometimes you just have to take care of other stuff. Some guys just want to sleep in a little bit, and maybe get a work out in, see their friends, or maybe play a round of golf. Sometimes you just have other business to take care of.
"Me, I just flew in, so having late registration here certainly allowed me some flexibility."
2. Mass Exodus
"A whole bunch of the field is gone, and that's a pro," Dunst said of registering late. "When I came in here today, there was only one third of the field left. You double up once, win another pot, and you're kind of live to cash already, just in terms of the math alone."
3. The Quick and the Dead
"Another pro is that it is, in fact, often over very quick," Dunst continued. "Instead of having these days where you play for ten hours and bust and wonder what you're doing with your life, you can take an hour-and-a-half and bust and that's fair enough."
"You were just as likely to sit around all day, maybe gravitate a little and get your 20-big blind stack in the middle in some kind of flipping spot, and that would have decided it in the same kind of way, anyway."
Cons Of Late Registration
1. Lost Wages
"One con is that you're missing out on some value," Dunst said. "Particularly bad players like to give it away in the early part of the day. If they're a really bad player, they probably don't last eight hours into the day and are gone by the time you get there."
2. Stack Envy
"If you come in late, you come in short, and a lot of the players at the table are going to have a lot more chips than you," Dunst explained. "Particularly if you come in with 20 or 25-ish blinds, a lot of your flexibility in terms of when you can open, or shove, is reduced."
"Especially playing ten-handed. I think to play right, you have to play fairly tight with these awkward stack sizes when you're ten-handed. You just can't get too creative when there are ten people with hands."
3. Ten-Handed?
"The other con is playing ten-handed. C'mon guys, why are we playing ten-handed nine hours into the tournament? Let's go nine. Please."
Want to stay atop all the latest in the poker world? If so, make sure to get PokerNews updates on your social media outlets. Follow us on Twitter and find us on both Facebook and Google+!