Would You Ever Fold Pocket Queens in This Spot at a WSOP Final Table?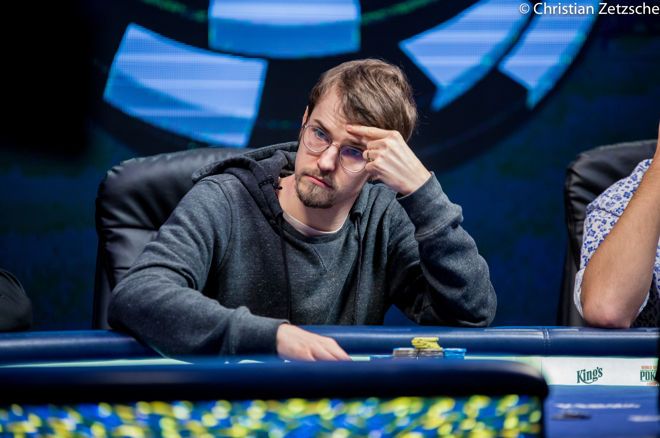 Pocket Queens are an easy call …right? Not so fast.
Join me as I go over this crazy hand from a $10,000 GGPoker WSOP Super Circuit Online Series final table where pocket tens, jacks, and queens are pitted against each other. You probably never expect queens to have the hardest decision of the lot! Should you fold in this spot?
It was the tournament that was won by Poker Hall of Famer Erik Seidel for his ninth gold bracelet, but fortunately for him, he wasn't involved in this hand.
Eight players remained and the blinds were at 100,000/200,000/25,000 when the first three players folded and Joachim Haraldstad (11,634,645) raised to 400,000 from the hijack after looking down at the
. Francisco Benitez (4,599,943) was next to act and woke up with the
.
Joachim should be raising a wide range as the medium stakes will not want to bust before Isaac Baron, who was the shortest stack at the table. It was an easy all in, and this play will often force folds from the aggressor with this final table dynamic of having one short stack, which wouldn't be a bad result.
Francisco did in fact jam all in and Claas Segebrecht (8,946,380) was in the small blind with the
. This is a pretty rough spot. Claas has a tricky decision here as he could potentially get a pay jump if he were to fold and Joachim knocks out Francisco. That said, I think Claas should shove as his jacks are still ahead of both Joachim's and Francisco's range of hands. Claas also has a large amount of fold equity against Joachim's range and stack size.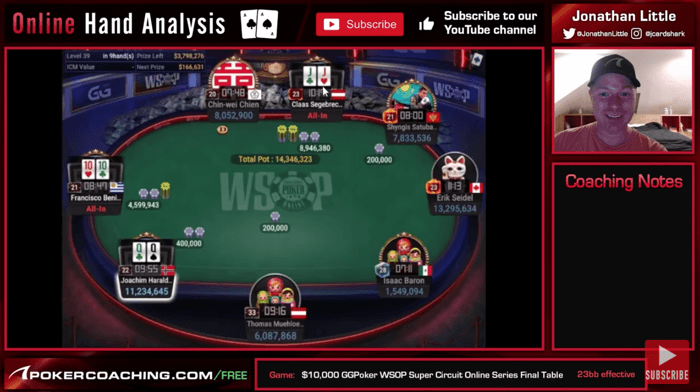 Claas tanked for a bit before moving all in and Joachim had to decide what to do with pocket queens. You might think it's an easy all in, but it really isn't. Ripping it in for 45 big blinds given the table dynamics means that Claas has to have a really big hand.
Claas will be at the top of his range when he shoves all in over Francisco's shove as the payout implications are huge with Isaac the short stack. What would you do in this spot?
Read more about Seidel's 9th Bracelet Win Here!
I loaded up the scenario into ICMIZER and it revealed that Claas should go all in with either pocket nines and better or ace-queen or batter. That's it. Pretty right range. The program also says in this scenario Joachim should call with just three hands – pocket aces, kings, and queens. Of course, the queens are the weakest hand that is a profitable call, so it might be a bit of a reluctant call. If he had ace-king, he should fold. Pocket jacks is a pretty easy fold, but queens are close.
So when should you fold queens? Well, if you remove a small number of combinations from Claas' shoving range the pocket queens actually become a fold. The decision to call with pocket queens comes down to how tight Joachim thinks Claas is jamming.
Joachim gave it some thought and ultimately folds. In this spot making a fold with pocket queens is reasonable as there has been a four-bet jam from an opponent who is incentivized to play tighter because of a very short-stacked player at the table.
Claas was in a great spot to win a nice pot and eliminate an opponent, but Francisco got lucky after the board ran out
to give him a ten-high straight.
Here's how the players wound up finishing at the final table:
Event #11: $10,000 Super MILLION$ High Roller Final Table Results
| Place | Player | Country | Payout (USD) |
| --- | --- | --- | --- |
| 1 | Erik Seidel | Canada | $977,842 |
| 2 | Francisco Benitez | Uruguay | $759,419 |
| 3 | Thomas Muehloecker | Austria | $589,785 |
| 4 | Shyngis Satubayev | Montenegro | $458,043 |
| 5 | Chin-Wei "davidchien88" Chien | Taiwan | $355,729 |
| 6 | Joachim Haraldstad | Norway | $276,269 |
| 7 | Claas Segebrecht | Austria | $214,558 |
| 8 | Isaac Baron | Mexico | $166,632 |
| 9 | Rui Ferreira | Brazil | $129,410 |
Note: Countries as per GGPoker client
For more on this hand, check out my breakdown in the following video:
Jonathan Little is a professional poker player and author with over $7,000,000 in live tournament earnings. He writes a weekly educational blog and hosts a podcast at JonathanLittlePoker.com. Sign up to learn poker from Jonathan for free at PokerCoaching.com. You can follow him on Twitter @JonathanLittle.