Main Event
Day 3 Completed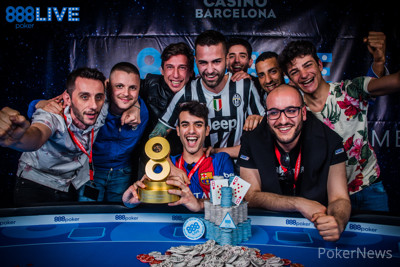 The flagship tournament of the 2017 888Live Poker Festival Barcelona not only reached but eclipsed the guarantee, as a total of 609 entries generated a prize pool €584,640 in the €1,100 Main Event. After two days and 22 levels of play, only 25 hopefuls remained and returned to the tables at Casino Barcelona.
Luigi Shehadeh, a 23-year-old online MTT specialist from Italy who made the trip to Barcelona alongside his brother Fares, eventually emerged victorious after a dominating performance. Shehadeh entered the nine-handed final table with almost one third of the chips in play and defeated local recreational player Carlos Garcia Rodriguez in a brief heads-up encounter.
Cate Hall was leading the finalists into the last day and the American poker pro also reached the final table, but eventually, Hall had to finish in 4th place. The other big name among the Day 3 players was William Kassouf, and the master of speech play fell just short of making the final table after bowing out in 11th place.
Final Result 888Live Barcelona Main Event
| Place | Winner | Country | Prize (EUR) | |
| --- | --- | --- | --- | --- |
| 1 | Luigi Shehadeh | Italy | 110,000 | |
| 2 | Carlos Garcia Rodriguez | Spain | 75,000 | |
| 3 | Jose Alberto Lopez Gonzalez | Spain | 50,000 | |
| 4 | Cate Hall | USA | 35,000 | |
| 5 | Stefan Eriksson | Sweden | 27,000 | |
| 6 | Hamza Miri | Germany | 22,000 | |
| 7 | Jaime Rueda Sampedro | Spain | 18,000 | |
| 8 | Marco Regonaschi | Italy | 15,000 | |
| 9 | Javier de Vicente Miquel | Spain | 11,240 | |
Giovanni di Ceglie busted in the very first hand of the day when his pocket threes failed to hold up against the ace-deuce suited of Jose Manuel Cesepimps. Plenty of short stacks doubled after that and Cesepimps became the second casualty one hour later. Marwan Salamoun had a roller coaster day with three double ups and as many lost all ins, and the American finished in 22nd place followed by UK's Chuc Khuu.
Down to the last 20, William Kassouf took the lead after doubling with pocket aces against the pocket fives of Marco Regonaschi in a three-bet pot and six-high flop. Regonaschi had an open-ender but failed to get there. The last two tables were set after the eliminations of Fernando Campomar Concha and Filippo Lazzaretto, while a second move by Jonas Kannosto with ace-king suited on a jack-high flop went horribly wrong. Francisco Jose Garcia Martin snap-called with jack-ten suited for trips and turned a full house.
Among the next casualties were Besmir Hodaj and Do Chung Tran, before Jaakko Wilska's tournament came to an end in 14th place. The Finn shoved with ace-jack and Cate Hall called with pocket threes to dodge both over cards and a gutshot straight draw. Soon after that, William Kassouf was left with less than two big blinds after calling the shove of Marco Hakli with sevens and ending second-best to the king-jack of the Spaniard.
Kassouf tripled and doubled up while Hakli and Alessio Sardone both departed on the feature table. It was all over for the Brit when his king-queen was no good against Hamza Miri's ace-jack. A move by Francisco Jose Garcia Martin with nine-ten off suit came at the worst possible timing, as Luigi Shehadeh snapped him off with pocket aces and barely had anything to worry about on a jack-high board. This set up the following nine-handed final table.
| Seat | Player | Country | Chip Count | Big Blinds |
| --- | --- | --- | --- | --- |
| 1 | Carlos Garcia Rodriguez | Spain | 1,125,000 | 11 |
| 2 | Luigi Shehadeh | Italy | 5,335,000 | 53 |
| 3 | Marco Regonaschi | Italy | 925,000 | 9 |
| 4 | Javier de Vicente Miquel | Spain | 1,200,000 | 12 |
| 5 | Cate Hall | USA | 2,735,000 | 27 |
| 6 | Stefan Eriksson | Sweden | 1,420,000 | 14 |
| 7 | Jaime Rueda Sampedro | Spain | 1,860,000 | 18 |
| 8 | Hamza Miri | Germany | 1,630,000 | 16 |
| 9 | Jose Alberto Lopez Gonzalez | Spain | 2,020,000 | 20 |
Luigi Shehadeh had a commanding lead over the rest of the field and it was also the Italian that sent the first opponent to the rail. Javier de Vicente Miquel doubled through Cate Hall, however, the Spaniard would then bow out soon after in 9th place when his pocket sixes would lose the flip against the ace-king of Shehadeh. An ace fell on the turn and de Vicente Miquel had to settle for €11,240.
Marco Regaschoni was the next player to join the rail. Carlos Garcia Rodriguez open-shoved for 21 big blinds and the Italian called all in from one seat over for 18 big blinds with pocket tens. Garcia Rodriguez had pocket queens and there was no surprise on the board.
The elimination of Jaime Rueda Sampedro shortly after came in brutal fashion. He three-bet jammed with pocket kings and initial raiser Cate Hall looked him up with pocket queens. The flop instantly provided a queen and Rueda Sampedro was gone after two blanks on turn and river to see a third player depart from the final table within just ten minutes.
Hamza Miri came back from two big blinds and laddered up to 6th place, but his ace-nine suited would not get there against the pocket nines of Stefan Eriksson. The Swede was the last 888poker online qualifier and turned €30 into a payday of €27,000. Eriksson called a raise by Luigi Shehadeh with pocket threes and jammed a three-way king-high flop only to see the Italian snap-call with ace-king. Neither turn or river were a three and Eriksson was on the rail in 5th place.
The roller coaster of Cate Hall eventually ended in 4th place. A win would have brought the live tournament earnings up to a cool million, but instead, it was yet another deep run and €35,000 for the efforts. Hall three-bet shoved her short stack with ace-six out of the small blind and Luigi Shehadeh called with king-ten. An ace on the flop was good news for Hall, but a jack on the turn improved Shehadeh to a straight.
Down to the last three players, Luigi Shehadeh had an overwhelming lead and that got even bigger after he sent Jose Alberto Lopez Gonzalez to the rail. The Spaniard shoved from the button with pocket threes and Shehadeh called with ace-jack, a jack immediately appeared on the flop.
Luigi Shehadeh started heads-up with an 8-1 lead and Carlos Garcia Rodriguez doubled up in one of the first hands. Right after, the duo headed into a 45-minute dinner break before it took another 30 minutes to wrap up a one-sided duel. Down to 13 big blinds, Garcia Rodriguez shoved with ace-seven and Shehadeh called with pocket eights. The Spaniard flopped an open-ender but turn and river bricked off to crown Shehadeh as champion.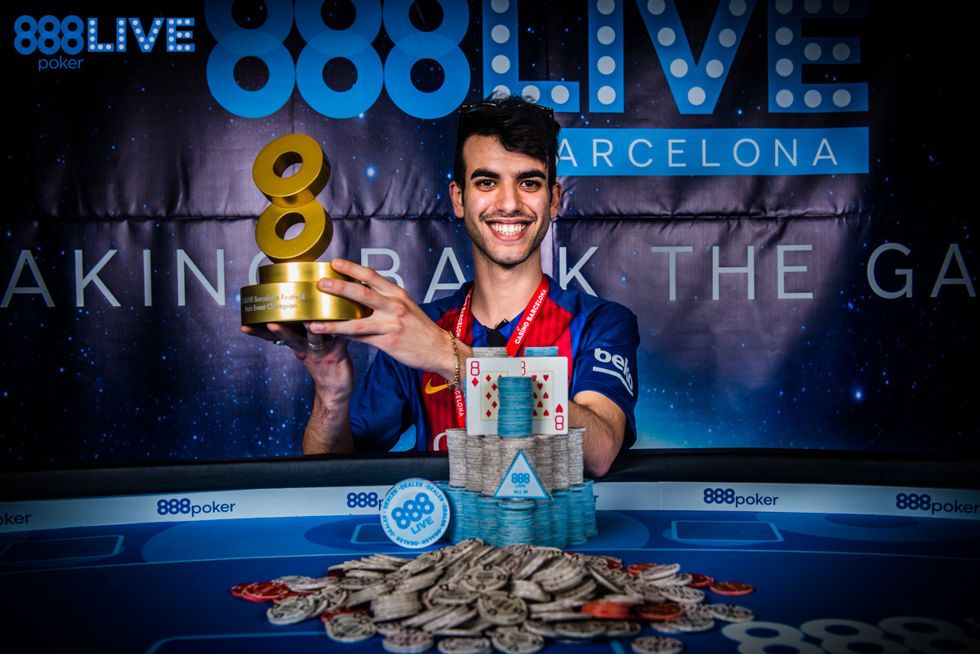 *winner picture courtesy of 888poker / fabfotos
That marks the end of the PokerNews live reporting here from Casino Barcelona, and the festival exceeded all guarantees to offer far more than the initial €700,000 in guaranteed prize pools. Next up is the PokerStars Championship in Sochi before a busy summer awaits with the World Series of Poker in Las Vegas.
Level 31 : 100,000/200,000, 20,000 ante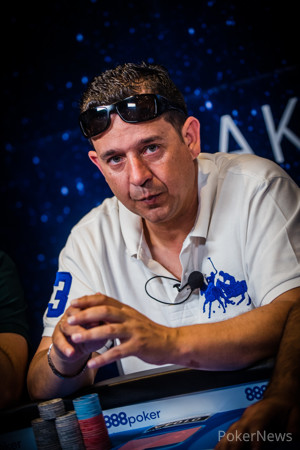 With the stacks wildly in favour of Luigi Shehadeh by a ratio of almost 10:1, Shehadeh moved all-in with
and Garcia called it off for his tournament life with
.
The flop of
gave Carlos Garcia Rodriguez genuine hope, but after the turn
and river
, he was left with nothing and Luigi Shehadeh had become the inaugural 888Live Barcelona Main Event champion.
Just a month ago, Shehadeh took down his biggest ever score of €100,000. Tonight, he's won €110,000 and the golden 888Live trophy to add to his collection. It's a superb result for Carlos Garcia Rodriguez too, who takes home €75,000.
A full write-up of today's thrilling final day action will follow.
There were just a few pots in heads up thus far and none of them provided any major action. Then, Carlos Garcia Rodriguez opened to 500,000 with the
and Luigi Shehadeh shoved with
. Garcia Rodriguez took some time and folded, dropping to 13 big blinds as a result.
Level: 31
Blinds: 100,000/200,000
Ante: 20,000
The two players have returned from the dinner break and will now battle for the trophy and €115,000 payday that comes along with it.
In the first hand of heads up, Carlos Garcia Rodriguez open-shoved the
and Luigi Shehadeh folded
.
The next hand, the Italian shoved and Garcia Rodriguez snap-called.
Carlos Garcia Rodriguez:

Luigi Shehadeh:
The board ran out
and Garcia Rodriguez doubled for just over 10 big blinds. Right after, the players agreed to go on a 45-minute dinner break.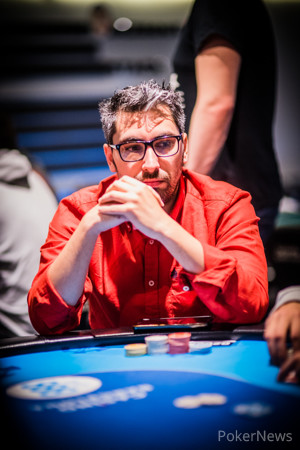 Carlos Garcia Rodriguez shoved from the button with the
and Jose Alberto Lopez Gonzalez reluctantly folded the
in the big blind before open-shoving the small blind the next hand to get his chips back.
Lopez Gonzalez moved up to around 2,800,000 and shoved the button right after, and Luigi Shehadeh snap-called in the big blind.
Jose Alberto Lopez Gonzalez:

Luigi Shehadeh:
The board came
and Shehadeh paired up on the flop to eliminate Lopez Gonzalez in third place for €50,000. Both remaining players embraced and seem to continue shortly with Shehadeh holding a commanding lead.
Level 30 : 80,000/160,000, 20,000 ante
Carlos Garcia Rodriguez doubled up through Luigi Shehadeh when Garcia moved all-in in the small blind with
and was called by Shehadeh with
.
The
board gave Garcia a fortunate double and he's backup to 2.2 million. Shehadeh still has the overwhelming lead but that could have been heads-up.