High Roller
Day 2 Completed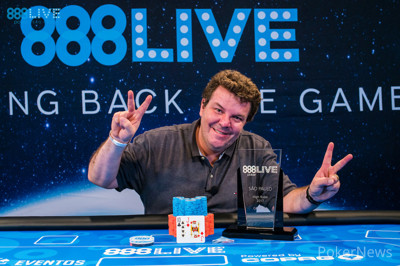 Fred Bittar locked up the largest cash of his poker career after a long fought heads up battle that lasted well into the morning. Bittar came to the final table with the second shortest stack but he was able to battle back, making moves throughout the day to achieve victory and his biggest lifetime live cash.
All eyes were on Bruno Foster who finished in 10th when he four-bet shoved with
and couldn't outrace
. On an alternate table, Federico Santiago Tur lost with
against another players
and that brought the final 8 to the final table.
Final Table Chip Counts:
| Seat | Name | Chips |
| --- | --- | --- |
| 1 | Marcelo Rodrigues de Souza | 258,000 |
| 2 | Theo Lima | 676, 000 |
| 3 | Rogeria Siqueira | 724,000 |
| 4 | Abraão de Santana | 672,000 |
| 5 | Reinaldo Esperandio Junior | 1,061,000 |
| 6 | Fred Bittar | 312,000 |
| 7 | Andrea Ribeiro Quadros | 384,000 |
| 8 | Ricardo Haddad | 363,000 |
Reinaldo Esperandio Jr. got off to a hot start when he four-bet Abraão de Santana's three bet from the big blind, and continuation bet a flop of
for 300,000 and found a fold from Santana. Esperandio continued to take down pots and quickly increased his stack to over 1,600,000 by taking down multiple three-bet pots with bets on the flop.
Marcelo De Souza also had a good start to the final table doubling once with
against
and later doubling up again through Bittar with pocket tens against pocket nines. That put him in contention for the the title and he carried those to 2nd place.
After his tangle with Esperandio, Santana was left with a short stack. It wasn't until the second level at the final table (level 24 at 20,000/40,000/5,000) that he shoved his last five big blinds in with
and was called by Ricardo Haddad's
. The board ran out
giving Haddad the nut flush and that sent Santana to the rail in 8th place, the first to fall at the final table.
Haddad became the short stack after losing a coin flip to Bittar when his pocket sixes did not hold up against Bittar's king-nine. A nine on the flop put him in a deep hole that he could not climb out of and that left him as the shortest stack.
Haddad would be the next to fall in a massive confrontation just after break. Chip leader Esperandio limped in under the gun. Next to act Bittar moved all in for 665,000. Action folded to Haddad who moved all in with a shorter stack than Bittar's. Action was back to Esperandio and he thought for a bit before making the call. Esperandio was holding
while Bittar held
and Haddad held
. The board rolled out
and that made Bittar's pair of aces best. Haddad was eliminated while Bittar picked up the massive chip lead of just around 1,500,000.
A massive clash between De Souza and Rogeria Siqueira came next. Siqueira raised from early position to 125,000 and he was called by Andrea Quadros from the small blind, and De Souza from the big blind. The flop came
and action checked to Siqueira who bet 235,000. Only De Souza called. On the
turn, De Souza checked again and Siqueira moved all in for effectively 505,000. De Souza snap called with
for a full house but Siqueira was drawing live with
. Unfortunately for him, the river was the blank
and that allowed De Souza to double up to just about 1,870,000 putting him in contention for the chip lead.
De Souza was able to expand that lead when he had a massive bluff go right for him. Bittar opened with a raise on the button for a little more than to big blinds which De Souza called. The flop came
and De Souza checked to Bittar who continued with a bet of 175,000. De Souza called. The turn was the
and De Souza checked again. Bittar fired once more, making it 250,000. Then De Souza check raised to 560,000. Bittar thought for a long while then called. On the
river Souz slowed down and check. Bittar couldn't fire a bullet and he checked behind. De Souza showed
for just a pair of fours and it was good to take down the massive pot and push De Souza into the overwhelming chip lead.
The next player to fall was Theo Lima. De Souza opened the button and Lima shoved all in over the top of his raise. De Souza called and the cards were turned up. Lima held
while De Souza was holding
. The flop brought a piece for both players when it came
but the turn and the river were both bricks, coming
and
. That meant Lima would finish in 6th place while De Souza expanded his growing chip lead.
A massive flip left Siqueira with the short stack when his
could not outrace Bittar's
. He was left with just about 100,000 and was eliminated a few hands later when his
ran into De Souza's
and he could not catch up.
Out in fourth was Esperandio. Esperandio shoved all in first to act and he was called by both Bittar and De Souza. When the flop came
Bittar shoved all in. De Souza took a dip in the tank but eventually folded. De Souza was happy to see Bittar's
, but Esperandio wasn't as he was holding
. The
on the turn left him drawing dead and he was eliminated from the tournament in fourth place.
The final three players were all awarded trophies because of Brazilian customs. It was De Souza who held the chip lead with just about 3,500,000, while Bittar had 1,500,000 and Quadros pulled up the rear with just over 300,000. The first to claim their trophy was Quadros. She was able to double once, but Bittar finally did her in after nearly 30 minutes of three-handed play. On her final hand, Bittar raised from the small blind and Quadros called. The flop came
and Bittar continued with a bet of 150,000. Quadros shoved all in and Bittar quickly called. Bittar held
while Quadros held
for a flush draw. Bittar faded on the
turn and the
river and Quadros hit the rail in third place.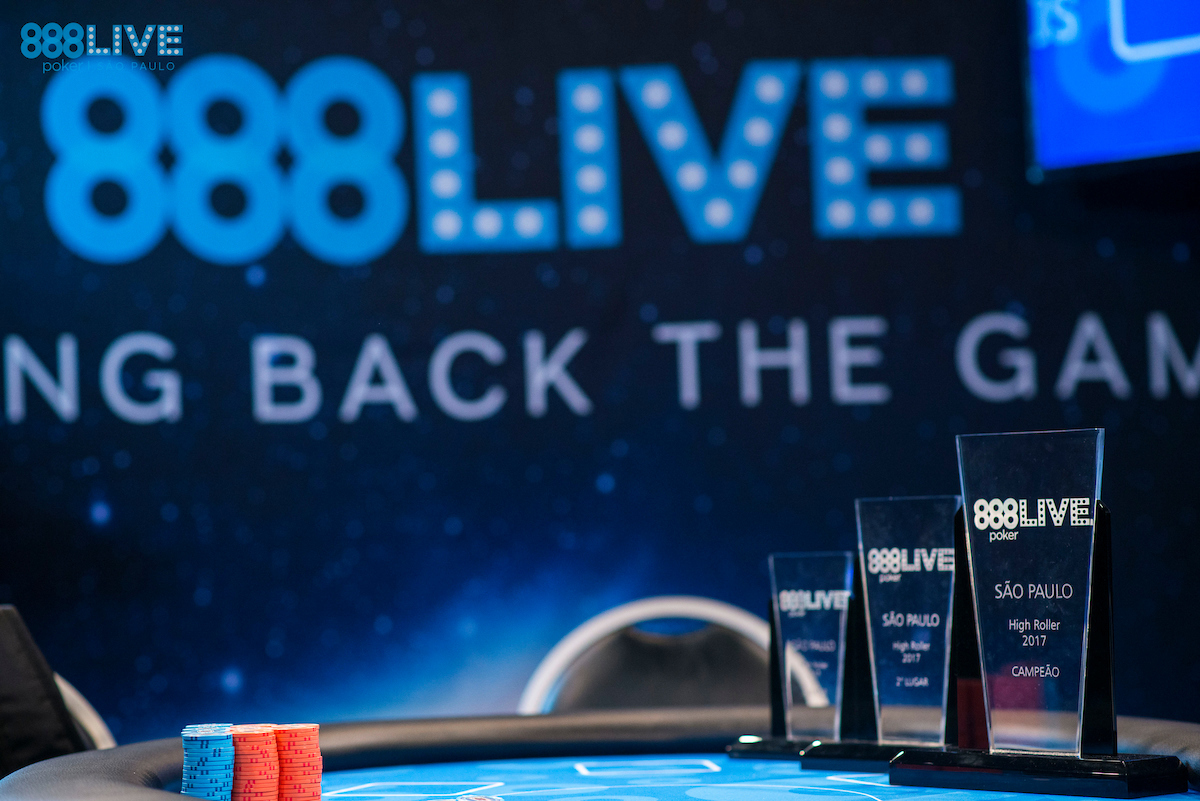 Despite earning the knockout, De Souza still held a slight chip lead over Bittar heading into heads-up play. De Souza struck first as well. In one of the biggest hands of heads-up play he opened on the button with a raise to 200,000, which Bittar called. The flop came
and both players checked to see the
on the turn. Bittar checked then De Souza put out a bet of 225,000. Bittar check raised making it 500,000 and De Souza called. The river was the
and after Bittar slowed down with a check, De Souza moved all in with a sovering stack. Bittar thought for a long time before finally folding and granting De Souza a 2-1 chip lead.
Bittar wouldn't take long to strike back. We caught the action on the turn with Bittar on the button. The board read
and De Souza checked to Bittar who bet 325,000. De Souza called. On the
river. De Souza checked again. Bittar moved all in for a little less than a million and De Souza dropped into the tank. After roughly 3 minutes he decided to make a hero call with
for just king high, but De Souza had him beat and was holding
which allowed him to scoop the pot and move into the chip lead.
From there the match stayed stagnant for over an hour as Bittar slowly whittled away at De Souza's chip stack, before finally, De Souza was able to double with
against Bittar's
, bringing the stacks back to even again. Eventually, Bittar won a massive race for most of the chips in play with pocket sixes, when De Souza's ace-nine couldn't outrace him.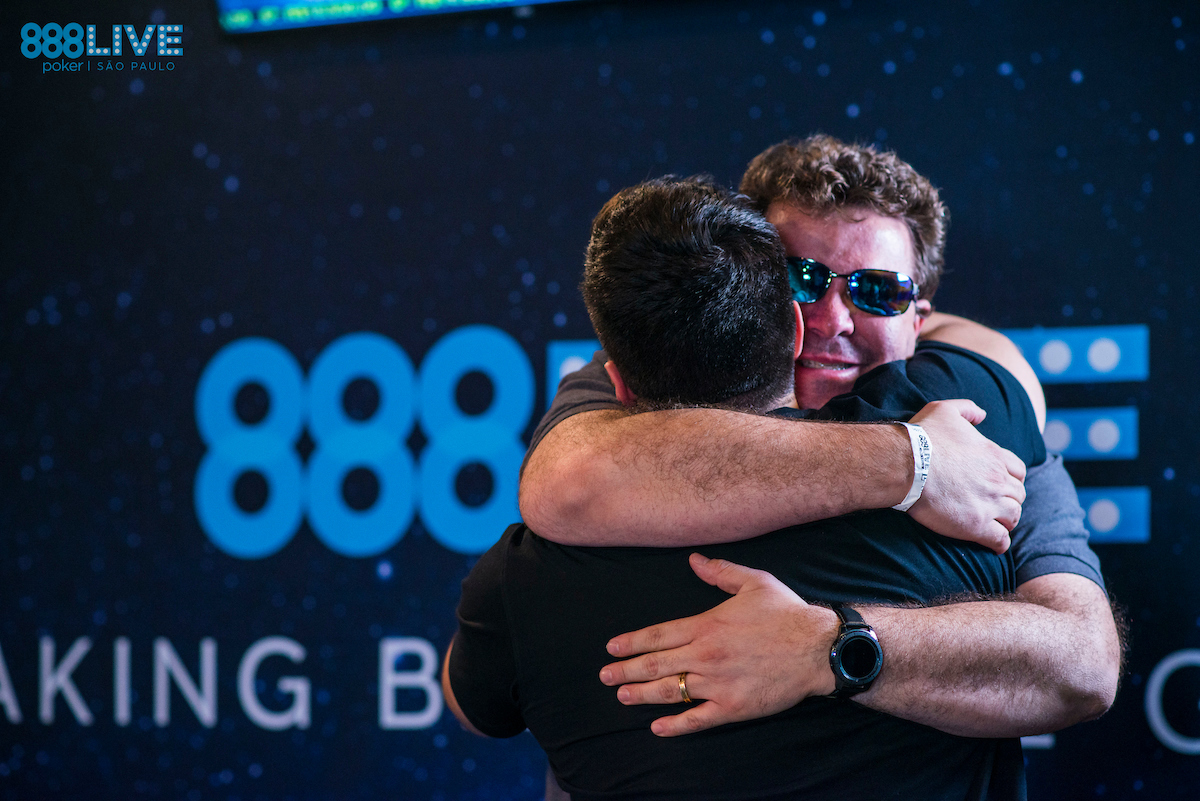 De Souza was eliminated just a few hands later. He shoved his
all in and was called by Bittar's
. Bittar flopped a pair on the
board and stayed in the lead through the
turn and the
river. He let out a loud cheer upon achieving his victory as a friend came down from the crowd and hugged him after the long fought heads-up match.
Final Table Payouts:
| Place | Name | Prize |
| --- | --- | --- |
| 1 | Fred Bittar | 66,010 BRL |
| 2 | Marcelo Rodrigues de Souza | 41,700 BRL |
| 3 | Andrea Ribeiro Quadros | 29,650 BRL |
| 4 | Reinaldo Esperandio Junior | 23,170 BRL |
| 5 | Rogerio Siqueira | 18,530 BRL |
| 6 | Theo Lima | 14,830 BRL |
| 7 | Ricardo Haddad | 11,580 BRL |
| 8 | Abraão de Santana | 8,800 BRL |
Congratulations to Fred Bittar for his victory in the 888Live São Paulo High Roller. We'll be back tomorrow to continue our coverage of the Main Event! Be sure to tune back in.
The final table is currently down to 7 players with Abraão de Santana falling in eighth place. The current chip leader is Reinaldo Esperandio Jr. with just about 1,400,000 chips. A full recap will of the final table will be posted once play concludes.
While you wait for the action to conclude, here are some photos from the final table courtesy of Joe Giron and 888Live.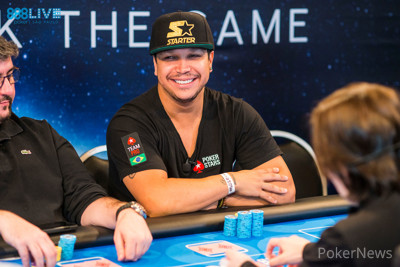 The bubble of the High Roller recently burst with Marcello Mora falling in 12th place when his
couldn't catch up to his opponents
. But we lost another familiar face just before the bubble as well with Felipe Ramos falling in 16th place.
Ramos is a hometown hero of sorts here in Brazil, especially with São Paulo being his hometown.
"This is my hometown, yeah," Ramos explained. "I was born and raised in the São Paulo area. This is a pretty big city with 20 million people in the city and 40 million people in São Paulo states. It's fun to see that poker is growing and people are understanding what poker is about. So many people that come here are already poker pros, some others are like part time poker players. And I don't think that you have this kind of environment anywhere else in the world."
For Ramos, he's had to adapt to the fame and change up his game to combat the different ways that players have started to play against him. According to him, he's had to change his style since acquiring a target on his back.
"Yeah that happens for sure," he said. "People, they want to play against you. They want to tell friends they beat you in a hand, or that they busted you out from the tournament. And this is actually very fun because you need to adapt. In my position, you need to adapt. So some tables I play pretty pretty tight when I know players are calling me all the way or they are raising me with garbage. But it's a fun way to play poker and to be seen as a good representative for them."
Ramos has been out exploring the world, adding different flags to his Hendon Mob profile, but even with the fame he tries to keep up with his fellow countrymen and keeps tabs on them.
"We don't have many big players in Brazil nowadays, and of course most of the well-known guys we're all friends with and we keep track since the beginning," Ramos explained. "Especially some of the guys who started playing poker with us back in the day so it's easy to keep track. Some others came to the scene when we were already playing so it's been very nice to follow each other because we're a big community so usually players travel along and go to play the events together. Even though I spend most of my time traveling outside. It was never my goal but I see on the Hendon Mob like ten flags. In the year 2017, I cashed in 10 different countries."
That being said Ramos still struggles with being away from home for so often and being so far from his friends. But for him, it's about more than that. He wants to help grow the game that has provided him with this lifestyle.
"You have to travel a lot to play poker so you hardly ever see your friends or even people you like when you're on these runs," he said. "But one of my goals in my career is to try to build the game and bring more players to the game. So I always try to do some nice activities within social media to help people out and to start playing poker or guide them on how to progress in their poker journey. I feel like this is my duty and that's the beauty of it."
Ramos' strategy for the high roller wasn't to take it slow but approach it with a play to win style. Unfortunately for him, he didn't make it to the money, but that wasn't the goal for him.
"I'll just try to adapt to every player and grind my way to the final table and try to win it," Ramos said about his strategy. "Basically when you play a lot of tournaments your main strategy is to try to maximize your winnings. So I'll try to play to win. I'm not gonna try to play to cash or final table or something like this. My goal is to win the event. Winning an event at home is always a good achievement, regardless of the event, but this is such a nice event though."
The remaining 12 players in the High Roller are now in the money and have locked up a pay day of at least R$5,330 (~$1,720 USD). We'll be sticking around to give a full update on the Main Event and we will very likely be catching up with Ramos later in the week to check on his progress in the Main Event.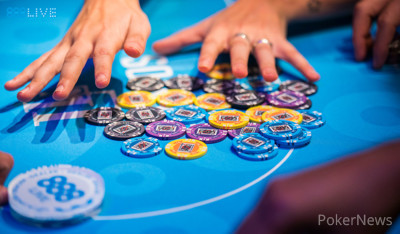 With a total of 113 entrants, the official prizepool for the High Roller event has been released. The prize that everyone is playing for is the first place prize of R$66,010 (~$21,305 USD). Only 11 players will make the money with currently 18 remaining, seven will be going home empty handed.
The 113 entries created a total prizepool of R$282,500 (~$91,179 USD) with R$42,375 going to rake and R$8,475 going to the staff. All of those who make the final table will be taking home at least R$6,720 (~$2,169 USD) while a min cash will be worth R$5,330 (~$1,720 USD)
Full Payout Amounts
| Place | Prize R$ | Prize USD |
| --- | --- | --- |
| 1 | R$66,010 | $21,305 |
| 2 | R$41,700 | $13,459 |
| 3 | R$29,650 | $9,570 |
| 4 | R$23,170 | $7,478 |
| 5 | R$18,530 | $5,981 |
| 6 | R$14,830 | $4,787 |
| 7 | R$11,580 | $3,738 |
| 8 | R$8,800 | $2,840 |
| 9 | R$6,720 | $2,169 |
| 10-11 | R$5,330 | $1,720 |
We'll continue to keep you updated from this High Roller event and a full recap of the final table will be available later tonight.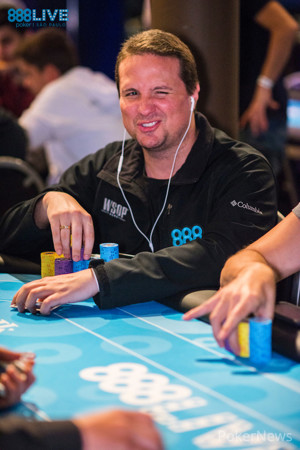 Just before dinner break in the High Roller, we caught Bruno "Foster" Politano playing a monster pot, one that would eventually give him the chip lead in the tournament with just 36 of the 116 players remaining.
The hand played out as follows:
A player opened under the gun with a raise to 12,000. Politano called from the cutoff before the big blind squeezed, making it 42,000 to play. The player under the gun called and after thinking about it for some time, Politano called as well.
The flop came
and the player in the big blind led out, making it 58,000 to go. The player under the gun folded but Politano called after thinking about it for a little bit.
On the
turn the player in the big blind checked, and Politano checked behind rather quickly.
The river brought the
and the big blind player checked again after thinking about it for just a few seconds. Politano thought for a while then cut out a big bet of 134,000, roughly 40% of the pot, and just about half of his opponent's remaining stack. After a dip in the tank, the other player called. Politano showed
for a flopped full house. Someone at the table asked to see the losing hand, so his opponent was forced to turn up his
, for two pair.
Politano broke down the hand for us and walked us through his thought process, as well as how he chose his bet sizing for the hand.
"First of all, I know who is the big blind, I know this player, and I know the under the gun too," Politano explained. "Both have a good stack. A large stack, more than 50 blinds. The under the gun thinks and decides to call. When he decides to call I have a situation. Four-bet or call. The four-bet is not good because I have a value hand, and I need to put 30,000 in the pot, and the pot has, after I call, the pot has 150,000. I had 1 – 5 to pay, and I paid. I had odds to pay, so I paid. I have position."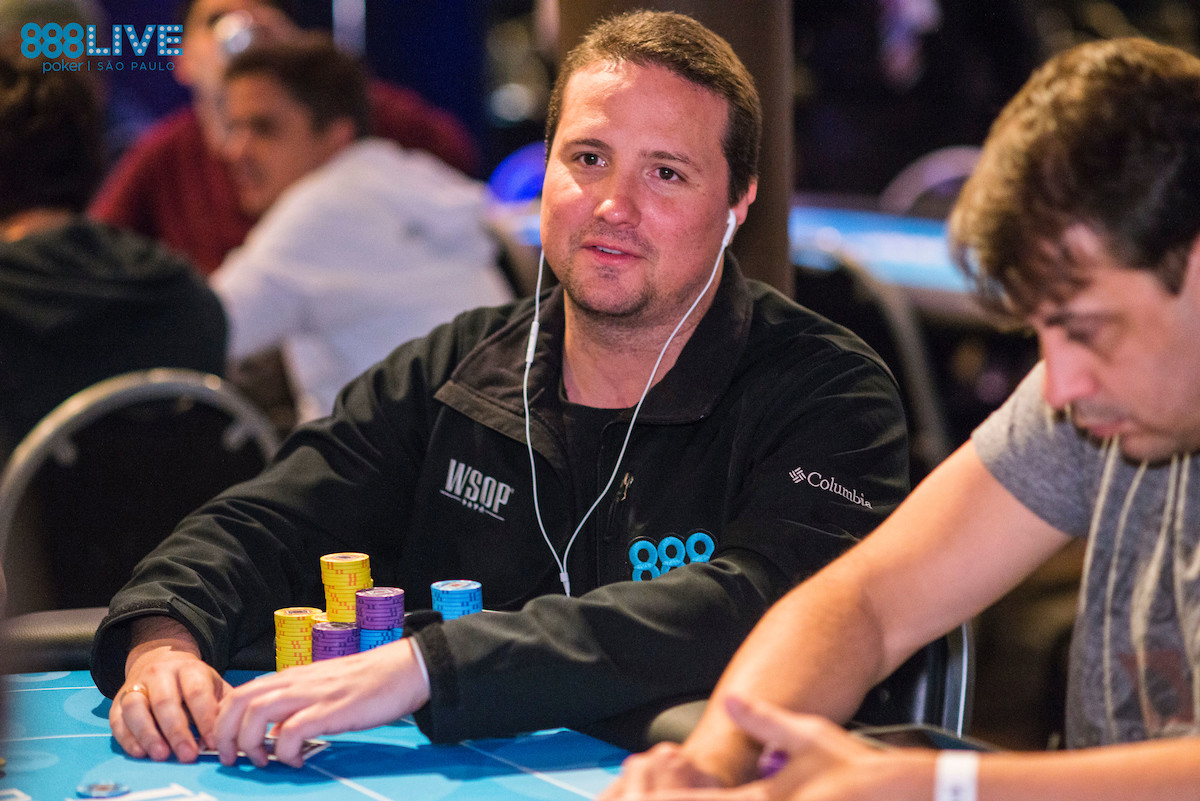 Politano flopped the world, and now he just needed to figure out how he could extract the most value out of his opponents.
"The flop comes the dream,
," he said laughing. "The aggressor c-bets 58,000. The under the gun folds. And I think, and think, and call. When he bet this flop I put him on three hands. Queens, kings, or aces. That's it. Because if he has ace-king he doesn't c-bet that flop with that size with two guys, a big stack is after him."
The
turn isn't the best card for Politano, but he finds a way to make it work.
"It's not a good card, but I'm not scared," He explained. "I have a full house. If he has kings, congratulations. But he checks, and I instacheck. I instacheck because if he has kings I lose mínimos, if he doesn't have kings he saves me on the river with a value bet or a check."
Once the blank falls on the river it becomes a matter of value and how much value Politano can extract.
"The river comes a
. Nothing. A blank card," he said. "He instantly checks. I am 100% sure he doesn't have kings because he always bets if he has kings to extract value from me. And I put in my mind, he has two hands queens or aces. I had to think of what size I will use because if I put the correct size, I get a call from both hands. If I put too much just aces will call me, maybe aces fold. Queens instafold. And I bet 40% of the pot. It's a big pot, 40% is too much chips. And he thinks for about one minute and he calls with queens. I got this call with queens."
Politano doesn't think his opponents call is a good call though, and he explained why.
"In my opinion, it's not a good call because I don't have any bluffs in my hand," he said. "I always have jacks or aces, maybe kings, but probably jacks or aces. He knows that after the hand. He cried, 'I never call this for you, but I call, ok.' But this is my reason for this hand."
When it comes to how much, Politano said he had to find the amount that could get both hands to call. The maximum amount that he can get paid.
"I tried to get exactly the value that he pays me, you know?" Politano explained. "The maximum value he pays me. I think 40% of the pot is perfect, because 60% of the pot maybe he folds queens because the stack back for him it's not good for the rest of the tournament if he pays 60% or 70%. But he pays 40% and he has a stack to continue playing. And I thought about that."
Politano is currently the chip leader with just around 30 players remaining in the High Roller, but he's still keeping an eye on others in the field, specifically Felipe Ramos. Despite that, he still sees himself making it to the final table.
"I play a lot with Felipe," he explained. "Felipe is a good player. I play a lot with him because we travel around the world playing poker. And I think that his stack is a good stack for continued pressure, and making some pressure at the table. But I really believe in me on the final table."
We'll be keeping an eye on Politano's continued progress through the High Roller event here in São Paulo as the tournament is scheduled to play down to a winner today.
PokerNews' Nicki Pickering caught up with Felipe Ramos who was in the High Roller last night. He walked us through some of his favorite spots of his hometown before bagging up the second biggest stack of the day. Check it all out here: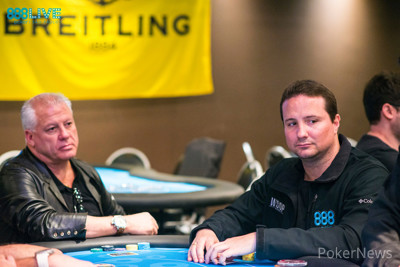 Two Brazilian pros made their presence felt on Day 1 of the 888Live São Paulo High Roller. Bruno Politano was able to bag up the chip lead with 358,000 chips. Right on Politano's tail is Felipe Ramos though, who bagged up 309,600. The two sit atop the leaderboard of the 43 survivors from Day 1.
Registration is still open for the first two levels of today, so we are sure to see a few more added into the mix, as well as some possible re-entrants.
Currently, there are 103 entries for the event and players are heading into level 13 with blinds of 1,500/3,000 and an ante of 400. Players are expected to play down a winner today with action starting back up right around 5 p.m.
Current Chip Leaders in the 888Live São Paulo High Roller:
| Name | Chip Count |
| --- | --- |
| Bruno Foster Politano | 358,000 |
| Felipe Ramos | 309,600 |
| Flavio De Carvalho | 232,000 |
| Marcello Mora | 205,700 |
| Theo Lima | 202,600 |
| Pedro Oliveira | 202,200 |
| Frederick Caracante | 186,300 |
| Ricardo Neto | 171,100 |
| Mateus Lessa | 164,400 |
| Reinaldo Esperandio Junior | 158,200 |
PokerNews will be here throughout the day with features and coverage of this event as well as the Main Event, so make sure you check in to both sides to see all the action.
High Roller
Day 2 Started