Tiffany Michelle says she hasn't been playing much poker internationally lately, but she was really looking forward to the 888Live Festival here in São Paulo. Michelle, who had her start in poker media, is here in Brazil playing and has been off to a good start, making it through the first three levels in the R$2,500 High Roller event.
"I haven't played internationally in a while and I love playing internationally because I think there's great value," Michelle said. "I love the players. They are usually a little more aggressive and in my experience not always super super experienced. They have like one gear, and I feel like I can play an aggressive, single-minded player pretty well. But I've never been to Latin America before, and so when I had a chance to come and play with 888 I was very excited."
Michelle says that being a part of 888Poker and 888Live is a new and fresh experience because they are growing poker in a new way.
"I think 888 right now is kind of growing poker in their own way," She said. "And so to be a part of that and to come be a part of their tournament series and to bring local players out was really exciting to me. Being from the States I know that once online left the U.S. there's so many pockets of people who don't have access to like big tournaments or getting to play with big pros or being on T.V. and I know how exciting that is for a lot of locals in different sects of the world. So to come and hopefully bring some people out from around São Paulo and Brazil is a cool thing and a cool way to expose more people to this level and style of poker."
Michelle is not only famous for her poker prowess, she's also been a contestant on The Amazing Race, a reality television show which had her competing and running through different obstacles all over the world. She's rediscovering that love of adventure in a different way here in Sao Paulo.
"Everyone, of course, is a little bit nervous about me being a female alone in São Paulo," Michelle said. "So Chris Moorman's here. So I'm making sure to buddy up with people. But last night I found this amazing little restaurant. Because of the language barrier, there's a lot of adventure. So I'll sit down somewhere, and if you can't communicate what you want then you're just like 'Bring me whatever'. So actually last night I had some cocktail that was kind of like a Moscow Mule with ginger beer and vodka, but it had some kind of lemon meringue foam on top that I have never experienced before so when it came out I was like 'What in the world did I just get myself into.' But I think it makes you be more adventurous and I love traveling places that are completely new."
Along with that, Michelle says the venue here at Casa Bossa – Shopping Cidade Jardim is a totally new experience as well.
"I love this venue," she said. "For those that don't know we're in an event space in an outdoor mall and so just walking to and from the tournament area, you are outside, you see all these shops. It feels very lux and sexy. I've never played poker basically in a mall. I really love where the tournament's held."
As for Poker, Michelle explained that she is having to readjust her play to the different styles of poker here in Brazil, and not only that, she's found that her status of a female poker player is different as well.
"I was very much reminded that Brazilian men played very aggressively, and so I'm adjusting my game to that," Michelle said. "I also think that internationally, most of the tables I paly at I get a certain amount of respect, where people are playing me soft because I'm a female. And here I can tell, nobody gives a shit. Which is actually kind of nice because now I feel like, on the same exact level, they don't care what I look like, so they're going to play me the same. So I actually kind of enjoy that."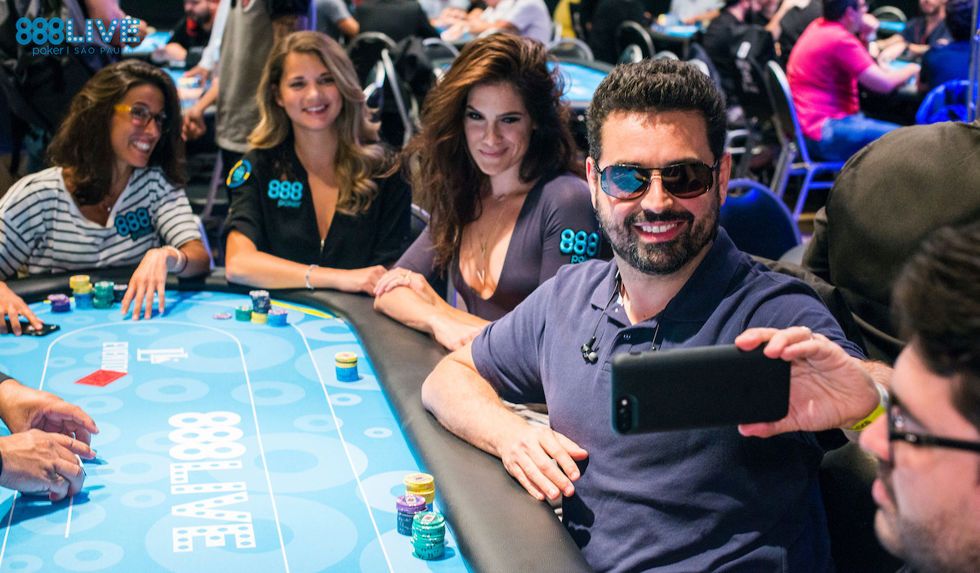 The language barrier has proven to be a formidable foe for Michelle on the tables as well, not just at the restaurants.
"I also think it's cool that almost no one at my table speaks English," she explained. "So now that just makes you have to sit and your reads and your interactions are completely physical based and previous hand based. So playing poker in this setting where I have no English information coming at me, makes me hone into the game in a different way that I can't really ever recall having done before at the table.
"They are also teaching me to say different chip denominations," she continued. "Because If I'm throwing a single chip in and I need to announce the amount instead of showing it on my fingers. So I know how to say 600 so far. Which is helpful at a 100 and 200 level. And then helpful at the 300 and 600 level after that. And you know, other than that I only have this one 600 gear that I know how to use."
Michelle is still alive and fighting currently in the R$2,500 High Roller event which is currently amidst level 5. We'll be keeping tabs on Michelle as well as several other big name players who have recently joined the field as the day goes on. Currently, 71 players remain of the 79 entrants and Michelle is one of them. Michelle says she plans to play one of the next couple starting days of the Main Event, as well as the ladies event, so we're sure to be seeing more of her all week long.