Event #189 - $1,050 XL Inferno Main Event
Day: 1
Event #189 - $1,050 XL Inferno Main Event
Day 1 Completed

Level 36 : 175,000/350,000, 43,750 ante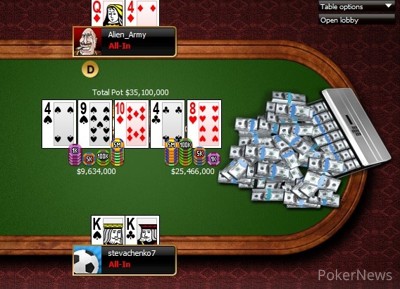 After more than thirteen hours of play, the $1,050 XL Inferno Main finally came to an end. In the final heads-up, it was "Alien_Army" who secured the victory after defeating runner-up "stevachenko7".
| Position | Player | Country | Prize |
| --- | --- | --- | --- |
| 1 | Alien_Army | Austria | $291,007.27 |
| 2 | stevachenko7 | Czech Republic | $226,717.73 |
| 3 | sngguru | Slovakia | $166,549.50 |
| 4 | sweet_dr34ms | Russia | $119,340 |
| 5 | PacoMonon | United Kingdom | $86,872.50 |
| 6 | Fukuruku | Ukraine | $69,322.50 |
| 7 | Ibeturaise2x | Lithuania | $51,772.50 |
| 8 | p000cket000 | Canada | $34,222.50 |
| 9 | beebsterizer | Canada | $18,954 |
The tournament started at 18:00 GMT, but with five hours of late registration, players had the option to start a bit later. At the end of registration, there were 1,319 players and 436 rebuys to create a total prize pool of $1,755,000. For the winner, it would be a massive pay day with a first prize of $298,350.
Kenny "SpaceyFCB" Hallaert, Pius "AMasta89" Heinz, Ruben "rubenrtv" Visser, Mike "SirWatts" Watson, Alexandr "Biack88" Trofimov, Thomas "WushuTM" Muhlocker, Tobias "Bale_11" Garp and Fabrizio "DrMiKee" Gonzalez busted pretty quickly and well before the money.
Also, Dominik "888Dominik" Nitsche, Artem "veeea" Vezhenkov, Nicolas "PKaiser" Fierro, Chris "888Moorman" Moorman, Adrian "ADRI_ATM" Mateos and Parker "888tonkaaaa" Talbot didn't manage to reach the stage of the tournament where money was awarded.
The bubble burst when Steven "Kale333" van Zadelhoff busted two players with ace-queen. Van Zadelhoff was the first player over a million, but he saw his run end before the final table. He bluffed his chips away with ace high and had to watch the rest of the tournament from the sidelines. Doug Polk also didn't make to the final table after getting a huge bad beat with ace-king against ace-jack. He lost the rest with ace-ten to pocket sixes.
Simon "Isildur1337x" Matsson bubbled the final table after losing with king-four against ace-nine. On the final table, "beebsterizer" went out in ninth place with ace-ten against ace-nine. From that moment on, "Alien_Army" took control of the tournament. He busted both "p000cket000" and "Ibeturaise2x" in quick succession and "stevachenko" won a coin flip to bust "Fukuruku in sixth place.
After that, "PacoMonon" ended in fifth place for $86,872.50 while Russia's "sweet_dr34ms" had to settle for fourth place. Just a few moments later "sngguru" saw his tournament end when he lost the crucial coin flip with pocket fours against the ace-king of "Alien_Army".
The latter mentioned, played heads-up against "stevachenko7" and the two decided to make a deal which left $30,000 in the middle for the winner. It didn't take much time for "Alien_Army" to decide the tournament, but luck was involved. "stevachenko7" was all in with pocket kings against queen-four, but the Austrian managed to hit two fours and win the tournament for $291,007.27. The Czech Republic's runner-up received $226,717.73 for his second place.

Level 36 : 175,000/350,000, 43,750 ante
"stevachenko7" had his money in with a great chance to double his stack. His
against
got all the money in, but "Alien_Army" was lucky enough to hit two fours on a
board.

Level 36 : 175,000/350,000, 43,750 ante
They chopped the money based on their chip counts, but there is still $30,000 in the middle for the winner of the Main Event.

Level 36 : 175,000/350,000, 43,750 ante
Players are talking about a deal at the moment, so play is on hold.

Level 36 : 175,000/350,000, 43,750 ante

Level 36 : 175,000/350,000, 43,750 ante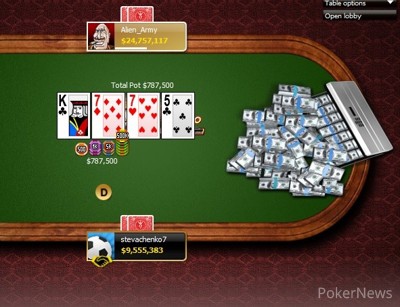 Both players have secured themselves of $219,375, but they are still playing for the first prize of $298,350!

Level 36 : 175,000/350,000, 43,750 ante
Former chip leader "sngguru" was all in with
against the
of chip leader "Alien_Army". The board came
and the pocket fours were counterfeited.
"sngguru" finished in third place, while "Alien_Army" took a commanding lead for the heads-up against "stevachenko7".

Level 36 : 175,000/350,000, 43,750 ante
"sweet_dr34ms" was all in for his last six big blinds with ace-deuce against the king-ten of "stevachenko7". The king-ten made a straight, so "sweet_dr34ms" finished in fourth place.
Level: 36
Blinds: 175,000/350,000
Ante: 43,750