John Nethery Wins the Ante Up Poker Tour Atlantis $1,100 Main Event

Level 25 : 20,000-40,000, 40,000 ante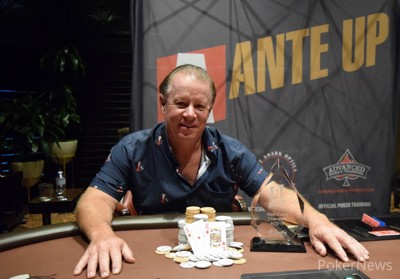 The 2019 Ante Up Poker Tour Atlantis $1,100 Main Event has come to an end, and John Nethery is the last player standing. Nethery outlasted a field of 189 entries, taking home the first place prize of $47,902. Nethery won the heads-up battle against runner up Rian Mullins, who takes home $33,581 for the second place finish.
"I feel great," Nethery said. "Top of the world. I came out to win it."
Nethery rose to the top at a final table that included four-time WSOP bracelet winner and two-time Run It Up Reno Main Event champion Loren Klein, as well as aggressive players like Valerie Hanley and Ryan Awwad.
Nethery first played against Klein at the beginning of Day 1b, not knowing about Klein's impressive poker resume.
"I didn't ask him what he did," said Nethery of his first encounter with Klein. "Some of the guys were talking, showing pictures. All I knew was his name was Loren." Nethery then texted his daugher in Pleasanton, California, about the guy named Loren at the table, and she texted back with confirmation that it was indeed a four-time WSOP champion Nethery was up against.
Perhaps the biggest hand of the tournament came in three handed play, with Nethery, Mullins and Hanley all in a dead heat, each with around 1.6 million chips. Hanley got the better end of an ace-king versus king-queen situation, with his diamond suited big slick bringing a double up through Hanley on a king-high runout.
That hand left Hanley with just 400,000 chips, and on the following hand, Nethery took the rest of Hanley's chips with pocket tens against Hanley's ten-nine offsuit.
Nethery went into the heads-up battle with nearly a three-to-one chip lead against Mullins, and took less than hour to clinch the championship. The $47,902 cash is the biggest of Nethery's career.
Nethery came into Day 2 as the overall chip leader, with nearly 200,000 more chips at 2500/5000 blinds than Klein, who came into the day second in chips. Day 2 started with 24 players still remaining.
Klein Starts Big, Hits the Wall
Despite looking up at a 40 big blind deficit in chips to Nethery, Klein grabbed the chip lead just minutes into Day 2, knocking out Daoud Majid in a matter of two hands and adding Majid's 200k-plus starting stack to his own.
Klein stayed at or near the top of the leaderboard throughout the rest of the day, and was one of the first players in the tournament to hit the 1,000,000 chip mark. Klein went into the final table second in chips and held steady until six players remained.
A losing hand against Mullins left Klein hanging on by a thin margin, however. Nethery open raised from the cutoff, Mullins called from the button, and Klein three-bet all in for his 725,000 stack. Nethery folded but Mullins called, and Mullins took most of Klein's stack with pocket tens against Klein's ace-nine offsuit.
The hand left Klein with seven big blinds, and he bowed out in sixth place for a $9,600 payday shortly thereafter.
The Final Table
Hanley, Nethery, Awwad and Klein went into the final table as the big stacks, with everyone else well behind. Other final table
finishers included Madison Austria (ninth, $4,780), Marshal Barnes (eighth, $6,387),Jed Hoffman (seventh, $7,974), Klein in sixth, Awwad (fifth, $12,000), Craig Disalvo (fourth, $15,987), and Hanley (third, $21,580).
The first place prize for Nethery includes an entry into the 2020 Ante Up World Championship Main Event, worth $1,650.
Final Table Results
| Place | Winner | Country | Prize (USD) |
| --- | --- | --- | --- |
| 1 | John Nethery | United States | $47,902 |
| 2 | Rian Mullins | United States | $21,580 |
| 3 | Valerie Hanley | United States | $72,933 |
| 4 | Craig Disalvo | United States | $15,987 |
| 5 | Ryan Awwad | United States | $12,000 |
| 6 | Loren Klein | United States | $9,600 |
| 7 | Jed Hoffman | United States | $7,974 |
| 8 | Marshal Barnes | United States | $6,387 |
| 6 | Madison Austria | United States | $4,780 |