Event Info
| | |
| --- | --- |
| Buy-in | 6,000 AUD |
| Prize Pool | 2,376,000 AUD |
| Players | 396 |
Level Info
| | |
| --- | --- |
| Level | 29 |
| Blinds | 60,000 / 120,000 |
| Ante | 10,000 |
APPT Sydney Grand Final Main Event
Day 4 Completed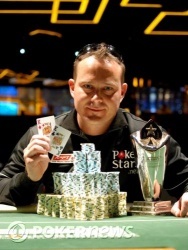 Eleven hours and 14 minutes after the first cards were dealt at the PokerStars.net APPT Sydney Grand Final Main Event Final Table, Aaron Benton raised two clenched fists in the air and let out a victory roar. The 32-year-old Aussie from Wollongong, New South Wales is your 2009 APPT Sydney Main Event champion.
2009 has been a year to remember for the former reality TV star. Benton qualified for all four APPT Season 3 stops on PokerStars and managed to make the most of this one, besting a solid 396-player field to claim his first major live title.
Benton told PokerNews' Lynn Gilmartin that he plans to buy his mother a house with some of the winnings during their post-match interview.
While coming runner-up generally carries a bittersweet taste to it, Ernst Hermans has to be pleased with his result here this week. Hermans was one of only two non-Aussies at the final table and qualified for his seat in the main event via a $22 rebuy satellite on PokerStars.
Congratulations is also in order for the other seven finalists for a tournament well-played. Here's a quick look back at our final results (all amounts listed in AUD):
1st: Aaron Benton (Australia) - $500,348 (adjusted for chop)
2nd: Ernst Hermans (Netherlands) - $475,000 (adjusted for chop)
3rd: Leo Boxell (Australia) - $213,840
4th: Wayne Carlson (Australia) - $166,320
5th: Tom Grigg (Australia) - $130,680
6th: Andrew Hiscox (Australia) - $106,920
7th: Barry Forrester (Australia) - $83,160
8th: David Formosa (Australia) - $65,340
9th: Thomas Slifka (USA) - $47,520
That concludes our coverage of the 2009 APPT Sydney Grand Final. Our live reporting team will be taking a short hiatus until January when we head down to the Bahamas for the much anticipated PCA. Thanks for sticking with us!
Until next time, from the Star City Hotel and Casino in Sydney, Australia, Merry Christmas, Happy New Year, good night and good luck!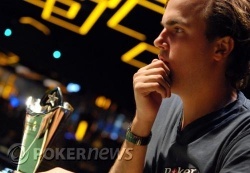 From the button, Aaron Benton raised to 325,000 from his massive stack of chips. Ernst Hermans made the call, bringing us to another flop.
The flop came down
and Hermans led out for 375,000. Benton made the call.
The turn card was the
and Hermans moved all in. Benton snapped him off with two kings in his hand —
. Hermans held
.
The river card completed the board with the
and completed the tournament. Hermans was eliminated in second place.
*Hermans earned a different amount than that listed here due to the chop.
Here is a summary of how the final table panned out and how each player felt walking away:
Ernst Hermans had the button and raised to 300,000. Aaron Benton made the call and the two players would see another flop. The dealer dealt the
and
in the middle of the felt and both players checked.
The turn card was the
and Benton checked. Hermans fired 275,000 and won the pot. He moved up to 2.6 million after this hand.
With the button, Ernst Hermans raised to 300,000 and was called by Aaron Benton. The flop was
and Benton checked. Hermans checked behind.
The turn card was the
and Benton reached for chips. He fired 400,000 and Hermans folded.
Hermans got back up to roughly 2.3 million, but is now back down to 1.8 million.
Level:

29
Blinds:

60,000/120,000
Ante:

10,000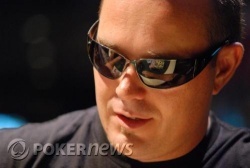 Ernst Hermans opened the pot with a raise to 275,000 from the button and Aaron Benton made the call.
The two saw an
flop and Benton passed the first option to Hermans who fired a 225,000 continuation bet. Benton made the call.
The
fell on the turn and Benton led out with a hefty 880,000 bet which was called by Hermans.
The last card off the deck was the
and Benton putting on the brakes, allowing Hermans to take a 1.6 million dollar stab at the pot. Benton looked him up and Hermans tabled
for absolute air. Benton's
would take down the pot, knocking Hermans down to 1.92 million in chips.
Benton now has a tournament-high 9.96 million.
Aaron Benton is now up to 6.6 million in chips after stringing together a series of small pots.
In a recent hand that was opened to 275,000 preflop by Ernst Hermans, Benton called to see the flop --
-- and led out with a 525,000 bet that prompted Hermans to lay down his hand.
Aaron Benton has just pulled within 100,000 chips of his heads-up nemesis courtesy of the following pot:
Ernst Hermans opened with a raise to 275,000 from the button and Benton three-bet to 800,000. Hermans made the call and saw the flop come down
.
Benton then fired a massive continuation bet, making it 1.2 million to go. Hermans laid down his hand and Benton showed a bluff --
.
Afterwards, Hermans told Benton he had the same hand.
Benton: 5.8 million
Hermans: 6.08 million
Ernst Hermans opened the pot with a raise to 250,000 and Aaron Benton made the call. The flop came down
and Benton checked to Hermans who fired a 125,000 continuation bet. Benton then check-raised to 500,000 prompting Hermans to fold.
As he raked in the pot, Benton tabled the
showing nothing but queen high as he told Hermans (paraphrased), "You're not the only one who can play poker, my friend!"