Event Info
| | |
| --- | --- |
| Buy-in | 1,800,000 KRW |
| Prize Pool | 912,983,400 KRW |
| Players | 581 |
Level Info
| | |
| --- | --- |
| Level | 32 |
| Blinds | 100,000 / 200,000 |
| Ante | 200,000 |
₩1,800,000 APPT Main Event
Day 3 Completed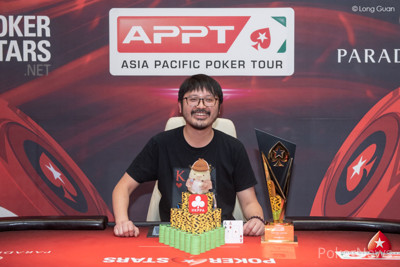 The 2019 PokerStars APPT Korea Main Event had a total of 581 entries gathered at the Paradise City Resort & Casino in Incheon, South Korea. At the start of Day 3, only 12 runners remained and when the final curtain came down it was Hong Kong pro Sparrow Cheung taking home the prestigious main event trophy.
Cheung broke the world record in 2017 for most cashes in a single year with an absurd 67 and has over $1,500,000 total career earnings. He is a highly respected player in the poker community and always a fan favorite anywhere in Asia. Cheung took home ₩198,100,000 ($174,580) for his finish and added his first APPT Main Event title to his resume.
The Hong Kong native took down a respectable competitor in Tomomitsu Ono and it took just under two hours of play to do so. Ono put up a fight but failed to ever get to level playing ground during the heads-up battle. Ono took home a respectable ₩122,800,000 ($108,221) cash prize for his second-place finish.
When the final day began Cheung sat in the bottom half of the field and actually started the final table as the short-stack. Halfway through the first level of the final table, he doubled with rockets against the big slick of Tetsuro Tomita. It was a rollercoaster ride from that point on, he would go from hero to zero and back again multiple times before he took down the title.
"This is my tenth year playing PokerStars tournaments and this is the first Main Event title for me, and I've known Danny [McDonagh], Lorie [Lagrosas] and everyone for a long time, and it's been a long time since I last saw them - maybe half a year. We are like family, and for me to take the Main Event title here [Paradise City, Korea] and have them celebrate with me is very special - and very exciting for me!"
For Cheung, it meant more than just money and that showed as he wore his heart on his sleeve during every all in. He came close to a final table in this main event in 2017 and was just happy to get to the final nine, what happened after that was the cherry on top.
"I was excited just to make the final table because in 2017 I finished in 11th or 12th, I forget which, after running queens into aces and I was so sad, so this time, just getting to the final table I was already very happy."
The crowd gathered behind fan-favorite Cheung throughout the entire final table and shared in every moment with him. The one-outer included against Hung Sheng Lin for a monster chiplead on a fortuitous river.
"The hand that stands out the most was having pocket tens against Shaq's [Hung-Sheng Lin] ace-ten for around 36-37 big blinds - that was a big pot. And then when he flopped the ace... Oh! I'm ready to leave, and then river... Ten! A one-outer ten, yeah... that's poker. And all my friends on the rail were shouting together for me, it was a special moment."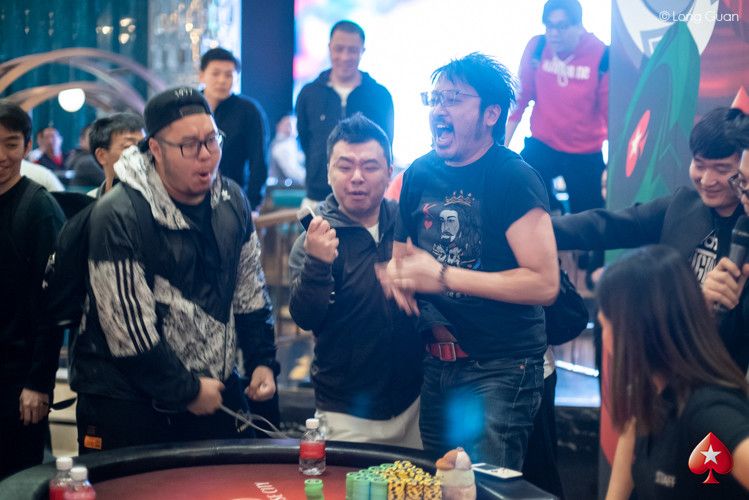 Final Table Results
| Place | Winner | Country | Prize (in KRW) | Prize (in USD) |
| --- | --- | --- | --- | --- |
| 1 | Sparrow Cheung | Hong Kong | ₩198,100,000 | $174,580 |
| 2 | Tomomitsu Ono | Japan | ₩122,800,000 | $108,221 |
| 3 | Hung Sheng Lin | Taiwan | ₩76,250,000 | $67,197 |
| 4 | Jiang Chen | China | ₩58,150,000 | $51,246 |
| 5 | Tao Fan | China | ₩40,150,000 | $35,383 |
| 6 | Tetsuro Tomita | Japan | ₩31,950,000 | $28,157 |
| 7 | Huidong Gu | Macau | ₩26,000,000 | $22,913 |
| 8 | Mengdian Peng | China | ₩21,900,000 | $19,300 |
| 9 | Xinglong Huan g | China | ₩18,283,400 | $16,113 |
Action of the day
Wenwei Chen was the first to take an exit, losing a race against Xinglong Huang and next to take a leave was Ching Wei Chen. Chen got it in with aces against the ladies of Tao Fan but couldn't fade a queen and was sent home. Yinsheng Yang ran his once big stack down to just crumbs before he pushed all in and would run into the monster of Ono, the final table was then set.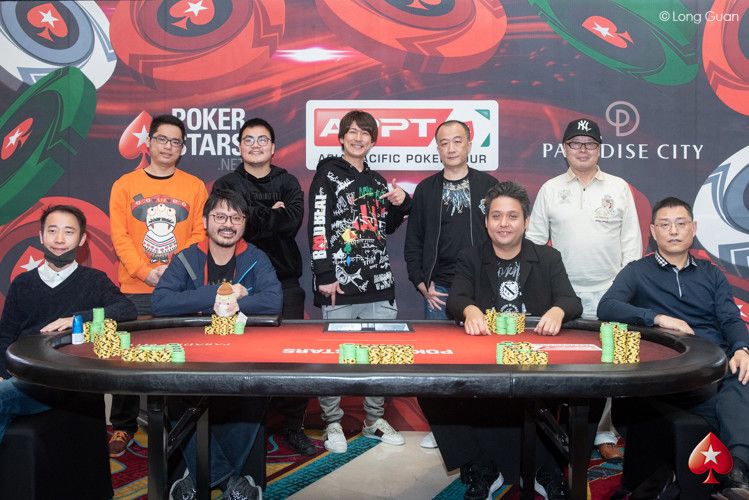 Huang started off on a heater after the final nine combined, he pushed everyone around and seemed to be an unstoppable force. It was Lin that would throw a stick in the wheel of Huang and take all of what he gained throughout the first hour of the final table, in one hand with ace-jack. Huang spiraled out of control and fell victim to Jiang Chen when he pushed all in with a flush draw, failing to hit.
The eighth-place finisher was China's Mengdian Peng after a couple of rounds being on the losing end of hands he pushed all in and ran into the cowboys of Fan. Just moments later Huidong Gu moved all in with two paint cards, Cheung called and the two had a race in which Cheung was the victor.
Tomita lost half his stack early at the final table against Cheung's aces and never seemed to recover fully. He withered down to a shorter stack and pushed all in with the dead man's hand. The same person that took the first chunk out of his stack was the same player to send him out the door in sixth place when Cheung called his all in with queens.
Fifth-place finisher Fan played a solid day of poker, playing quality cards and three-betting in only the most optimal of spots. He saw a three-bet from the aggressive Ono and moved all in with his jacks. Ono had the best starting hand in poker and Fan failed to crack aces again as he was sent out.
Chen switched from aggressive to passive at the wrong time in the day and players seemed to take advantage of it. He would attempt to shove jack-five off from the small blind, only to run into the pocket jacks of Cheung and he took an exit in fourth place.
Three-handed play went on for almost two levels before the hand of the tournament happened and unfortunately for Lin he was on the losing end of it. Lin called a four-bet all in from Cheung and would be in rough shape with ace-ten against Cheung's pocket tens until the ace high flop peeled off. After four cards were turned Cheung only had the case ten that could take down the monster pot and the unthinkable happened when he nailed it. Lin was left with crumbs and busted the next level.
Heads-up started with a major chiplead for the Hong Kong pro. Both runners had massive crowds behind them cheering after every hand and the room was full of excitement as a champion was soon to be crowned. Ono fought back as much as he could but the patience and the perfect amount of aggression from Cheung were too much for the Japanese cash game specialist. Cheung opened, Ono moved all in with ace-three and ran into the bullets of Cheung. Ono took home the biggest cash of his career and has nothing to be ashamed about as he played a great day of poker.
That wraps it up for the PokerNews coverage of the 2019 APPT Main Event here in Incheon. The High Roller is still going on, so check it out for all the live coverage.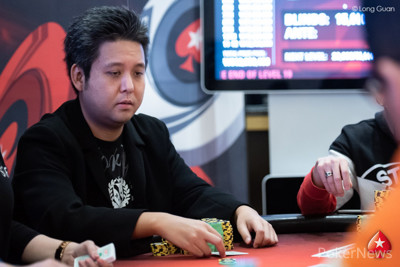 Sparrow Cheung raised to 500,000 from the button, Tomomitsu Ono moved all in for 5,050,000 in the big blind and Cheung snap-called. The players turned over their hands in what could be the last hand of the night.
Toromitsu Ono:

Sparrow Cheung:
The cheers from the Hong Kong crowd grew louder and the dealer turned over a flop of
. Cheung's bullets were way ahead and it looked likely that would be the last hand of the night. A
hit the felt, Cheung stood up and started to high-five everyone in the crowd as he now had his opponent drawing dead to the
on the river.
Ono failed to crack the aces of Cheung and would be runner-up in the 2019 Korea APPT Main Event. He took home a respectable (₩122,800,000/$108,221) for his efforts as he lost to a admirable opponent.
A recap of today's action will be soon to follow.
| | | | | | |
| --- | --- | --- | --- | --- | --- |
| Sparrow Cheung | | | | 17,430,000 | 5,800,000 |
| Tomomitsu Ono | | | | Busted | |
Sparrow Cheung limped the button, Tomomitsu Ono checked and the flop came down
. Ono checked to Cheung who bet 400,000 and Ono check-called.
The
fell as a turn card, both players checked and the
came down on the river. Ono fired in 900,000 and Cheung quickly folds, sending the pot to Ono.
| | | | | | |
| --- | --- | --- | --- | --- | --- |
| Sparrow Cheung | | | | 11,630,000 | -2,220,000 |
| Tomomitsu Ono | | | | 5,800,000 | 2,250,000 |
The board was showing
and the pot had 1,000,000 in it when Sparrow Cheung bet 900,000. Tomomitsu Ono called and Cheung showed
for a pair of queens, Ono mucked and Cheung took down the pot.
Ono opened from the button to 450,000, Cheung three-bet to 1,300,000 and Ono folded, sending another pot to Cheung.
| | | | | | |
| --- | --- | --- | --- | --- | --- |
| Sparrow Cheung | | | | 13,850,000 | 2,435,000 |
| Tomomitsu Ono | | | | 3,550,000 | -2,465,000 |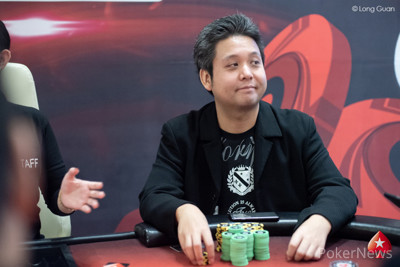 Tomomitsu Ono limped the button, Sparrow Cheung raised to 1,300,000 and Ono quickly announced all in for 4,715,000. Cheung mucked and Ono took down the much-needed pot.
| | | | | | |
| --- | --- | --- | --- | --- | --- |
| Sparrow Cheung | | | | 11,415,000 | -1,585,000 |
| Tomomitsu Ono | | | | 6,015,000 | 1,715,000 |
Sparrow Cheung opened to 700,000 from the button, Tomomitsu Ono called and the flop came down
. Ono checked to Cheung who pushed in 500,000 and Ono mucked. That was the second raised pot in a row that Cheung took down.
| | | | | | |
| --- | --- | --- | --- | --- | --- |
| Sparrow Cheung | | | | 13,000,000 | 2,600,000 |
| Tomomitsu Ono | | | | 4,300,000 | -2,730,000 |
Tomomitsu Ono opened to 600,000 from the button, Sparrow Cheung called and the flop fell
. Cheung checked to Ono who pushed in 900,000 and Cheung quickly mucked, sending the pot to Ono.
| | | | | | |
| --- | --- | --- | --- | --- | --- |
| Sparrow Cheung | | | | 10,400,000 | -880,000 |
| Tomomitsu Ono | | | | 7,030,000 | 980,000 |
Level:

32
Blinds:

100,000/200,000
Ante:

200,000
The players will now be taking a quick 10-minute break.