Cartwright Amasses Overall Chip Lead on Day 1b of the bestbet Jacksonville Spring Series $2,500 Main Event

Level 14 : 2,000/4,000, 4,000 ante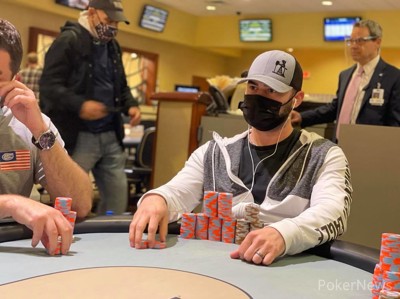 Day 1b of the 2021 bestbet Jacksonville Spring Series $2,500 Main Event drew 258 entries to bring the two-day tournament total up to 401 with 36 players adding their names to the list of 18 players that advanced from Day 1a. At the end of the day, however, Kyle Cartwright stole the show finishing play with 490,000.
Cartwright's ascent came after the dinner break when he busted a player with pocket tens to ace-five suited to bring his stack above six figures and he never looked back from there. An hour later, he had doubled that figure only to double it again after another hour had passed. By the time chips went into bags, he was just shy of half a million, plenty to give him the overall chip lead going into Sunday's Day 2.
Johnny Landreth also experienced a late-night surge to finish the day with 410,000 with Anthony Askey, Brian Arbaugh, and Stephen Strout also having strong evenings to round out the top five. Le Tieu was just behind the trio, finishing the day with 298,000. Others to advance included Warren Teal (275,000), Zach Gruneberg (254,000), Hal Rotholz (244,000), David and Gloria Jackson (140,000 and 182,000, respectively), and Wayne Harmon (120,000).
A total of 54 players will be returning just three spots away from the money come Sunday's Day 2 at noon. Players such as Aaron Thivyanathan (74,000), Jack Sumner (61,000), Filipp Khavin (57,000), and Ken Taffaro (41,000) will be entering the day as some of the shorter stacks in the room with the hopes of not only hanging on through the bursting of the bubble but also to make a deep run.
Meanwhile, many more among the likes of Scott Stewart, Nick Palma, Michael Wang, Hamid Izadi, and Timothy Miles will not be among those returning to play for the $180,986 set to go to Sunday night's winner.
PokerNews will be back at it to take you all the way to the finish line tomorrow. Have a good night.