Event 1: $560 $1 Million Guaranteed Deep-Stack NLHE Reentry
Day: 3
Event 1: $560 $1 Million Guaranteed Deep-Stack NLHE Reentry
Day 3 Completed
Level 35 : 200,000/400,000, 40,000 ante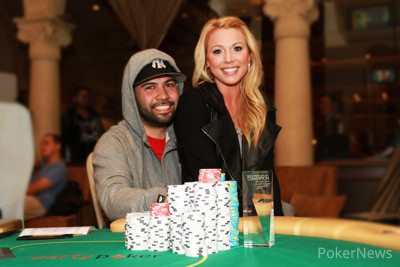 After four starting flights ran over three days attracted an astounding turnout which nearly topped 2,500 entries, Event 1 of the Borgata Spring Poker Open has come to an end. The $560 buy-in No-Limit Hold'em Reentry event sported a $1 million guaranteed prize pool, a promise which was easily exceeded by almost 500 entries. In the end, it was Carlos Alvarado who took down top honors (signing for 1st place money after agreeing to a four-way chop), earning $127,652 for besting the massive field. Alvarado is a grinder from Oceanside, New York whose previous high in terms of live earnings came back at the WPT Borgata Poker Open Main Event Championship in 2012.
Joining Alvarado in the winner's circle were Adam Pace, Philip Neiman and Kevin Grabel, each of whom pocketed the same payout after reaching the final four with relatively even stacks.
Pace is a recreational player from Staten Island, New York who topped his previous best cash of $9,998 (which came last January at the Borgata Winter Poker Open. Pace did has part to earn the coveted six-figure score every poker player dreams of, knocking Matthew Itkin out in 8th place before dispatching John Yanni in 6th place.
Nieman is also a New Yorker who proudly hails from the borough of Queens, and sporting the iconic logo of the New York Yankees, he did his hometown proud by taking down a title just like his beloved Bronx Bombers have 27 times before him. Fittingly, it was a huge call with just a queen-high that helped propel Neiman to the win, as he correctly read Matthew Itkin's river bet for a bluff and looked him up with no pair to speak of. Neiman thanked his hometown group of Queens grinders, fellow poker playing friends who have helped him sharpen his skills over the years with regular home games and poker excursions to Atlantic City and other East Coast poker haunts.
Grabel is a member of the newest poker crew on the block - Team Kitten - a close-knit group of friends from Pennsylvania and New Jersey who regularly assemble to create some of the more boisterous rails the Borgata has seen. When we last saw Grabel during last year's Borgata Winter Poker Open, he was merely one of the Kittens standing in support of teammate Ray Ross, who made a final table appearance back in January. Now, after taking down more than $127,000 here today - by far the biggest live score Team Kitten can claim, he has earned the well-deserved title of Top Cat.
Judging by the turnout in this opening event of the series, the Borgata Spring Poker Open is set for a full slate of poker action featuring longtime pros, heroes from the local circuit and aspiring amateurs all looking do accomplish what these four did here today. So keep it here for the next two weeks as PokerNews proudly provides continuous coverage live from the floor of the Borgata.
Level 35 : 200,000/400,000, 40,000 ante
The remaining four players have agreed upon an even deal, netting each player $127,652.75. Carlos Alvarado is your official champion, taking home his first major title.
"I don't know what to say," he said excitedly, trophy in hand.
Alvarado admits he will be playing a heavy schedule for the rest of the 2014 Borgata Spring Poker Open.
Level 35 : 200,000/400,000, 40,000 ante
The remaining four players are taking an unscheduled break. Here are the chip counts:
Player
Chips
Progress

Adam Pace

18,565,000

-4,435,000

Kevin Grabel

15,900,000

-100,000

Philip Neiman

15,330,000

2,530,000

Carlos Alvarado

10,960,000

-940,000
Level 35 : 200,000/400,000, 40,000 ante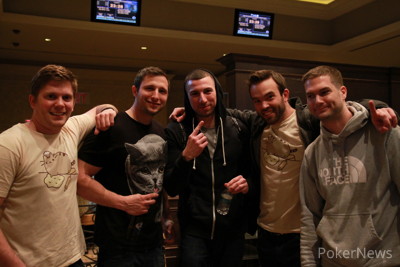 The tournament poker circuit is often a lonely road, as solitary grinders light out for the territory ahead of the rest, travelling from stop to stop in search of that life-changing score.
Poker's original legends - hardened men like Doyle Brunson, Stu Ungar and Puggy Pearson - scoured the Earth like lone wolves, silently stalking their prey while warily regarding the concept of camaraderie as merely more competition to contend with. Even today, the game's greatest player in Phil Ivey walks alone, pursuing personal poker glory without an entourage to speak of, amassing an amazing list of accomplishments without aid or assistance.
The modern generation of poker prodigies approaches the game from a different perspective, realizing that there is strength in numbers and protection to be offered by the pack. Gangs of gambling men like The Hendon Mob - comprised of Joe Beevers, Barny Boatman, Ross Boatman, Ram Vaswani - and The Crew - led by Dutch Boyd and Scott Fischman - have come together to prove that poker can be a collective pursuit.
Today, modern poker crews like the Big Cock Poker brigade - birthed by brothers Ralph and Aaron Massey - are making noise on the live circuit, adding talented players like Jake Bazeley and Zohair Karim to the roster while revolutionizing the way an individual game like poker is played. The spoils of victory are shared, as is the agony of defeat, and all the while every moment of triumph or tragedy is experienced on a collective basis.
Poker's newest band of brothers hails from the East Coast, as several aspiring stars from Pennsylvania and New Jersey who cut their teeth in Atlantic City have come together to form Team Kitten Poker. And after today's rousing final table run by Team Kitten member Kevin Grabel - who would go on to secure a four-way chop in this event for a $127,652 payday - the poker world will soon come to realize that having nine lives is always better than living on one's lonesome.
We first came to know Team Kitten this past January, when member Ray Ross reached the final table of Event 3 ($560 NLHE Reentry) for a 6th place finish and a $12,895 score. Ross was obviously bolstered by the boisterous show of support from his fellow Kittens, and although Ross couldn't be here today, his comrade Grabel did him proud nonetheless.
With the four-way chop for a six-figure score, Grabel bagged the biggest bounty of Team Kitten's brief tenure on the tournament circuit (several members of the crew have similarly sized paydays in the online arena). Now armed with a bolstered bankroll - and the confidence which comes whenever a major milestone is met - Team Kitten Poker is poised to pounce on the poker scene and make their presence known.
Judging by the outpouring of support on Twitter, finding a more deserving group of guys will be difficult task indeed:
The official Team Kitten Poker feed on Twitter had a more succinct rundown of their recent accomplishment, proving that no matter where a journey begins, having companions along for the ride when you finally reach the destination makes all the difference:
Level 35 : 200,000/400,000, 40,000 ante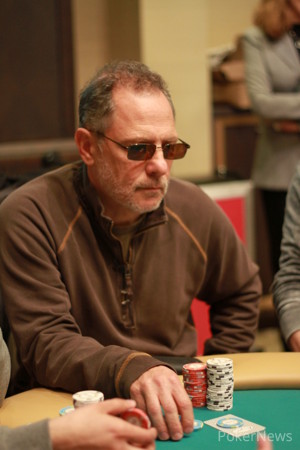 Mitchell Mantin's last hand of the day just went down, after he flatted Kevin Grabel's button raise of 900,000 from the big blind.
The flop came down
and Mantin jammed for his last 2 million, with Grabel quickly calling with more than enough chips to afford a gamble.
And a gamble it was, as Grabel showed
for a four-flush, while Mantin was in the lead with his
for top pair.
Turn:
Just like that Grabel's gamble had paid off, and he just needed to avoid a board-pairing river card. When fifth street brought brought the
to the table, Grabel and his Team Kitten supporters burst into celebration, while Mantin headed to the payout desk with a 5th place finish.
Level 35 : 200,000/400,000, 40,000 ante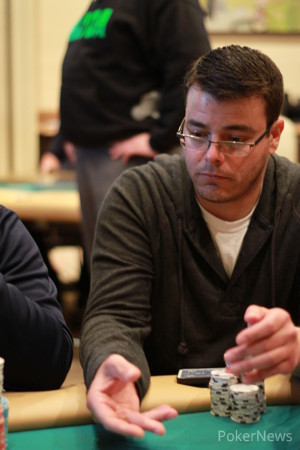 After shoving and receiving no callers with aces, John Yanni moved all in for 2.35 million from early position. Adam Pace tanked for well over two minutes in the big blind, and called with
.
Yanni revealed
, and after a lightning quick runout of
from the dealer, Yanni was eliminated.
Pace has built a monstrous stack, and now has 23 million chips.
Level 35 : 200,000/400,000, 40,000 ante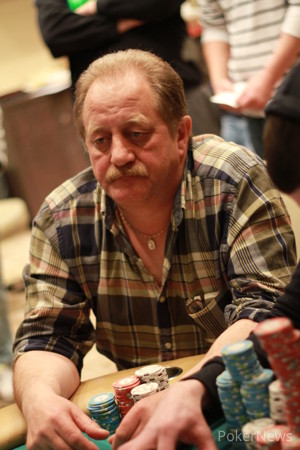 A massive confrontation of pocket pairs just occurred, with Carlos Alvarado coming out on top of the genuine cooler.
Acting from early position, John Yanni open-shoved for a right around 4 million, with Zbigniew Fido following suit from the next seat over. Fido's bet was for about 2.5 million, and when the action folded around to Alvarado, he announced himself all in as well, putting his last 4.6 million into the middle.
The railbirds, reporters and even the players themselves craned their necks in anticipation of the climactic collision.
Alvarado:

Yanni:

Fido:
When two separate pairs of jacks were turned up in the face of a pair of kings, whoops and hollers went around the table, as Alvarado had both of his opponent's looking for four-flushes or straights alone.
The final board rolled out
to leave Alvarado's cowboys in the lead, and when the accounting was sorted out Yanni was left with just 635,000 - or just two big blinds - with which to mount his comeback.
On the very next hand that micro-stack was open-jammed, and both Mitchell Mantin and Philip Neiman calling and checking down through the river, seeking to double-team Yanni for the knockout.
The final board read
when it was all said and done, and both Neiman and Mantin failed to show their hands, as they couldn't beat the board. Yanni tabled the
for king high, and with that he had surged back from the brink to give himself a new lease on life.
Level: 35
Blinds: 200,000/400,000
Ante: 40,000
Level 34 : 150,000/300,000, 40,000 ante
Zbigniew Fido raised to 600,000 from under the gun, Kevin Grabel three-bet to 1.25 million on his direct left, and the action folded back to Fido, who called.
The flop fell
, Fido checked, and Grabel fired out 1.4 million. Fido tanked for a bit, and while he was thinking, Grabel tried to goad him into shoving. He folded, and Grabel showed
.
Two hands later, Fido raised to 600,000 out of the small blind and Grabel called. The flop came
, Fido fired another 600,000, and Grabel called.
Both players checked after the turn was the
, the
completed the board, and Fido bet another 600,000. Grabel quickly called.
Fido showed
for a pair of fives, but he was out-kicked by Grabel's
.