Elite Eight Set for Noon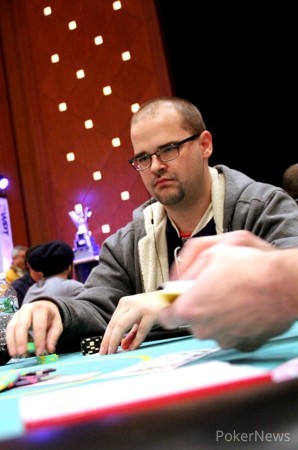 We have our Elite Eight here at the $1,500+150 Heads-Up No-Limit Hold'em event at the Borgata Winter Poker Open: Brian Hewitt, James Routos, Matt Stout, Steve Sarmiento, Adam Shulman, Ernie Lewis, Torrey Korsog, and Joseph Stiers. Each won three matches against tough players to get here. Their victims, in ascending order:
Hewitt: Matt Matros, Dan Wach, Mike Malinconico
Routos: Alex Rocha, Eric Fields, Tai Yuen
Stout: Scott Baumstein, Joe Tracy, Alex Queen
Sarmiento: John Holley, Greg Fishberg, James Anderson
Shulman: Charlie Hook, Paul Cheung, Josh Templeton
Lewis: Ian Davis, Kevin Eyster, James Ruszkiewicz
Korsog: Christian Harder, Mickey Appleman, Ryan D'Angelo
Stiers: Nick Guagenti, Anthony Zinno, Andy Hwang
Each of the final eight will score at least $4,656, but the winner will take home $37,248. Players return at noon to commence the Elite Eight. Be sure to tune in to PokerNews for play-by-play.