Western New York Poker Championship
Level Info
| | |
| --- | --- |
| Level | 26 |
| Blinds | 25,000 / 50,000 |
| Ante | 5,000 |
Players Info
Western New York Poker Championship
Day 3 Completed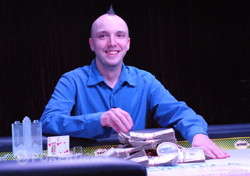 Stockport, New York's William Vogel took down the DeepStacks Poker Tour Western New York Poker Championship title at the Seneca Niagara Casino Sunday night.
Vogel bested 216 others to grab the $71,827 first-place prize and went wire-to-wire at the final table. But his journey to victory actually began when he won his seat through a $55 satellite right here in Niagara Falls.
Day 1 was his birthday, but the real gift came on Day 2 when Nachman Berlin shoved jack-ten into his ace-king to put him in a dead heat for the chip lead with Lou Procopio and send the two of them into the final six with better than 50 per cent of the chips in play.
As expected, the four short stacks got out of the way early at the final table and Vogel and Procopio went into heads-up the same way the final six began - just about even.
But there was nothing even about the way heads-up went, as the aggressive Vogel rivered a straight to get Procopio short, then put the pedal to the metal, beating him up until he shoved with queen high.
Vogel called with king-high, it held and moments later he was hoisting the trophy.
A hearty congratulations goes out to Champion William Vogel, DeepStacks CEO Chris Torina and the entire DeepStacks Poker Tour crew for putting on a first class tournament in this, their inaugural event.
For us, it's goodbye for now from Niagara Falls and the PokerNews crew will see you next time on the DeepStacks Poker Tour.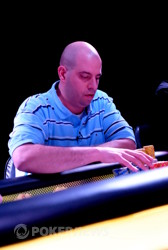 William Vogel raised to 125,000 on the button, and Lou Procopio moved all in for 680,000. Vogel crunched the numbers for a moment before announcing a call, and Procopio's tournament life was at risk.
Procopio:

Vogel:
"This is exciting," Vogel said to his friends and family in attendance. He turned around to watch the dealer reveal the
flop. Vogel remained out in front, but the
on the turn gave Procopio some additional outs for a chop. However, the
on the river sealed the deal for Vogel, who collects $71,827 for his three days of work. Procopio takes $43,928 back to his home in Liverpool, New York.
| | | | | | |
| --- | --- | --- | --- | --- | --- |
| William Vogel | | | | 5,425,000 | 725,000 |
| Lou Procopio | | | | Busted | |
William Vogel is pounding on Lou Procopio in this heads up match.
In fact, he's picked up pot after pot with relentless aggression and Procopio now finds himself under the one-million chip mark.
Things almost came to a head moments ago when Vogel limped the button, Procopio checked his optioon and the flop fell
. Vogel bet 65k, Procopio fired back, making it 160k and Vogel shoved.
Procopio pondered the call for his tournament life for a good three minutes, but couldn't make it.
| | | | | | |
| --- | --- | --- | --- | --- | --- |
| William Vogel | | | | 4,700,000 | 600,000 |
| Lou Procopio | | | | 700,000 | -600,000 |
Level:

26
Blinds:

25,000/50,000
Ante:

5,000
Lou Procopio raised to 100,000 on the button. William Vogel three-bet to 250,000 and Procopio cut out enough chips to make the call. On the
flop, Vogel checked and Procopio bet 300,000. Vogel folded, and Lou recouped some of his earlier losses.
| | | | | | |
| --- | --- | --- | --- | --- | --- |
| William Vogel | | | | 3,550,000 | -150,000 |
| Lou Procopio | | | | 1,850,000 | 150,000 |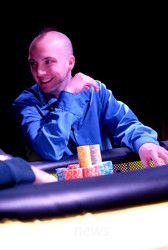 After the two combatants stole the blinds from each other for a while, William Vogel has taken the first significant pot of this heads-up match and now has a decent lead.
The action started with Lou Procopio limping the button and Vogel making it 140k total. Procopio called and the flop came
.
Vogel kept his foot on the gas, making it 90k and after Procopio called again, the dealer burned and turned the
. Vogel led out again, making it 200,000 and Procopio shrugged and called.
Finally, after the
river, Vogel slowly bet out 640k and after counting out the call, Procopio made it.
Vogel turned over
, having rivered a straight and Procopio mucked.
| | | | | | |
| --- | --- | --- | --- | --- | --- |
| William Vogel | | | | 3,700,000 | 1,080,000 |
| Lou Procopio | | | | 1,700,000 | -1,145,000 |
Level:

25
Blinds:

20,000/40,000
Ante:

5,000
The players have returned from their break and the production team is setting up for the heads-up match between Lou Procopio and William Vogel. Stay tuned.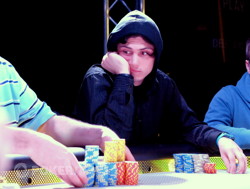 Moments after losing a third of his stack to Lou Procopio, Nick Goetz moved all in for his last 425,000 on the button. William Vogel called from the small blind, and the action shifted over to Procopio, who peeked at his cards and placed a chip on top of them. It seemed he had a little something, but not enough to warrant a call, and he let his hand go. The cards went on their backs:
Goetz:

Vogel:
The flop brought
, and Goetz needed a lot help to stay alive. He picked up several more outs when the
fell on the turn, but the
river gave the pot to Vogel, and the likeable Nick Goetz was sent to the rail. The 21-year-old told Short Stacked Radio earlier today that he plans to use his winnings to pay off his car, put some away for school, and use the rest to pad his poker bankroll.
Lou Procopio and William Vogel will begin their heads-up match after a 50-minute dinner break. We'll return at around 8:15 EST to bring you the finale of the DeepStacks Poker Tour Western New York Poker Championship. See you then!
| | | | | | |
| --- | --- | --- | --- | --- | --- |
| Lou Procopio | | | | 2,845,000 | |
| William Vogel | | | | 2,620,000 | |
| Nicholas P. Goetz | | | | Busted | |