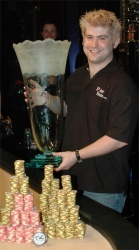 Hand 192: On the 92nd hand of heads-up play, Gavin Griffin (USA) raised 125K pre-flop and Marc Karam raised to 400K. Griffin called. The flop was
. Karam bet 500K and Griffin raised to 2M. Karam moved all in and before Griffin called he muttered, "I think you have the best hand." Karam flipped over his hand and said, "S--t! I just have a pair of fours." He tabled
while Griffin flipped over
for an open ended straight draw along with two over cards. Griffin had Karam covered by just 510K as the dealer counted out all their chips. The turn was
and the river was
which sealed the victory for Griffin.
You can view
Gavin Griffin's winning hand in our Feature Hands section.
Marc Karam won €1,061,820 for second place, while Gavin Griffin picked up €1,825,010 for first place. For the second year in a row (Jeff Williams won last year), an American won the EPT Championships.