EPT Polish Open Main Event
Days: 4
EPT Polish Open Main Event
Day 4 Completed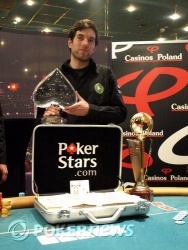 Happy Birthday, indeed.

Joao Barbosa turns 26 today, and our guess is that there will be quite a celebration for him tonight. Not only did Barbosa capture his first major tournament title this evening, he became the first-ever Portuguese champion on the European Poker Tour.

Barbosa is primarily an online cash game player, but has already built a stellar record on the EPT, playing four tournaments, cashing in three and winning one. Quiet and methodical, Barbosa played a patient, calculated game en route to victory. No doubt we'll be seeing much more of him on the circuit in the months and years to come.

Our runner-up Nico Behling also deserves a lot of credit. Though his stack did a good amount of yo-yoing throughout the final table, the young German never lost his cool or his patience. Though he's played nine EPT events so far, this is his first cash on the tour as well as his largest career tournament score.

Thanks for tuning in to our coverage of the EPT Polish Open. Next stop, Prague! From all of us here at PokerNews, good night and good luck from Warsaw.

Photo courtesy of Benjo Gallen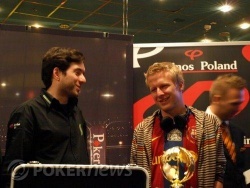 We have a champion!

Nico Behling raised to 60,000 from the button, Joao Barbosa reraised to 200,000, Behling moved all in and Barbosa called.

Behling:

Barbosa:


Barbosa hit top pair on the
flop while Behling made middle pair. However, several of his outs disappeared on the turn when the
arrived, Barbosa picking up the nut flush draw. The river was the
and it was all over.

Behling graciously congratulated his opponent with a handshake, noting that the jack-seven was his lucky hand. Unfortunately Behling couldn't summon its powers tonight, but his €205,270 second-place prize is certainly nothing to sneeze at.

Congratulations to Joao Barbosa, who takes an EPT title home to Portugal, along with €367,141. Barbosa is also about half an hour away from celebrating his 26th birthday and it's sure to be one that he'll never forget.

Photo courtesy of our favourite Frenchman, Benjo Gallen
The internet has been down in the media room for the last 45 minutes or so. Our apologies.

In the meantime, we've managed to crown a new EPT champion. Stay tuned for details on the final hand.
The next hand, Nico Behling pushed from the button for 370,000 total. Joao Barbosa quickly called, and it was a race.

Behling:

Barbosa:


Board:


Behling doubled up to 740,000, and we could be here all night...
Next hand, Joao Barbosa raised from the button to an enormous 212,000, more than half of Nico Behling's remaining stack. Behling sighed and removed his headphones, beginning a lengthy dwell. "Want me to call?" he inquired, but as usual there was no clue from Barbosa about what he might want: he merely tidied up his enormous stack in silence. Eventually, Behling made his decision and passed.
Barbosa limped in on the button and Behling pushed.

Fold.
Level: 24
Blinds: 12,000/24,000
Ante: 3,000
Joao Barbosa: 1,794,000
Nico Behling: 376,000