PokerStars.com European Poker Tour Grand Final
Day 3 Completed
Antonio Esfandiari - 1198000
Robin Keston - 916000
Denes Kalo - 642000
Johnny Lodden - 623000
Maxime Villemure - 600000
Mostafa Belkhayate - 523000
Gerasimos Deres - 494500
Henrik Gwinner - 487000
David Shade Kruger - 486500
Thomas Boekhoff - 465000
Rami Boukai - 425000
Eric Liu - 398000
Noah Siegel - 388500
Stig Top Rasmussen - 373000
Glen Chorny - 344000
Oyvind Riisem - 340000
Pablo Ubierna - 316000
Peter Traply - 300500
Valeriy Ilikyan - 295000
Claudio Pagano - 291000
Jonathan Dwek - 282000
Luca Pagano - 279500
Amit Makhija - 269500
David Miara - 249500
Isaac 'westmenloAA' Baron - 236500
Joe Hachem - 214500
Michael Martin - 141500
Freddy Deeb - 140500
Alexander Morozov - 133000
Raymond Rahme - 133000
Walid Bou Habib - 127500
Benjamin Sprengers - 127000
Anders Hoyer Berg - 124000
Andrew Luetchford - 116000
Vincent Secher - 92500
Anthony Chatelain - 83500
Tomas Brolin - 74000
Andreas Fluri - 61000
Stefan Geim - 58000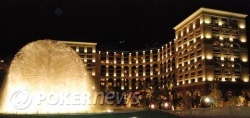 It took exactly 12 hours to weed the field down to 39 from 124, but we finally made it. An eventful Day 3 was filled with double-ups, knockouts, a two-and-a-half-hour bubble and a fisticuffs match that almost was. Antonio Esfandiari is your unofficial Day 3 chip leader; we'll post the official counts as soon as they are made available to us.

Play will resume tomorrow afternoon at 1:00 p.m. local time, when the remaining 39 players will begin the final stretch in their race to the final table. Until then, bonsoir et bonne chance (good night and good luck)!
Denes Kalo made a button raise to 20,000, the small blind moved all in, and Stephen Kjaerstad moved all in from the big blind behind him, sending Kalo into the tank, where he remained long enough to get a clock called on him. As the seconds ticked down, he finally made the call turning up
. The small blind turned up
and the big blind tabled
. The flop was
, the turn was the
, the river was the
, and Kalo won the pot, giving him a huge chip infusion on the last hand of the night. Both of his opponents were eliminated and with that, we're down to 39 players and Day 3 is a wrap.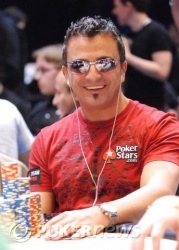 Joe Hachem got it all in pre-flop holding a pocket pair of jacks against a pair of pocket sevens belonging to Jonathan Dwek. As the standard crowd of press and players flocked to the table, a nearby intoxicated railbird yelled out, "Throw a seven up there!"
Sure enough, the window card was the
, followed by the
and
. A distraught Hachem turned his head away from the table for a moment but twisted back around in the nick of time to watch the dealer place the
on the turn.
"Yeeeaaahhh!" Hachem exlaimed. "There's your seven ball!"
The river brought an inconsequential
and Hachem doubled through to over 200,000 in chips.
Pierre Hall moved all in with A-K and got a caller in Robin Keston with 7-7. Unfortunately for Hall, a seven hit the flop, making his opponent's set and Hall was eliminated in 42nd place.

With 41 players remaining, only one more needs to be eliminated before we close the books on Day 3.
Antonio Esfandiari - 856,000
Isaac Baron - 84,000
Anthony Chatelain - 68,000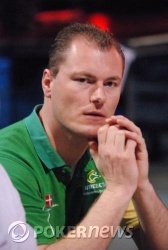 We caught the action with the board showing
and Antonio Esfandiari facing a 90,000 bet in a huge pot with the lively Stig Top Rasmussen from Denmark.
Esfandiari deliberated over his decision, cutting out chips while firing questions at his opponent to try and get a read.
"Do you have a set of threes? Or do you have shit? Do you want me to call sir?" probed Esfandiari, all of which was simply ignored by Rasmussen. "Dealer, is he allowed to not answer me like that?"
After much hesitation and some near-calls, Esfandiari finally folded and Rasmussen flipped pocket fours for a successful bluff.
Following the hand, Rasmussen called the floor person over to lodge a protest against Esfandiari's near-calls/folds, which could be described as gamesmanship to try and get a read from his opponent. Rasmussen complained that Esfandiari's cards crossed the black line painted on the table and they should've been scooped into the muck. However the TD informed Rasmussen that the line actually has no enforceable qualities about it and is simply a visual guide for players and dealers.
After some more heated words from both players, everyone settled down and got on with the next hand. It's been a long day for these guys and the cracks are starting to appear!
The players have returned from break and the cards are back in the air.
Level:

18
Blinds:

3,000/6,000
Ante:

600