Event Info
| | |
| --- | --- |
| Prize Pool | €2,730,550 |
| Players | 563 |
Level Info
| | |
| --- | --- |
| Level | 32 |
| Blinds | 100,000 / 200,000 |
| Ante | 20,000 |
Ladies and gentlemen, the heads up battle is underway.
Roberto Romanello - 10.6 million
Emilliano Bono - 6.3 million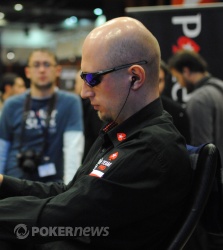 Team PokerStars Pro Marcin Horecki has just been eliminated in third place after some cruel luck, though the €247,000 prizemoney should help ease the pain.
Horecki moved all in from the button for what turned out to be 1,550,000 and when Romanello folded, Emilliano Bono once again snap-called. Once again Bono had got his money in behind, his
in need of a great deal of help against Horecki's
.
Both players paired their ace on a flop reading
and the Polish pro went further in front with the arrival of the
on the turn. However, poker can be a cruel game and the
arrived on the turn to eliminate Horecki and take the tournament to the heads-up stage.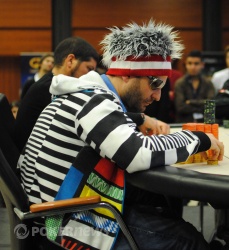 The scene has been set for a new short stack taking his shots at regeneration, after another hand played out very similarly to the last major out-of-position battle Marcin Horecki had with Romanello, with even more devastating results.
Limp-check on the blinds (we assume), and no bet from either player on the
flop. The
saw Horecki bet out 180k and be swiftly raised to 595k. Just like last time, he made the call. The river was the
. Check to Romanello, who reached for chips - a lot of chips. 1,495,000 was the amount he pushed over the line. Horecki counted out a lot of green 100k chips, and threw them in after about half a minute.
Romanello showed the flush with
and rises yet further into the lead.
Emilliano Bono seems to be invincible when it comes to all in confrontations, something that Roberto Romanello has just found out.
Bono raised to 370,000 from the button, Team PokerStars pro Marcin Horecki folded but Romanello looked like he was planning on at least calling.
"How many have you got?" asked Romanello, obviously refering to the number of chips in Bono's stack. Bono moved his hands away from his chips to give Romanello full view of them but Romanello wanted a count, "Count them," he demanded.
The answer was 2,500,000. As soon as Romanello heard this he moved all in and Bono snap-called and was at risk!
Bono:
Romanello:
The final board ran out
and Bono doubled up to around 5,000,000, whilst Romanello drops to 6,435,000
The start of the 80k/160k level has seen not a hint of a face up card. One pot preflop each to Roberto Romanello, Emilliano Bono and Marcin Horecki (in that order). The only difference has been that Romanello's pot was smaller as it was a walk in the big blind. That's the third (or fourth) recent walk from Horecki, who doesn't seem to want to take on the chip leader from any position other than the button at the moment.
Level:

31
Blinds:

80,000/160,000
Ante:

20,000
That's what we're experiencing right now. Along with probable closures of most of the airports needed for everyone who doesn't live in Prague to get home due to snow.
| | | | | | |
| --- | --- | --- | --- | --- | --- |
| Roberto Romanello | | | | 10,300,000 | 4,300,000 |
| Emilliano Bono | | | | 3,575,000 | 375,000 |
| Marcin Horecki | | | PokerStars | 3,270,000 | -2,730,000 |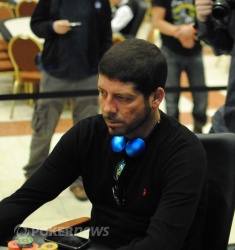 Over the past few orbits it has been Roberto Romanello who has been taking the blinds uncontested and picking up chips to extend his chip lead but just now, Emilliano Bono took steps to try and catch the Welshman.
Marcin Horecki raised on the button to 245,000, Romanello folded but Bono made the call. As has been the case throughout this tournament, both players checked the
flop, and again on the
turn. However, when the
showed up on the river Bono made it 225,000 to play and 30 seconds later Horecki, seated directly to Bono's left, passed.
With Emilliano Bono basically having checked the 'Sitting Out' button this level, Roberto Romanello and Marcin Horecki continue to battle it out. The latest confrontation gave the furry-hatted Welshman a tough decision, but he ended up making the right one.
Romanello had raised preflop on the button to 245k and been called by big blind Horecki. The
flop was checked by both players. On the
turn, Horecki bet out 265k, and Romanello raised to 575k total. After a bet pull-in and another pot spread, Horecki finally made the call.
The river was the
. Now Horecki led for 680k - this is what sent Romanello into the tank for a couple of minutes. He took off his sunglasses and stared at the motionless Pole for a long time, saying nothing (unusually) with a chip on his hand keeping it in play.
Finally he called. Horecki immediately mucked, leaving Romanello to show down
for a pair of sevens to take the pot.