Main Event
Day 5 Completed
Level 32 : 100,000-200,000, 20,000 ante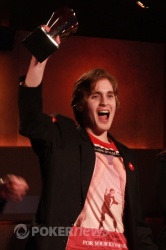 The final hand here at the Spielbank, Berlin has given accomplished online player Ben Wilinofsky his first live result - and what a result it is - an EPT trophy and €825,000 in prize money!
Runner-up Max Heinzelmann gave as good as he got for over two days, but could not overcome the combination of huge final table chip advantage held by the Canadian qualifier and his relentless aggression and has to settle for a mere half million Euros.
In his post match interview, Wilinofsky said, "I couldn't have imagined this three or four days ago at the start of the tournament. It was worth the wait!"
"It wasn't mine for the taking from the beginning - I had to play very well and run very well," he added, delighted to have broken his live tournament duck. One of the chattiest and friendliest final tables we've seen on the EPT made a big impression on the new champion, who repeatedly expressed his respect and liking for all of his final table opponents.
"On top of that, you have won a Shamballa bracelet!" added Michelle Orpe.
Pause.
"A what?"
Looking a little dazed but delighted, he accepted his trophy with a rail made up of high rollers, press and the earlier bustouts.
"How does this happen...to anyone?" he wondered.
To see a list of all 120 paid places in this tournament, please visit the 'Payouts' tab above.
The next stop on the PokerStars.net EPT circuit is the penultimate one of the year, in beautiful San Remo. Follow all the action right here on PokerNews.com.
Level 32 : 100,000-200,000, 20,000 ante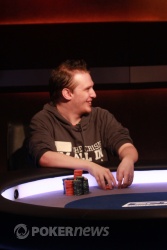 They say never go broke in a limped pot, but that's exactly what happened to Max Heinzelmann, though admittedly he got it in as good as he could have hoped.
Ben Wilinofsky had limped in and Heinzelmann checked his option to see an
flop. The German led out for 225,000 and Wilinofsky raised to 500,000 before Heinzelmann moved all-in for 4.025 million.
Wilinofsky looked vexed, "This is sick because I'm ahead of some of the hands you do this with..." He tanked a little longer and then finally said, "I call though."
Heinzelmann:

Wilinofsky:
Heinzelmann had started the heads up as a 70:30 dog, but now he was roughly the same percentage to double up and get back into the battle.
The turn was the
making Wilinofsky's straight but handing Heinzelmann two pair and some outs on the river. The final card after what seemed like an eternal dwell from the dealer was the
which did not change anything.
The consolation for Heinzelmann is a cool €500,000 which no doubt keep him from being too disappointed.
Level: 32
Blinds: 100,000/200,000
Ante: 20,000
Level 31 : 80,000-160,000, 20,000 ante
So they've made it to the end of the level! 15 minutes off the one-on-one preflop fight-fest.
Max Heinzelmann raised to 320,000 on the button and Ben Wilinofsky made it 860,000 in the big blind.
"How much is it? 860k?" asked Heinzelmann, the dealer responded in the positive.
Heinzelmann then cut out chips and made it 1,910,000 to go.
"Can I get a count on much you're playing please?" asked Wilinofsky. Just over five million was the reply.
Wilinofsky moved all-in and Heinzelmann snap-folded.
Ben Wilinofsky raised the button (320k) and Max Heinzelmann made the call. He check-folded to Wilinofsky's 400,000 bet on the
flop.
The next hand Heinzelmann made the same raise and received the same preflop flat call. He bet similarly (425,000) when Wilinofsky checked the
flop but folded when he was check-raised quickly to 1,100,000.
Level 31 : 80,000-160,000, 20,000 ante
Ben Wilinofsky raised the button and Max Heinzelmann called to see a flop.
Heinzelmann check-called 400,000 from Wilinofsky on the
flop and another 1.1 million on the
turn. They got to the
river and Heinzelmann check-called a third time, this time the bet from Wilinofsky consisting of 1.7 million after a little dwell. Exciting stuff! But come showdown they turned over
apiece and chopped up the 7 million pot.
Level 31 : 80,000-160,000, 20,000 ante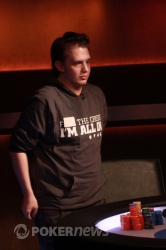 Max Heinzelmann raised to 320,000 and Ben Wilinofsky made the call to see a
flop.
Wilinofsky checked the flop and Heinzelmann made a bet of 275,000 which the Canadian called to see the
turn. Wilinofsky checked again and Heinzelmann fired 550,000 this time but was called a second time.
The river was the
and Wilinofsky checked agan, Heinzelmann said, "I check, I have
."
Wilinofsky mucked, Heinzelmann won't give this up without a fight.