Main Event
Day 4 Completed
Ivan Freitez

5,995,000
110,000

Juan Maceiras

PokerStars Team Pro (Spain)

3,150,000
1,510,000

Andrey Danilyuk

PokerStars Online Qualifier

2,645,000
80,000

Eugene Yanayt

PokerStars Player

2,420,000
-110,000

Torsten Brinkmann

GGPoker GGSquad

1,875,000
30,000

Alex Gomes

PokerStars Team Pro (Brazil)

1,670,000
80,000

Tamas Lendvai

1,655,000
135,000

Andrew Li

1,210,000
-310,000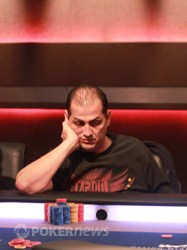 And with Thomas Pettersson's exit just after the midnight hour, the final table of the EPT Grand Final, indeed the culmination of the entire EPT season will be tomorrow from 2pm. This is because for the players, the final table will start at 12pm before being shown on EPT Live with a two hour delay but with hole cards completely visible to the viewer.
The final will then continue until 6.30pm or until there are four players remaining. There will then be a break for the EPT Awards and closing party and the final table will recommence at 11pm.
It's sure to be an action packed day tomorrow with Team PokerStars Pro Alex Gomes going for the fabled Triple Crown while fellow Team Pro Juan Maceiras hopes to become the first ever Spanish EPT winner - a victory that could be made all the sweeter by doing it on home soil. They'll both have to get past the mammoth stack of Ivan Freitez who is the chip leader as well as our five other players, Andrey Danilyuk, Eugene Yanayt, Torsten Brinkmann, Andrew Li and Tamas Lendvai all of whom have a shot at the €1.5 million first prize.
We'll see you tomorrow from 2pm!
| Seat | Name |
| --- | --- |
| 1 | Eugene Yanayt |
| 2 | Tamas Lendvai |
| 3 | Juan Maceiras |
| 4 | Andrey Danilyuk |
| 5 | Andrew Li |
| 6 | Ivan Freitez |
| 7 | Torsten Brinkmann |
| 8 | Alex Gomes |
With the final table set, Sarah Grant chatted with PokerStars Pro Alex Gomes about what the rest of his night holds.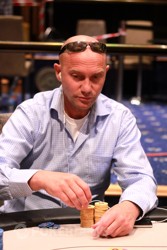 Juan Maceiras raised and it folded over to Thomas Pettersson who eyed him up for a while. After perhaps 30 seconds, he announced all in. He then put his sunglasses on, for emphasis. Alex Gomes tanked up for some time in the small blind, actually looking as though he was struggling to stay awake. We know that feeling. Eventually he folded, but Maceiras made the call.
Maceiras:

Pettersson:
The TV crew insist on the dealers doing everything very, very slowly, and Maceiras spent the delay looking worryingly close to having an aneurism.
Flop:
- Maceiras fist-pumped as he flopped top set.
Turn:
, giving Pettersson straight outs. Maceiras returned to Aneurismville.
River:
, sealing Pettersson's fate and saving Maceiras from what could have involved a trip to the hospital.
Ladies and gentlemen, this epic Day 4 is over.
Andrew Li moved all in from the small blind and Ivan Freitez asked for a count, but eventually, seemingly as always, Freitez folded after some three minutes of tanking.
It's been a slow start to Level 28, and we haven't seen a flop yet. The players seem tense, and very tired. We know how they feel.
Sarah Grant chatted with Andrew Li on the break about interesting hands and his prediction that he would get sixth.
Ivan Freitez

5,885,000
-990,000

Andrey Danilyuk

PokerStars Online Qualifier

2,565,000
965,000

Eugene Yanayt

PokerStars Player

2,530,000
-170,000

Torsten Brinkmann

GGPoker GGSquad

1,845,000
-1,095,000

Juan Maceiras

PokerStars Team Pro (Spain)

1,640,000
100,000

Alex Gomes

PokerStars Team Pro (Brazil)

1,590,000
-55,000

Andrew Li

1,520,000
-40,000

Tamas Lendvai

1,520,000
390,000

Thomas Pettersson

1,365,000
677,000
Level:

28
Blinds:

40,000/80,000
Ante:

5,000